Front Page
Divided Bonham City Council resurfaces
Jun 11, 2013
Bonham -- At a time when successful city governments are building a team concept and moving forward for the good of their constituents, four members of Bonham City Council reopened an old argument that has the potential to lead to more contentious meetings in the near future.
After a year of steady progress and relative calm, a sharply divided Bonham City Council resurfaced Monday night in the form of a 4-3 vote. The underlying subject at hand -- operation of Bonham Visitors Center -- had been the source of friction for years and that debate is back on the front burner.
Bonham City Council member John Burnett, bouyed by the fact he has a new swing vote in recently elected city council member Milton Glenn, asked for a resolution recommending BEDCo Board of Directors consider relocating the BEDCo offices from Bonham Visitors Center to Bonham City Hall.
The person this political power play impacts directly is BEDCo Executive Director Steven Filipowicz, who was hired to spearhead economic development and tourism. Filipowicz offices out of Bonham Visitors Center where he supervises two employees and by all accounts has done a remarkable job of negotiating with local political factions.
Filipowicz's plea to be left in his present location would eventually fall on deaf ears.
"I'd like to remain where I am," Filipowicz said, explaining that the vantage point in Bonham Visitors Center has allowed him to see the response generated by local events, which gives him a valuable frame of reference. Filipowicz also feels daily interaction with his staff is critical.
Burnett said he felt economic development was a much higher priority than tourism.
In vain, Filipowicz tried to point out that the two concepts are often "absolutely intertwined." The example he gave was the recent agreement to build hotels, a development that creates jobs, spurs economic development and enhances tourism.
"Economic development and tourism are virtually inseparable in those regards," said Filipowicz.
Bonham Mayor Roy Floyd suggested the reasonable course of action would be to allow BEDCo to decide where best to locate Filipowicz and oversee the process, rather than micro-manage basic BEDCo duties.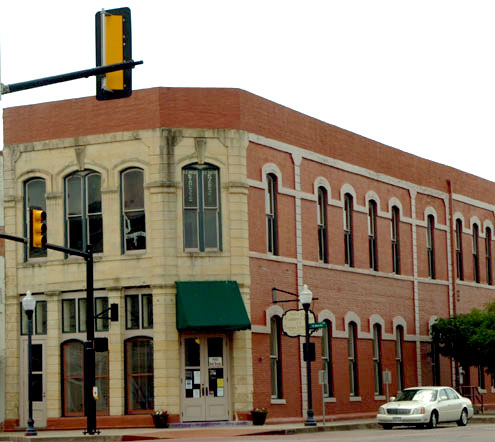 Bonham Visitors Center
BEDCo President Emily Porter and BEDCo VP Bob Self both addressed the city council and asked that Filipowicz be allowed to office in Bonham Visitors Center where he feels he can be more effective.
"I recommend we listen to what Steve is asking and then look at it again in 2014," Self suggested.
"As a Bonham Area Tourism Association board member, I am concerned of the need and/or meaning of this agenda item," added Judy Teller. "I can see no reason for Mr. Filipowicz to be relocated."
In the end the controversial resolution passed 4-3, with John Burnett, Ruth Ann Thomas, Michael Evans and Milton Glenn voting to recommend that BEDCo Board of Directors consider relocating BEDCo offices to Bonham City Hall. Mayor Floyd, along with city council members H. Compton and Glenn Taylor, voted against the resolution.
This decision will most likely be taken up by BEDCo at the next regular meeting. BEDCo meetings are held on the First Tuesday of the month at 4:30 p.m., at Bonham City Hall.