One underlying theme, as the Steger saga plays out, is that this is in the truest sense, a Texas story. Act one was in Bonham and Austin, act two took place in Europe and the curtain will close in New York City following act three. The inner circle of actors includes Harry Peyton Steger, Roy Bedichek, Lillian Greer, John Lomax and William Sydney Porter.
Before you start humming "The Eyes of Texas," which incidentally was written by a beau of Greer's, John Lang Sinclair, understand that this isn't about "everything's bigger in Texas" or false bravado, but a very real story of when a frontier spirit beat in the heart of Texas.
Steger, Bedichek, Greer, Lomax and Porter revered the Lone Star State, yet none of the five were born within the promised land south of Red River, east of the Rio Grande and west of the Sabine River. This is the story of what made Texas a shining star from the beginning of a dream by Stephen F. Austin's father.
This is a story of immigrants.
Steger was born in the state that gave Texas larger-than-life historical figures from Sam Houston to Sam Rayburn, the great state of Tennessee. (Although Houston was born in Virginia, he served as the governor of Tennessee and Texas.)
The Lomax family came from Mississippi. Bedicheck was a native of Illinois. Porter was born in North Carolina. And Greer was a Louisiana girl.
Lomax and Bedichek played prominent roles early in this story and Porter becomes the lead character that is written out of the plot much too soon in act three. Almost all we have of Steger are his letters; Lomax, Bedichek and Porter are mentioned countless times.
On the other hand, Greer is mentioned exactly once. But leave it to a lady to make the most of her entrance.
As the holidays were approaching in 1903, Steger tries to convince Bedichek to head north to Bonham where they could both take the train over to Whitewright to see Lillian Greer.
"The firm would be complete," Steger said.
Those five words were intriguing because they would seem to indicate Miss Lillian was regarded as an equal partner with Steger and Bedichek in this intellectual firm and partnerships weren't doled out with much frequency.
So, it should be easy to track down Greer, right? After all, in a town with a current population of less than 2,000 residents, surely someone would remember a remarkable scholar such as Lillian Greer.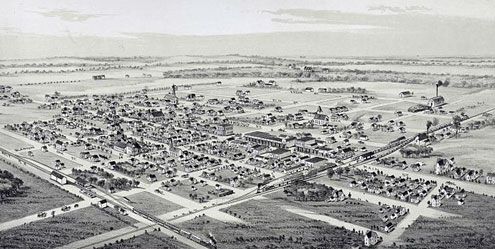 Turn-of-the-century Whitewright
Not exactly.
As it turns out, Greer was a teacher at Grayson College in Whitewright from 1903-1905 after receiving her B.A. from the University of Texas with a major in Greek and a minor in Latin. No wonder Steger considered Greer a member of the firm; just like Harry, Lillian displayed a proclivity for dabbling in dead and dying languages. And she was certainly hewn from good timber. The Greer family had moved from Keachie, Louisiana to Waco, Texas in 1893 where Lillian's father, James Francis Greer, became vice president of Baylor University.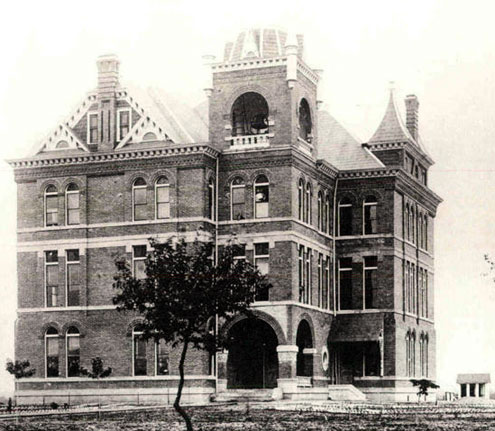 Grayson College in 1904
It would seem Lillian saw the best days of Grayson College. The college had originally been located in a two-story wooden building in downtown Whitewright before an impressive three-story brick structure was built on the north side of town around the turn of the century. Grayson College enrollment peaked in 1904, but later that year a fire destroyed the main building and library. The school reopened in 1905, however it never seemed to recover and Grayson College closed in 1912. Lillian Greer left North Texas in 1905 to teach school in Waco.
Before this story leaves Whitewright, it might be worth noting that while these may very well have been lean years for Grayson College and Greer, one eighth grade dropout in Whitewright was on his way to amassing a fortune. According to the Handbook of Texas, Kay Kimbell attended public schools in Whitewright before dropping out in the eighth grade--again, around the turn of the century--to work as an office boy in a local grain-milling company. If the name Kay Kimbell doesn't ring a bell, well, maybe you've heard of the Kimbell Art Museum in Fort Worth.
It was in Whitewright that Mr. Kimbell founded Beatrice Milling Company. At the time of his death about a half-century later, he was in charge of over 70 major corporations. Some folks in Whitewright still shake their heads and smile over the last pages in the Kay Kimbell story.
It seemed Mr. Kimbell's last wish was that he be laid to rest in Whitewright. Mrs. Velma Fuller Kimbell, who was a Whitewright native and the daughter of William David and Elsie Rebecca Fuller, preferred to think the couple would be interred side-by-side in Fort Worth, a city they had both grown so fond of since moving there in 1924.
Mr. Kimbell died in 1964 and was buried in Whitewright.
It was Mrs. Kimbell that had taught her husband to appreciate and collect fine art and, in the years following his death, she was responsible for turning the Kimbell Art Foundation into her husband's dream, the internationally renowned Kimbell Art Museum. When Mrs. Kimbell passed away in 1982 and was lowered into a grave in her beloved Fort Worth, Mr. Kimbell was waiting at her side where she had moved him.
Two very remarkable people and they both got their last wish.
previous Steger articles
http://www.ntxe-news.com/artman/publish/article_45392.shtml
http://www.ntxe-news.com/artman/publish/article_45371.shtml
http://www.ntxe-news.com/artman/publish/article_44597.shtml
http://www.ntxe-news.com/artman/publish/article_45014.shtml
http://www.ntxe-news.com/artman/publish/article_44642.shtml
http://www.ntxe-news.com/artman/publish/article_44471.shtml
http://www.ntxe-news.com/artman/publish/article_43963.shtml
http://www.ntxe-news.com/artman/publish/article_43514.shtml
http://www.ntxe-news.com/artman/publish/article_42785.shtml
http://www.ntxe-news.com/artman/publish/article_42657.shtml
http://www.ntxe-news.com/artman/publish/article_42669.shtml
http://www.ntxe-news.com/artman/publish/article_42541.shtml
http://www.ntxe-news.com/artman/publish/article_41825.shtml
http://www.ntxe-news.com/artman/publish/article_42012.shtml
http://www.ntxe-news.com/artman/publish/article_41543.shtml
http://www.ntxe-news.com/artman/publish/article_41495.shtml
© Copyright 2002-2006 by North Texas e-News, llc

Top of Page