My first experience with a camping 'rig' was a modified 1950 International Pickup that my dad owned back in the late fifties. Every two or three months, we would spend several days camping on the shores of a little lake in southeast Oklahoma, setting trotlines for catfish and catching bass from our homemade wooden boat.
Dad had his little truck rigged with all the conveniences. With a portable canvas awning to keep the contents (and us) dry, fold down tables with Coleman Stoves and even a sink, we enjoyed camping at its finest, at least for the era.
Recently, my wife and I joined some friends and visited the RV show in Ft. Worth where we were exposed to all the latest innovations in camping, now often referred to as RVing! Campers, if you can call a $100,000 RV a 'camper,' have come a long way!
Today's fifth wheelers, when set up and the extensions opened up, are actually very roomy and comfortable little homes. Granted, not all the RV's available today come with so hefty a price tag, there are pop up campers and even tent campers that attach to the bed of trucks that are much more affordable. And, yes, many folks still do their camping the old fashioned way: in tents.
After getting a good feel for what is available today and doing a cost comparison of the different models, we later purchased our first big RV, a 37 foot fifth wheel that I plan to keep on our property to serve as a guesthouse. We live on several acres with plenty of trees and whoever spends the night in our new unit can consider themselves 'camping' without the hassle of towing. Towing a unit down the road that's as big as a small river barge is not my idea of fun, but that's just me.
Besides, I am not prepared to purchase a $40,000 truck big enough to tow our new trailer, nor am I prepared for six or eight miles per gallon fuel consumption. Imagine a 500-mile trip towing such a vehicle costing close to $200 in fuel, ONE WAY!
Before chunking down a hefty piece of change for your RV, it's advisable to give consideration to several factors that will become important when you actually take delivery. Do you have a vehicle heavy and with enough horsepower to tow the RV you are contemplating purchasing?
If the answer is yes, then, have you thought about actually towing a vehicle that is very apt to cause your miles per gallon to drop at least in half? If money is not an object, have you given thought to towing a ten-thousand pound RV through heavy traffic? Would you be more comfortable driving a motor home that you simply drive to your destination and, bingo, you're home!
These are all questions that you should consider before signing on the dotted line and investing in your new 'home away from home.'
Another consideration is whether to purchase a new or used unit. New RV's, just like cars and trucks, depreciate the moment you pull them off the lot. We did a lot of cost comparison and looking and finally decided on purchasing a unit that was a couple years old, but in excellent condition. We finally bought from a large, reputable RV dealer but we also looked at several units offered by individuals.
After sorting out the pros and cons, we felt more comfortable buying an 'almost new' unit from a very reputable RV dealership. We also purchased an extended warranty to cover anything that might go wrong with the unit. After all, what do I know about making repairs to a complex heating or air conditioning system or the hydraulic jacks that level the unit? Even our 'almost new' luxury RV was a sizeable investment and the last thing I wanted to do was use it for six months then look at a repair bill of several thousand dollars.
RV's have come a long, long way since I was a youngster camping in that old rig of my Dad's but on I still find myself camping in tents and even old barns on hunting property from time to time. Camping is not all about luxury. To my way of thinking, spending time in the outdoors with family and friends, setting around a campfire, watching the glowing embers after a great day in the outdoors is the essence of camping and I hope this will never change.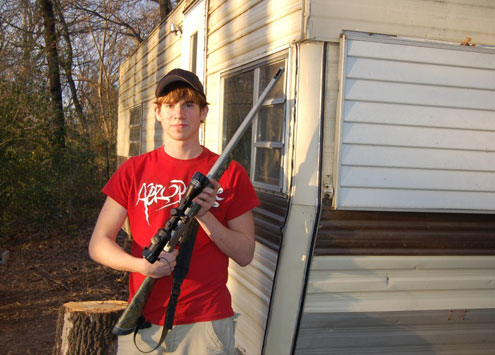 RV's have come a long way from this thirty year old 'deer camp' camper the author's son is standing beside. photo by Luke Clayton
So, whether your budget and desires are suited to tent camping or a luxury RV with a triple digit price tag, consider devoting some time to enjoying the great outdoors. There are lots to enjoy out there in the natural world and no better way to experience it than with the mobility provided by bringing your home along with you!
CHECK OUT LUKE'S RADIO SHOW AT http://www.catfishradio.com/
© Copyright 2002-2006 by North Texas e-News, llc

Top of Page