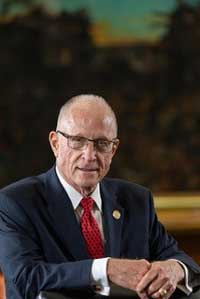 Today, Senator Bob Hall filed Senate Bill 330 to address the resiliency and reliability of the Texas electric grid.

Senator Bob Hall has advocated for strengthening the resiliency of the grid and implementing measures to harden the grid against both natural and man-made threats each session since he was first elected to office.

As seen during Winter Storm Uri, our grid is vulnerable. The natural threat of the winter storm took the lives of over 200 people, had a direct/indirect economic impact of over $130 billion, and brought us to within four minutes of a state-wide grid failure, which would have meant weeks or even months without electricity as the grid was "restarted."

In addition to the natural threats of severe weather, earthquakes, hurricanes, and geomagnetic disturbances (GMD), there are also threats from cyber-attacks, terrorist attacks, and electromagnetic pulses (EMP).

"Electricity is the second most important thing to sustaining life in our modern society, behind only air. While some may say water is the second most important for human life, without electricity, our water supply would not work for most people," says Senator Hall. "It is time that Texas take a serious look at these vulnerabilities and take steps to protect Texans from another widespread outage."

"The bill we filed today will create the Texas Electric Grid Security Commission which will be charged with evaluating the vulnerabilities to the grid and critical infrastructure and developing standards that will mitigate these threats," Hall continued. "This bill has wide bipartisan support, with fourteen senators signing on as co-authors."

The standards the commission implements will address the risks of both natural and man-made threats to our grid and critical infrastructure.

"We must harden our infrastructure to ensure that we are protected against another widespread grid failure and that, in the inevitable event of another storm like Uri, our communities must not lose access to basic living necessities, safe drinking water, financial institutions, food, and transportation, and can return to normalcy as quickly as possible," said Hall.

Given the increased focus on energy reliability and the recency of the near-total grid collapse, this legislative session may be the one that this topic gets the attention it needs to finally be addressed.