Bonham, Texas -- What do you think of when you imagine an archeological artifact? Old bones and clay pots? Tools and weapons from a time long gone? The jar for that medicine you don't want anybody to know about? All of these things can be archeological artifacts if they are unearthed in a few years.
According to the National Parks Service, artifacts are items made or collected by people in the past that can tell us about their lives and culture. It may not seem as cool to you as some ancient pottery collection, but believe it or not, the "junk" you have around you right now might well be a key clue for people in the future trying to figure out what we did all day.
The Rayburn family and the caretakers who lived at the Sam Rayburn House State Historic Site probably thought that no one would care about the things they threw out way back in the day, but they never counted on the archeologists at the Texas Historical Commission or crazy historians like me who decided to write about their trash.
The Sam Rayburn House may only be 106 years old, but we have been the subject of three archeological digs – one in 1977, and two during the 2010s during the restoration of some of the buildings on site. Various metal objects and certain artifacts very recent to the time of the dig were not kept, as they were deemed too unstable to save (some metal objects can deteriorate) or too current to count as artifacts. The Lynn excavation in 1977 dug through several areas of the site, including dump areas, and found several hundred objects worth noting.
Jamie Ross, the Archeological Collections Manager for the Texas Historical Commission, helped us choose and research which artifacts to display in celebration of Texas Archeology Month in October. We selected seven of these objects and one that we ourselves recently found to display in our visitor center from October – December. We themed these objects around the material they are made of as well as how identifiable they are to us today even though they may date back to 100 years ago. Almost all of these objects are body ointments. All but one of our archeological finds on display are in pieces.
The only intact item in our display is a cobalt blue Vicks VapoRub jar with a rusted lid. Vicks VapoRub was originally a salve used to help creator Lunsford Richardson's son with croup, an infection in the airway that can block breathing and cause a cough. The name "VapoRub" and the blue glass jar were created around 1911, and we have dated this particular item to anywhere between 1910 – 1930. The Rayburn's were not loyal brand customers of Vicks – Mentholatum was another vaporizing rub that the Rayburns utilized.
Mentholatum
Mentholatum was a company founded in Wichita, Kansas, in 1889 to produce toiletry products before expanding into a health and wellness company that exported products around the world. Originally called the Yucca Company, the company founders eventually used natural oils to create a skin salve to sooth congestion and body aches. This salve was made with a combination of menthol (an oil from peppermint plants), petrolatum (a type of jelly that stuck to skin), and other products, leading to the product and company name of Mentholatum.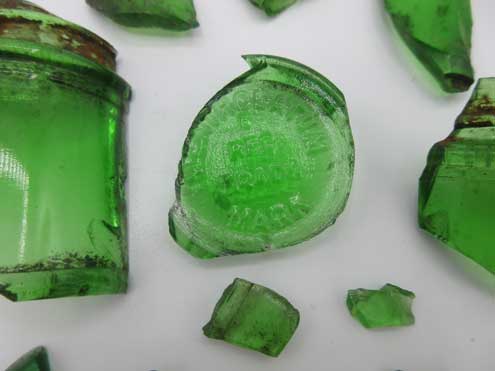 Mentholatum maker's mark
The company marketed Mentholatum as "an external application for cure of all inflammations sore throat, headache, earache, piles, catarrh, rheumatism, bruises, cold sores, chapped hands, croup, hay fever, insect bites etc." Additionally, we have Vaseline jar pieces that date from the late 19th century to the early 20th century. We can tell that the Vaseline jar is made of amber glass, and if you put the pieces of the jar back together like a puzzle, you will see that the name of the company, "CHESEBROUGH MFG CO NEW YORK," is on the bottom of the jar.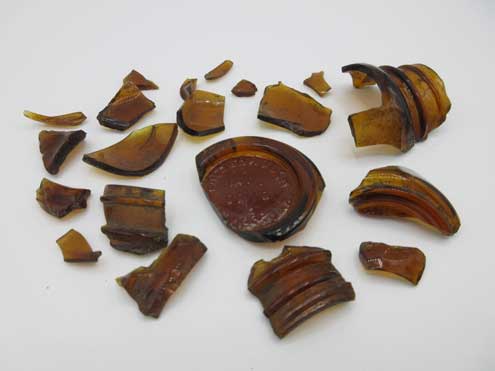 Vasoline Jar
Robert Augustus Chesebrough (1837-1933), a chemist for the Chesebrough Manufacturing Company, discovered petroleum jelly in 1858, and he patented Vaseline in 1872. In addition to the thousands of things you may use Vaseline for, many people used it as a skin healing ointment. The Rayburns, like many Americans, probably used rub on products such as these because medical care was both expensive and hard to receive in rural communities. People and cultures around the world have always developed remedies for things outside of professional medical care. Whatever your cure all, be it some medical salve or a soothing tea, these are the kinds of cultural manifestations that archeologists can learn about through archeology.
Skin care for the Rayburns did not only extend to medical cures. Someone in the home used an Orange Flower Skin Refresher from Dorothy Gray's skin care line. Dorothy Gray (1886-1968) was born Dorothy Cloudman in Maine. She moved to New York and worked as a treatment girl for Elizabeth Arden (1881-1966), who eventually built a cosmetics empire. Gray opened a salon of her own in 1916, and created her own cosmetics brand based on what she learned from Arden. Gray's salons featured treatments for the face and other body parts, mainly focusing on improving blood circulation and strengthening facial muscles. Dorothy Gray Orange Flower Skin Tonic closed pores and firmed up the skin, and this "Refresher" was likely the tonic renamed. Our archeologists have dated the glass container to the period from 1948 – 1953.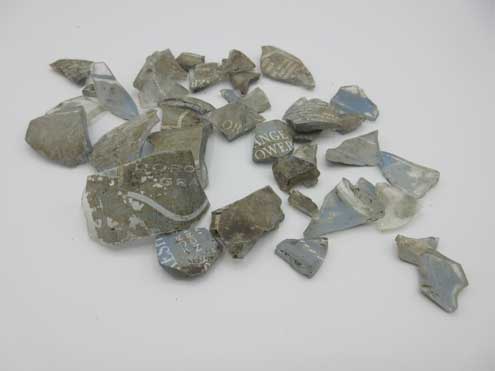 Dorothy Gray Orange Flower Skin Refresher
Another moisturizer for the Rayburns was Pond's Cold Cream. Our Maintenance Specialist, José Diaz, found these fragments in June 2022 beside what was once the Rayburn family pump house at the back of the property. Cold creams have a range of uses, from moisturizers to makeup removers.
Eye care was also a priority for the family. Archeologists found pieces of an eye wash bottle called Wyeth's Collyrium on the property. This eye wash was made by John Wyeth & Brother in Walkerville, Ontario, Canada. The label for the bottle (viewed on the internet) says that the bottle contained seven fluid ounces of "sodium borate, boric acid, and 0.4% of antipyrine." Luckily for the Rayburns, the eyewash "does not cause irritation or dryness of the mucous membrane, and may be used freely without harmful effect." Despite our bottle being in pieces, the top portion of the bottle that went over the user's eye is intact.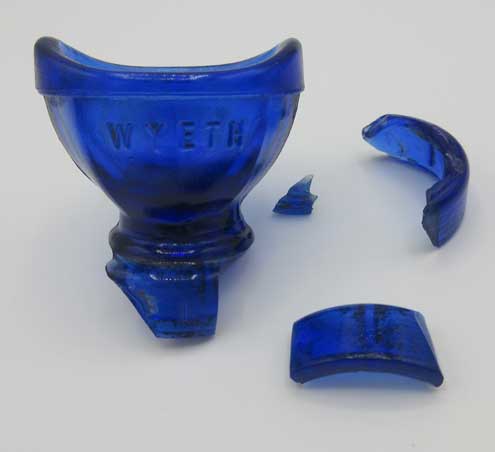 Wyeth bottle top
Two different eras of soda bottles wrap up our foray into artifacts from the Rayburn House site. One is the bottom portion of a Coca-Cola bottle. This Coca-Cola bottle section was created at the Chattanooga Bottle & Glass Manufacturing Company in Chattanooga, Tennessee, which operated from 1901 – 1930 before changing its name to Chattanooga Glass Co. The company expanded from making beer bottles to glass vials, milk jars, and soda bottles in a variety of colors. The company eventually specialized in soda bottles for southern companies.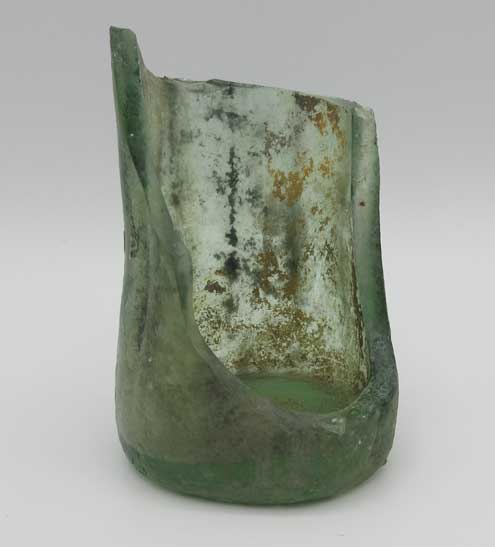 Coca Cola
Atlanta, Georgia, where Coca-Cola was founded in 1892, is about 120 miles from Chattanooga. If we could see the maker's mark clearly on the bottom of the bottle, we might be able to date the artifact with more accuracy. However, the slight contour you can see on the bottle suggests that it was probably made after 1916, once the Coca-Cola company settled on the design for their iconic bottle. We have also found "CHATTANOOGA TENN BOTTL---" on the artifact, indicating it is likely from before 1930 when the company changed its name. If the contoured section of the bottle had not been the part recovered, it would have been more difficult for us to extrapolate the date of the bottle. The bottom portion of the Dr. Pepper bottle recovered from the site may have actually been from after the Rayburns' time at the house. This Dr. Pepper glass bottle might be dated to the late 1960s or early 1970s based on the logo. Medibel Bartley was the last person to live here, and she passed away in 1969. She or one of her relatives might have thrown away their Dr. Pepper into a trash pile on the property around the time of her death.
Dr Pepper
Based on these archeological findings, we might conclude that the Rayburns or those that worked for them were all health-conscious individuals with an inability to resist soda pop. Or maybe someone had a bad cough and tried everything to get rid of it. These are both bad guesses, which is why we should all leave the research to trained archeologists. Every historic site in the Texas Historical Commission follows guidelines regarding "surface finds," which are objects over 50 years old that become visible on the ground surface from land-altering activities. Rain, drought, and shifting soil continue to change the landscape, making buried objects near the surface recoverable. If you visit a historic site and find an artifact on the ground surface, leave it there. Do not dig it out. What you see is a cultural resource and is considered part of the site, so you should not disturb it.
If you think that the artifact could possibly be important, please take note of where you found it, take a photo of the area if possible, and inform staff at the site where you found the artifact in as much detail as possible. You can even pin the location on your phone. Staff members will determine if the artifact needs to be moved, or if it should remain in place.
October is Texas Archeology Month, so watch out every year for archeology events at your nearest Texas Historical Commission historic site.
This article was originally published on the THC's Historic Sites blog managed by the Texas Historical Commission, which has 34 historic sites across the state of Texas. For more information about the Sam Rayburn House and to see more articles like the one you just read, please visit our website at www.visitsamrayburnhouse.com. You may also contact us at 903-583-5558 or email us at sam-rayburn-house@thc.texas.gov to schedule a tour of this historic home located at 890 W. State Hwy. 56 in Bonham, Texas.
Bibliography
Buffalo Rising, "History of the Mentholatum Company," March 26, 2017. https://www.buffalorising.com/2017/03/history-of-the-mentholatum-company/.
Coca-Cola Company. "The History of the Coca-Cola Contour Bottle: The Creation of a Cultural Icon." Accessed September 13, 2022. https://www.coca-colacompany.com/company/history/the-history-of-the-coca-cola-contour-bottle.
Cosmetics and Skin. "Dorothy Gray." Updated July 20, 2021. https://www.cosmeticsandskin.com/companies/dorothy-gray.php.
Glass Bottle Marks. "Chesebrough Manuf'g Co / Vaseline Jars." Accessed September 13, 2022. https://glassbottlemarks.com/chesebrough-manufg-co-vaseline-jars/.
Lockhart, Bill, Beau Schriever, Carol Serr, and Bill Lindsey. "Chattanooga Glass Co." Historic Glass Bottle Identification & Information Website. June 2014. https://sha.org/bottle/pdffiles/ChattanoogaGlass.pdf.
Vicks. "Our Story." Accessed September 13, 2022. https://vicks.com/en-us/vicks-history.