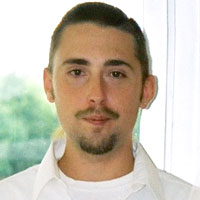 Bonham, Texas -- Joseph "Joey" Earl Lackey Jr., 43, of Bonham TX, was born on October 21, 1978 in Dallas, TX to Joseph Earl Lackey Sr and Fern Lee (Butler) Lackey. He passed away unexpectedly on Wednesday, July 20, 2022 in Sherman, TX.

Joey was quick to make you laugh and always made new friends wherever he went. He loved to listen to music and was a huge fan of the Dallas Cowboys. He worked hard and he played hard. He was extremely smart, creative and full of ideas and plans. So much so that he sometimes had a hard time turning off his brain to sleep because he was so excited to start the next task.

Never really one to be the normal 9 to 5'er, Joey was a restless soul that loved to change up what he was doing every few months to get a breath of fresh air. He loved working in the outdoors. No matter what Joey was doing he took time to create little masterpieces along the way. He was a great carpenter and often took pride in his talent for laying tile and carpet in interesting patterns. He also worked in landscaping, gardening, and various other outdoor jobs. He often showed us pictures of his accomplishments beaming with pride of a job well done.

Joey is survived by daughter, Kaitlin Lackey of Bonham; sisters Linda (Mike) Lipovsky of Bonham, TX, Karen (Ric) Money of Gulfport, MS, and Jana (Micheal) Holland of Bonham, TX; 2nd Mom Joan Eaton Lackey McCloud and husband Sherwood of Merit, TX; along with numerous nieces, and nephews.

He is preceded in death by father, Joseph Lackey Sr.; mother, Fern Butler Lackey; grandparents, Mr. & Mrs. H.T. Lackey, Mr. & Mrs. T. D. Butler, Mr. & Mrs. H.C. Clyde Eaton; and several aunts and uncles.

A memorial service will be held Saturday, August 6, 2022 at United Pentecostal Church in Savoy, TX at 5:00 p.m.

To convey condolences or sign an online registry please visit www.coopersorrells.com.