Bonham, Texas -- Following a highly successful fundraiser presented by Creative Arts Center on June 26, 2021, representatives of the Creative Arts Center met with personnel from Bonham Police Department and Bonham Animal Control to donate a portion of the proceeds to the Bonham Animal Shelter.
"I am so grateful for all of the volunteers and donations that made this event a success!" exclaimed Jennifer Wilson, Executive Director of Creative Arts Center. "I am so excited to present this check to the animal shelter!"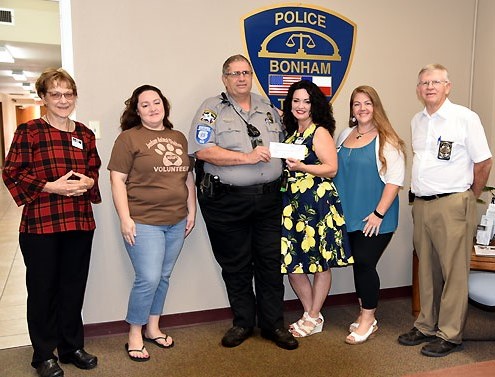 (L-R) Wanda Ortiz, Creative Arts Center; Megan Robinson, Bonham Police Department and Bonham Animal Shelter volunteer; Jimmy Gilbert, Bonham Animal Control Officer; Jennifer Wilson, Executive Director of Creative Arts Center, Kristi Dunbar, Creative Arts Center Board of Directors; and Bonham Police Chief Mike Bankston
The donation of $3,984.39 will help Bonham Animal Shelter build fences for dog runs. Work on the roof of the new addition is expected to start soon.

"Creative Arts Center is a non-profit," Ms. Wilson went on to explain. "We continue to provide, through donations, free art classes to children, teens and senior citizens. I believe that giving people an opportunity to express themselves artistically is of great importance. The ability to pay should not be a limiting factor. I decided to share profits from this event with the animal shelter, because the animals left there have no choice, they have no voice, they deserve the best facility and care they can get. Our shelter is small and currently under renovations to expand, but the expansion requires more funding. More funding can house more unwanted and abused animals, creating more space and more time to find their furever homes."