Sherman, Texas -- Disasters large and small threaten the financial well-being of residents, businesses and their communities. More floods, freezes, pandemics or recessions could be next.

But investing locally and incrementally in businesses and buildings, with an eye toward resiliency and partnerships with local governments, makes it more likely communities will withstand the next challenges and continue to thrive.

That is why Monte Anderson, president of Duncanville-based Options Real Estate, will lead a workshop at 8 a.m. August 18, 2021, the first of four Texoma Council of Governments public workshops that focus on different methods of building personal and community prosperity in the TCOG Region.

Anyone interested in small-scale real estate investment, starting a small-scale business or spurring private investment in local communities is urged to attend.

The two-hour presentation, Incremental Development – How to Start Small & Build Wealth and Local Resilience, will take place at The Finley 502, 500 N. Elm St., Sherman, TX 75090 and will begin with an update on the status of the Economic Disaster Mitigation Plan funded through the U.S. Department of Commerce Economic Development Administration (EDA) CARES Act Recovery Assistance program.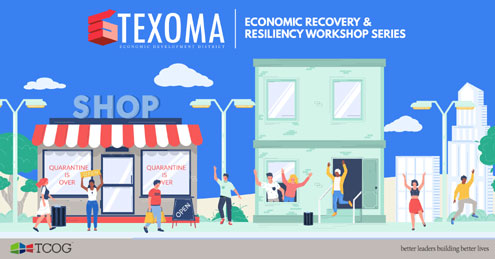 About Monte Anderson
Anderson is a 25-year real estate veteran in sales, leasing, property management, development and construction in Dallas and Ellis counties. In Dallas, he repurposed Tyler Station, a blighted 1930's manufacturing plant, into a local co-working facility. He is responsible for renovation of the 1940's Belmont Hotel and surrounding neighborhood development in Dallas. He has also applied incremental development and promoted small scale businesses through projects such as Main Street Duncanville, Mid-Towne Midlothian, Fire Station #15 in Bishop Arts, the Historic Texas Theatre, and Thorntree Country Club. Anderson also is a former Duncanville City council member and co-founder of the Incremental Development Alliance, a group dedicated to training small developers nationwide to strengthen their own neighborhoods. He chaired the Oak Cliff, Cedar Hill and DeSoto Chambers of Commerce, the Oak Cliff Foundation and the Best Southwest Partnership, and was founding president of the North Texas Chapter of the Congress for the New Urbanism.
About the U.S. Economic Development Administration (www.eda.gov)
The mission of the U.S. Economic Development Administration (EDA) is to lead the federal economic development agenda by promoting competitiveness and preparing the nation's regions for growth and success in the worldwide economy. An agency within the U.S. Department of Commerce, EDA makes investments in economically distressed communities in order to create jobs for U.S. workers, promote American innovation, and accelerate long-term sustainable economic growth.
About Texoma Council of Governments
The Texoma Council of Governments is a voluntary association of the local governments in Cooke, Fannin, and Grayson counties. Established in 1968, Texoma Council of Governments promotes economy and efficiency in the coordinated planning and development of the tri-county region through its community and economic development activities. Both directly and through contractors, the Council provides housing, utility assistance, and weatherization services for low-income citizens in the region and assists the elderly through a variety of Area Agency on Aging programs. The Council also facilitates the delivery of grant funding for homeland security and criminal justice.

FOR ADDITIONAL INFORMATION, CONTACT:

Mailinh Nguyen