McKinney, Texas (May 20, 2021) – A single smoke alarm and the home fire sprinkler are meant to work in partnership. On Thursday, May 20 at 5 a.m. they certainly did just that when a fire broke out at the Skyway Villas located at 2000 Skyline Dr.
Smoke alarms in one unit went off just before 5 a.m. The early notification gave the resident time to escape before anyone was aware of the fire. As the flames grew, the home fire sprinklers kicked in extinguishing the fire and containing it to the room where it started.
The cause of the fire is under investigation.
It is Home Fire Sprinkler Safety Week. Did you know that only the sprinkler head closest to the fire will activate, spraying water directly on the fire and not soaking the rest of the home? For more information on home fire sprinklers, visit https://homefiresprinkler.org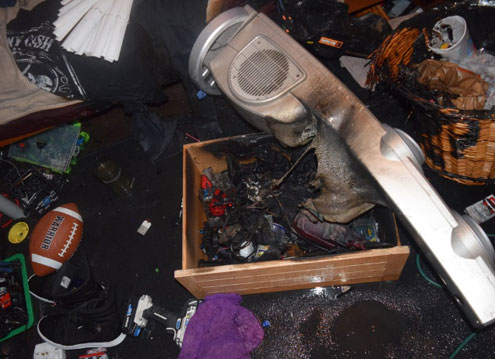 More safety information can be located at www.mckinneyfire.org r www.nfpa.org.