Temple, Texas — The USDA Natural Resources Conservation Service (NRCS) will invest $400,000 this year to help agricultural producers improve water quality in two high-priority watersheds in Texas through the National Water Quality Initiative (NWQI). The additional funding application deadline is May 7, 2021.
Designated watersheds for 2021 are the Lampasas River watershed near the towns of Lampasas, Kemper and Briggs, Texas, and the Lake Lavon watershed, which is the uppermost reservoir on the East Fork of the Trinity River and is a primary source of raw water supply for the North Texas Municipal Water District.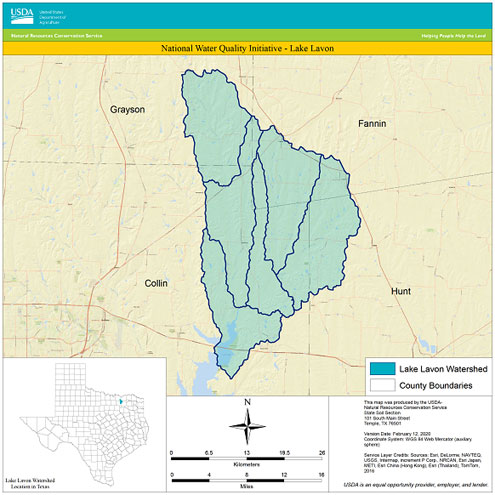 "We've learned that when we partner with producers to deliver conservation practices to critical watersheds, we see a positive impact," said Kristy Oates, NRCS state conservationist for Texas. "Through these partnerships we maximize the delivery of our conservation efforts which yields greater results to water quality and benefits the public, our natural resources and farmers' bottom lines."
Through NWQI, NRCS offers technical and financial assistance to farmers and ranchers to implement practices that avoid, control and trap nutrients and sediment, which can negatively impact water quality. Practices include filter strips, cover crops and manure management to promote soil health, reduce erosion, and lesson nutrient runoff.
NWQI is a partnership among NRCS, state water quality agencies and the U.S. Environmental Protection Agency to identify and address impaired water bodies through voluntary conservation. Through the initiative, NRCS provides targeted funding for financial and technical assistance in small watersheds most in need and where farmers can use conservation practices to address impaired surface water. In 2019, NWQI was expanded to include protection of both surface and ground sources of drinking water.
While USDA offices are currently closed to visitors because of the pandemic, Service Center staff continue to work with agricultural producers via phone, email, and other digital tools. To conduct business, please contact your local USDA Service Center. Additionally, more information related to USDA's response and relief for producers can be found at farmers.gov/coronavirus.