Grapevine, Texas—(December 21, 2020) -- Avondale Group, North Texas' leading retailer of luxury performance automobiles are granting wishes across the metroplex this holiday season. They are teaming with their Avondale Partners to present '7 Days of Giving' to commemorate their inaugural holiday season of the newly branded automotive company and share The Avondale Spirit. Each of these partners have selected a charity and Avondale is supporting them in carrying out and matching their contributions. Each day of giving will lead up to a first look of Avondale's major volunteer efforts by its own team members for a Wish recipient from Make-A-Wish.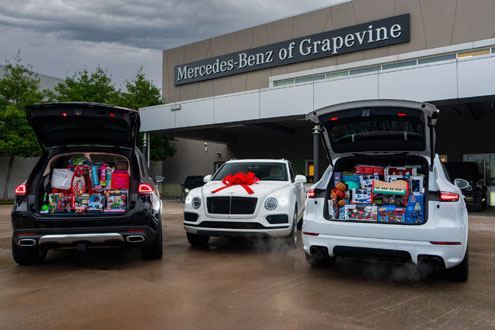 Avondale Group President Hesham Elgaghil said, "The Avondale Way is to strive to bring a human touch to our clients' overall experiences. One of the ways we have done this over the past 30 years is to work passionately to elevate the communities around us. We look forward to anticipating the need before it arises with our clients and championing the causes that mean so much to them. From all of us, we say thank you and wish everyone in North Texas a safe, healthy and peaceful holiday season."
To kick-off the campaign of giving, Avondale will select one winner to receive a holiday prize package including a weekend use of a luxury vehicle, shopping spree and stocking stuffers on December 21, 2020. To enter, visit @avondaledealerships on Instagram or @avondalegroup on Facebook.
From December 22-26, Avondale will share and salute their partner's holiday community giving and deserving organizations on their social media channels, beginning with Automotive Photographer, Pepper Yandell:
Pepper has harnessed the power of Aston-Martin to spread holiday cheer as the lead car in the BvB Dallas Holiday Car Parade and Gift Drive for Williamsburg Village Senior Care Facility in DeSoto, Texas.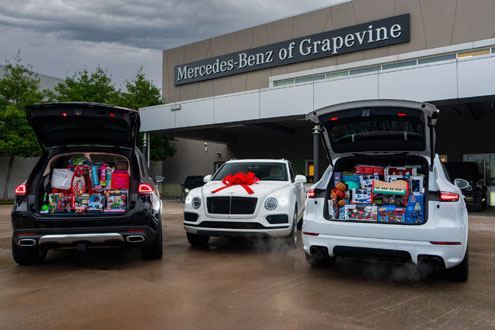 Dallas Lifestyle Blogger and Animal Advocate Nita Mann, a current Mercedes-Benz partner, will be donating much needed supplies to the Garland Animal Shelter.
Founder of The Fitish and Beauty Influencer Jenna Owens, an Avondale Select Partner, will use the funds to support her Fitish Wishes efforts, which help families needing a little holiday help this season.
Dallas Cowboys Defensive End and Bentley Partner DeMarcus Lawrence will work with Avondale and Make-A-Wish North Texas to grant an end-of-the-year technology wish.
A collection of Avondale members will be brightening the day of frontline workers at Baylor Scott-White in Grapevine with a "thank you" lunch and an extra-special gift of a weekend-use to one of the staff nurses. As a team, Avondale also be delivered toys they had been collecting at their dealerships and delivered them in a vehicle parade to Santa Cops in Grapevine to benefit Grapevine Police and the families they are giving to this season.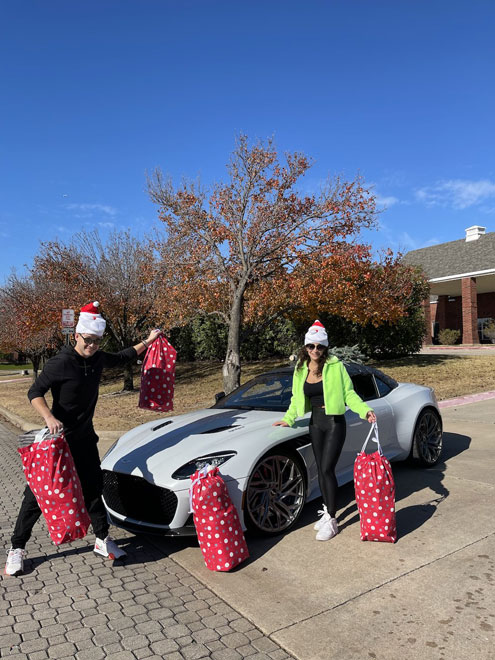 The final day of giving on December 26 will showcase Avondale Collision and Repair members' efforts. They are busy working overtime and behind-the-scenes this season to grant a special recipient of a Make-A-Wish client. Led by Mark Waugh aka "Captain Collision" four lead technicians have been volunteering countless hours to refurbish and repair a treasured automobile for a very special individual. Stay tuned for more of the amazing reveal in 2021. Here is a sneak peek.
If you would like to contribute to any of the charities and organizations above please contact Liz Shafton at Avondale Group at lshafton@avondale.com or click on the links below.
Links:
Facebook: @avondalegroup
Instagram:  @avondaledealerships
Twitter: @avondale_group
Make-A-Wish: https://wish.org/ntx
Garland Animal Shelter: https://garlandtx.gov/187/Adoptable-Animals
Williamsburg Village: https://wvsnf.com/
Baylor Scott & White Grapevine: https://www.bswhealth.com/ways-to-give/
Santa Cops: https://www.grapevinetexas.gov/492/Santa-Cops
About Avondale Group:
Avondale Group is an innovative business led by a team with decades of success and experience in the automotive industry. Avondale is supported by members who have an incredible spirit for delivering an elevated client experience. This Spirit of Avondale runs deep and is channeled in multiple ways to care for the local community. Avondale Dealerships operate Mercedes-Benz of Grapevine, Porsche Grapevine, Sprinter Grapevine, Aston Martin Dallas, Bentley Dallas, Koenigsegg, McLaren Dallas, Maserati Dallas, and Rolls-Royce Motor Cars Dallas. In addition, the company manages Avondale Collision & Repair, and Avondale Select, a subscription service for luxury vehicles.
For more information, visit www.avondale.com