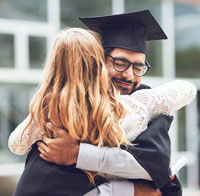 Commerce, Texas -- Greater Texas Foundation announced a $783,524 grant to Texas A&M University-Commerce Foundation. The funds will be used to develop two competency-based degree programs and hire additional staff to support and advise adult learners.

Competency-based programs provide affordable, flexible pathways to a bachelor's degree for students who already have college credits, certifications or work experience. The online programs allow students to earn credentials at their own pace by demonstrating content mastery through various assessments.

"An increasing number of Texans are looking to further their education after gaining valuable learning and experience on the job," said Sue McMillin, president and CEO of Greater Texas Foundation. "Competency-based programs recognize what these students have already accomplished and allow them to complete their credentials on a timeline that makes sense for them," she said.

A&M-Commerce currently offers two competency-based degree programs. The addition of two new programs will help fill critical workforce needs in the region.

"Our university is already a state leader in competency-based education, and this generous grant will allow us to expand our programming and distinguish A&M-Commerce as the premier university for adult learners," said A&M-Commerce President Mark Rudin.

Rudin said he looks forward to seeing the impact of these new competency-based programs under the leadership and expertise of Dr. Yvonne Villanueva-Russell, dean of the College of Innovation and Design, and Mr. Carlos Rivers, executive director for the Institute for Competency-Based Education.

"We are excited to develop these two new industry-leaning educational opportunities that boldly reinforce the university's strategic plan to transform lives, advance knowledge, serve an inclusive community and foster collaboration in the region," said Villanueva-Russell.

With funds from the grant, A&M-Commerce will enhance its Student Success Team within the College of Innovation and Design to more fully support competency-based learners and meet their unique needs. New success team members will include a partnership and outreach coordinator, who will recruit students into the program; an undergraduate enrollment specialist, who will help students plan out their coursework; and a life design coach, who will assist students in navigating any challenges they encounter along the way.

"We are energized by the work being done in this important area of education and are extremely grateful to Greater Texas Foundation for this grant," said A&M-Commerce Foundation Board Chairman Mick Trusty. "Adult learners face distinctive challenges as they balance full-time careers and families, so a robust support system is critical to their success," he said.

The new competency-based degree programs are expected to be offered starting in fall 2021.

Visit tamuc.edu/CID to learn more about the university's competency-based education programs within the College of Innovation and Design.