Dallas, Texas -- Despite the pandemic's impact on the restaurant and hospitality industry, Dallas College continues to support and elevate culinary culture with its annual showcase of the most exciting kitchen fare in Dallas – this year, all from the comfort of your car.
As in years past, the local chefs who power Dallas' world-class restaurant scene will join the Dallas College Culinary Pastry and Hospitality's "Bits and Bites" food festival, but now as a drive-through, socially distanced, mobile culinary event replete with tents and fun activities.
The festival will be hosted at the new Dallas College Culinary, Pastry and Hospitality (CPH) Center at 11830 Webb Chapel Road in Dallas, on Sunday, October 25, 2020, from 3 to 6 p.m., with more than 25 chefs who have collaborated to deliver an experience like no other. For three hours at staggered intervals, drive-through patrons will receive specially curated small plates-style portions distributed in the CPH Center's spacious parking lot.
Guests will remain in their cars, drive through a planned route and receive pre-packaged Bits & Bites treats from a number of name-brand chefs, such as Kent Rathbun, Dean Fearing and John Tesar. Vendors and sponsors will offer other goodies in branded insulated bags. All participants will wear branded facemasks as well as face shields to adhere to the highest levels of COVID-19 protocols. Approximately 30 tent stations will line four rows as cars snake through a route that will be filled with music and programming pumped through attendees' FM car radio – including information on the restaurants that have come together in support of CPH and Dallas College's innovative industry programs.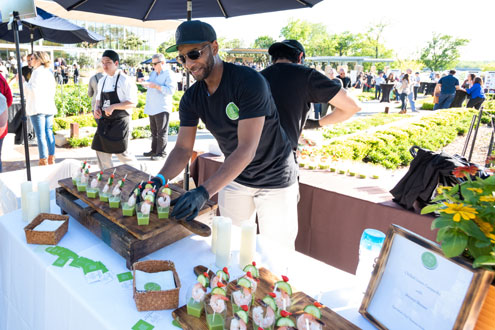 Sponsors include the Texas Beef Council, Verlasso Salmon, Profound Foods, Maple Leaf Farms, and Modern Pour Cocktail Catering.
In addition to a trove of conveniently packaged edible delights, the chefs and participating establishments will show support for the students and restaurant workers who serve our community through professional careers in the culinary and hospitality industry.
"CPH and Dallas College wouldn't be able to offer its students such a robust education without the culinary and hospitality industry partnerships that are embodied in Bits and Bites," says CPH Director Steve DeShazo. "Bits and Bites 2020 demonstrates the perseverance of our industry in serving our current students and the students of tomorrow, no matter what obstacles might lie ahead."
Now in its 12th year, Dallas' best chefs continue working together with Dallas College CPH students to demonstrate restaurant innovations, while showcasing the resiliency of the industry. Bits and Bites is also a chance for patrons to show gratitude for the front-line workers and service industry professionals who have kept Dallas fed – especially during the pandemic when the industry has suffered devastating losses.
Tickets for non-media patrons can be purchased here. Annual fundraising events like Bits & Bites are an important revenue stream for funding programs, scholarships and equipment purchases of the CPH program. Donations are heartily encouraged.
Chefs and restaurants participating in Bits and Bites 2020:
Adam West - Local Yocal
Eric Patterson - Zest Catering Kitchen
Jeana Johnson - Chef Jeana Johnson
Jimmy Contreras - Taco y Vino
John Tesar - Knife
Justin Box - Chef Justin Box
Nikky Phinyawatana - Asian Mint
Sharon Van Meter - 3015 at Trinity Groves
Whitey Hershorn - Sysco
Paula Lambert - Dallas Mozzarella Company
Meaders Ozarow - Empire Baking Company
Sandra Sepulveda - Mesquite High School
Jared Harms - Commons Club at Virgin Hotel Dallas
Hugh Stewart - The Bistro at Crest Auto Group
Nick Walker - Profound Foods
Sean Jett - Humble: Simply Good Pies
Dean Fearing - Fearing's at the Ritz Carlton
Janice Provost - Parigi
Dunia Borgia - La Duni Latin Kitchen
Josh Harmon - Birdi Bao
Kent Rathbun - Rathbun's Curbside BBQ
Jason Blackwell - Skyline High School
Jordan Swim – Front Burner Experiences
David Madrid – Chef David Madrid
Robert Hale – Texas Beef Council
Nico Sanchez – Meso Maya
Josh Bonee – Lucky's Hot Chicken
For more information, contact Director Steve DeShazo at sdeshazo@dcccd.edu or 972-391-1468.
About Dallas College
Dallas College, formerly the Dallas County Community College District, was founded in 1965, and comprises seven campuses: Brookhaven, Cedar Valley, Eastfield, El Centro, Mountain View, North Lake and Richland. Dallas College offers online learning, and serves more than 83,000 credit and 25,000 continuing education students during the fall and spring semesters. Dallas College also offers dual credit for students in partner high schools and early college high schools throughout Dallas County. Dr. Joe May, the college's 7th chancellor, has established the Dallas College higher education network in partnership with area school districts, colleges and universities, businesses, community organizations and others to support student success and college completion by removing barriers and providing services that help them earn a college credential and start their professional careers.