My column writing for North Texas e-News began because of a few sentences I wrote last year about the Leonard, Texas Picnic; unfortunately because of the Coronavirus, the 142nd annual picnic will not be held this year. When I was in high school a classmate's father had told my good friend Sam and me that he had been all around the world including the Leonard Picnic. Sam and I joked about that comment for many years and in 2018 I made up my mind to go and see just what the Leonard Picnic was like, I was pleasantly surprised.
The Leonard Picnic had its beginnings in 1880 when on July 22 the town's settlers held a picnic celebrating the sale of the new town's first lots. It is a very fun old-fashioned style event, in spite of its longevity still many people around our area have never even heard of it. While the townspeople are quite happy with the picnic, many more people throughout North Texas could and would enjoy it if the annual event was given much more publicity.
Sam and I grew up in the '50s and '60s, what I sometimes refer to as simpler times but in some ways seemingly better. To me, the Leonard Picnic reminded me of those days in the fictional town of Mayberry. To a lot of people, Mayberry was the ideal town of those times. And it wasn't really as fictional as some people thought because back then there were many similar small towns scattered throughout our country.
I've attended just two of the 141 annual Leonard Picnics. It's hard to attend those picnics without thinking of Mayberry and the way things used to be. It seemed like just such an event where you would expect Andy or Barney to show up any time. I knew that couldn't happen, but it was fun just thinking of the similarities between that picnic and one they might've had in Mayberry.
If you get a chance to attend next year, try to do so because you will probably be pleasantly surprised.
Many people don't know that the Andy Griffith Show started as one episode on the Danny Thomas Show. In that episode Danny and his wife were speeding through Mayberry when they encounter Sheriff Andy. If you've never seen that particular episode of the Danny Thomas Show, it's a fun one to watch. You can find it on YouTube or as a friend of mine mistakenly called it one time the Innertube. I now ask him from time to time if he's found anything fun to watch lately on the Innertube, many of the classic old television shows can be found there, so it's worth checking out.
A little Mayberry trivia:
Originally, Andy was to provide the comedy on his new show. However, after he watched Don Knotts in the very first episode, Andy decided that Don would provide the comedy and he would play more of a straight-man role.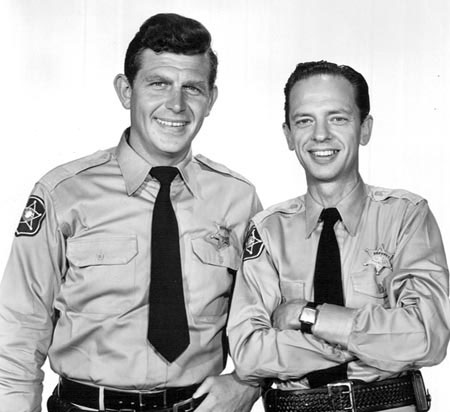 The Andy Griffith Show was filmed on the same lot as the 1939 movie classic Gone with the Wind. One of the many highlights of my crosscountry trip in the '70s was visiting Universal Studios, California and seeing where many television shows and some movies were actually produced.
Although Aunt Bee and Andy had a very loving relationship in the show, in reality they didn't get along that well on the set. I have read that not long before her death in 1989, Frances Bavier (Aunt Bee) called Andy and they patched up their differences.
On a similar note, William Frawley and Vivian Vance played very convincing roles as Fred and Ethel on I Love Lucy, but in reality they didn't get along all that well, either.
When Don Knotts started on the show, he didn't even have a contract; after the producers saw Don in the show's pilot episode they offered him a contract the very next day. Don went on to win five Emmy's for his work on the popular and long-running comedy; on the other hand, Andy won no Emmys for his portrayal as the sheriff.
The Andy Griffith Show was only one of three television shows to end their run at number one in the ratings, the other two were I Love Lucy and Seinfeld. The Andy Griffith Show ran from October 3, 1960 until April 1, 1968; 249 episodes were made with 159 in black and white and the remaining 90 in color. It may just be because that's the way all television shows used to be, but to me the black and white ones were more enjoyable to watch.
Back in the days of The Andy Griffith Show, some of the shows had a moral as part of the story; it wasn't always obvious, but it was usually there. Other shows of a similar nature were Father Knows Best, Leave it to Beaver, and Ozzie and Harriet. As a fan of that era, I wrote a column for e-News titled "Life Was Better in Black and White" that was published on March 30, 2020.
Mayberry RFD was a spin off of The Andy Griffith Show; it ran for three seasons but was never as popular as the original.
Andy and Don were best friends on the show and remained best friends in life, Don appeared in the No Time For Sergeants movie with Andy and also with Andy again in several episodes of Matlock. Andy had some gospel and Christmas CDs as well as a comedy album made early in his career titled "What It Was, Was Football." Don went on to star in several comedy movies as well as appearing on Three's Company as landlord Ralph Furley.
Andy was at Don's bedside when he passed away on February 24, 2006 at age 81. Andy passed away in the morning of July 3, 2012; in a very unusual move, he was buried at the Griffith Family Cemetery in North Carolina within five hours of his death.
If you have any comments or questions my e-mail address is deh63shs@yahoo.com.