Fannin County, Texas -- It is not often that we invite a singer-songwriter to perform here two years in a row. However, Rebecca Folsom is definitely the exception because of her extraordinary talent, not only in songwriting, but also in her perfect-pitch voice that ranges almost four octaves. [Her bio is below.] After her show with us last February, guests were saying, "WOW! What a voice and what a caring, genuine person! Get her back soon!"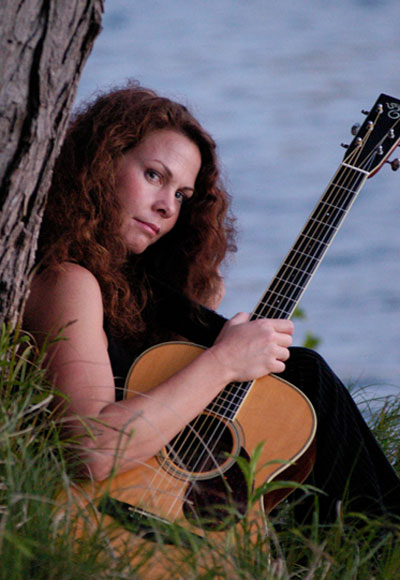 So, we invite you to Rebecca's gig with us on Sunday, February 9, 2020, 4:00-6:00 p.m. If you missed seeing her last year, please give yourself this gift for an early Valentine's Day treat. Make reservations by calling 903-583-2661, leaving your name, contact info (e-mail preferred), and number of seats desired. Seats are limited to fifty guests in our vintage home on Wildscape Acres (www.WildScapeAcres.com) — 10 miles north of Bonham, TX and about 65 miles NE of the Dallas metro).
Suggested donation is $15 per person. If you wish to prepay, please send a check payable to Rebecca Folsom to Faye Wedell, P. O. Box 812; Bonham, TX 75418, to be received by Friday, February 7th. (Cancellations received by that date will be refunded.) Guests can pay with cash or check at the door as well but, if you make a reservation, please have the courtesy of calling if you must cancel — we keep a waiting list and NO-SHOWS are a NO-NO!
Rebecca will be performing two 45-minute sets with a 30-minute intermission to allow guests to mingle, graze at snack tables, purchase CDs, grab another cuppa' joe, etc. The doors will open at 3:30 p.m. to give you time to find your seat, pay at the reservation table, and get yourself ready for a concert extraordinaire that will become your heart's delight! Faye and Scott, the hosts of Harmony House Concerts, provide a coffee bar, a breakfast room filled with various teas, juices and, of course, good 'ole well water! They will also provide cheese and crackers and whatever other yummy recipe Faye decides to prepare. In the breakfast room, there will be a basket for optional $1 cash donations to help defray their expenses.
All proceeds of any concert held here go to the performing artist. This independent music path is their livelihood, and their talent/warmth is contagious! We believe that no guest has ever left Harmony House with feelings of not being cared for and touched by the Artist's Way/Songs.
As there will not be a potluck dinner after the show, guests are encouraged to bring finger food snacks to share on tables provided throughout our home. After the concert, there may be a song circle — if guests bring their instruments, voices, original songs, or well-known songs for others to join in with the jammin' and singin'.
About Rebecca Folsom:
"She takes you from subtle ballads to knock-you-to-your-knees blues." ~ KUNC Radio
Rebecca Folsom is an award-winning singer/songwriter from Boulder, CO. Her music is about liberation. Her songs crack open hearts, inspire hope, and leave listeners with a deeper perspective. Rebecca's world-class voice traverses a near-four-octave range.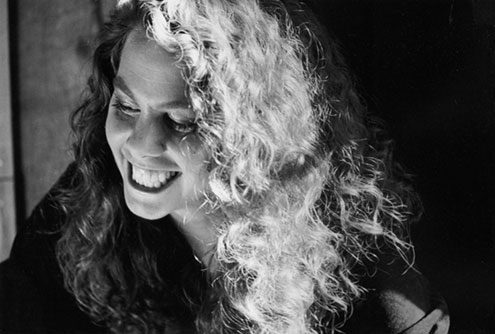 Rebecca's newest album, Sanctuary, is a collection of 12 exquisitely crafted tracks that reflect her passion for transformation, her compassion for humanity and her belief in the unifying power of both love and music. Through her breath-taking voice and brilliant storytelling gift, she offers insight, invites empathy, and asks us to unite our passion and our voices for the common goal of co-creating a world that can provide sanctuary for all.
Three years ago, Rebecca Folsom was standing in the Temple of Transformation, a renovated Methodist church that belongs to her friend Suzy Batiz. In that moment, Rebecca was overcome with the feeling of the many voices that had come together in that space over the years, uniting in human struggle and celebration, lifting their voices in sacred harmony, healing and love. She thought to herself: 'This space needs its own song.' That's when the spark for Sanctuary was born.
In different ways, each of the songs illustrate how our belief in separation is impacting our world with devastating results, and how the fear that comes from those beliefs is clouding our ability to see the humanity in ourselves and in others. Through her writing, Rebecca invites us to take a step back, to bring love to the table and to come together in co-creating a better world through compassion, collaboration and inspired action.
In addition to being a talented, accomplished musician, Rebecca is a skilled, passionate painter. You can see some of her favorite works and find out more about her on her website, www.rebeccafolsom.com.
[ You can find the 2020 Harmony House schedule in the "Files" section of our Facebook page, Harmony House Concerts Group ]