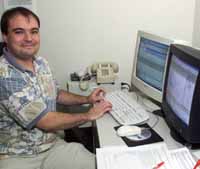 COMMERCE, Texas -- You have seen the movies in which robots are self-aware and joked about computer cockroaches, but scientists in their quest to understand intelligence and to develop artificial intelligence in robotics have actually turned to the study of insects and primitive vertebrates.

They are looking at how these react to stimuli and how they develop memory, striving to replicate it in robotics for use in applications as diverse as medicine and space exploration.

"Something eluded us," says Dr. Derek Harter, assistant professor of computer science and information systems at Texas A&M University-Commerce.

"We started off by studying human intelligence, but did not find the answers we were searching for."

Harter, a 2004 doctoral graduate from the University of Memphis, obtained his degree for research on applications of complex systems concepts to understanding intelligence and applying them to autonomous agents and robotic systems.

Initially a pure computer scientist "not interested in how people produced cognition and intelligence, just in producing intelligent machines," his research as part of a team of scientists awarded a $900,000 grant from NASA has led him to straddle the fields of cognitive psychology, mathematics, and neuroscience.

His work will eventually be applied to developing robotic space exploration and rescue vehicles that are better able to learn and navigate an unknown environment.

"Initially a lot of research into artificial intelligence was focused on human cognition in a top-down approach. The human capabilities that most impressed were chess playing and logical reasoning.

"However, we are now developing a different approach, starting with the study of insects and moving to primitive animals with a central nervous system -- like salamanders, in which we have found long-term brain memory." Harter says that psychologists are also interested in using robotic computer intelligence as a platform on which to study and build models of human cognition, even though artificial intelligence systems do not necessarily correlate directly with how humans might produce intelligence.

"Cognitive psychologists want to model human cognition in a way that is concrete and real rather than the abstract, which is why they are now looking at robotics," Harter explains.

Instinct, a reactive behavior, is being studied and chained together in sequence and applied as artificial intelligence in computers to get the same behavior.

Chained sequences linked together create complex behavior, and these behaviors are being combined in an effort to create memory.

Even simple mammals have an ability to build a cognitive map of the environment. They build representations of the environment to remember locations, especially of places that have importance to them, so they are able to navigate. Long-term memory is used to solve goals and satisfy needs.

"Our first three-year NASA grant covered what is known as "proof of concept," which involves publications and work on theory. We have submitted the second stage of our work to NASA and are awaiting their approval on a $1 million grant.

"NASA has something termed a "technology readiness level," which is when technology is considered mature enough to be put on a space mission.

We expect it will take about three more years for our technology to reach the lowest level of this rung.

"Our immediate focus is on vehicles and robots. If any succeed, there are a vast number of applications where increased intelligence can bring big benefits."

Harter is collaborating loosely with scientists at the University of California-Berkley, the NASA Jet Propulsion Laboratory, the University of Florida and the University of Chicago. He is also working closely with his former adviser, Dr. Robert Kozma, professor in computer science at the University of Memphis.

He received his bachelor's in computer science at Purdue University and computer science master's with a concentration in artificial intelligence at Johns Hopkins University.

"I have always been fascinated by space and computers," Harter says, "so being able to work on this research has been a real treat for me."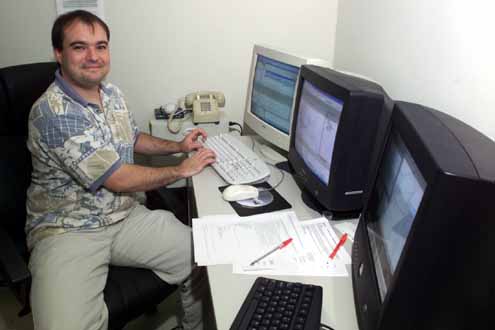 TOWARDS ARTIFICIAL INTELLIGENCE -- Derek Harter, assistant professor of computer science and information systems at Texas A&M University-Commerce, is part of a team of scientists that has completed a $900,000 grant from NASA. His research work has led him to straddle the fields of cognitive psychology, mathematics and neuroscience in developing artificial intelligence in robotics. The team has submitted the second stage of their work to NASA and is awaiting approval on a $1 million grant. Harter's work will ultimately be applied to developing robotic space exploration and rescue vehicles that are better able to learn and navigate an unknown environment. (A&M-Commerce photo)