Bonham, Texas -- This past Monday (11/4/19) evening Bonham's City Council and BEDCo's Board of Directors held a joint workshop to receive a 'Charting our Progress' update on implementation of Bonham's Visioning Bonham 2017-2025 Plan (VisBon 2025). Dr. Randy McBroom, Ph. D. was joined by Martin Sanchez, President & Co-founder of the Sanchez Group in facilitating the event.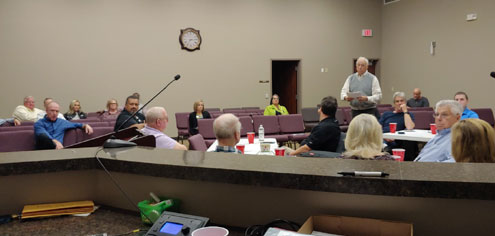 Dr. Randy McBroom Ph.D. once again served as facilitator at the Joint Councl-BEDCo Workshop held Monday November 4th 2019 Pictured here Councilmember Kevin Hayes (speaking to McBroom away from camera) comments on 'Plan' progress he has observed since the last workshop update in February.
Using a very conversational manner Dr. McBroom engaged participants in recapping progress over the last six to eight months since the initial launch of this series of VisBon 2025 implementation updates. Downtown parking quickly emerged as a topic of widespread interest for many of those in attendance that included several members of the Bonham Area Chamber of
Commerce Board of Directors and staff, Bonham Manufacturers' Roundtable, TCOG staff, Bonham ISD Superintendent Kelly Trompler and several department heads from city staff.
Among the factors impacting downtown parking are the
construction/restoration of the Fannin County Courthouse, the need for local business owners to strongly encourage their employees to park in available parking lots rather than "at the front door" where customers prefer to park and "wayfinding" signage to assist drivers not familiar with downtown Bonham
in finding their way to numerous nearby parking options or through downtown to other local destinations and attractions. Wayfinding signage will indeed receive more attention (and resources) with an eye to clear out some elements of visual clutter while offering a consistent visual reference to help guide shoppers, travelers and guests to our community! Likewise, direct business-to-business (B2B) conversation and consideration is the single most impactful means to address the availability of local downtown parking and the distribution of WHERE that parking is.
The overarching topic impacting an array of current and future concerns remains housing. Specifically the limited 'workforce housing' options presently available in the Bonham market directly impacts; the ability of the city to attract & retain local first responders, BISD's recruitment and RETENSION of first and second year teachers and coaches, industries' ability to fill existing jobs and the private sector's staffing of new ones as more retail stores and restaurants open their doors in Bonham.
Martin Sanchez together with Dr. McBroom and Sanchez Group colleague Rick Chaffin presented a veritable tour de force to all on the critical "inputs" builders & developers must address for this stock to expand. Many of these on-going challenges will be addressed in the coming months in preparation for the first of its kind in Bonham - Bonham Developers Conference that the
City and BEDCo will cohost in cooperation with The Sanchez Group on Friday April 17th next year. While primarily focused on residential, select commercial and industrial developers will also be among invitees.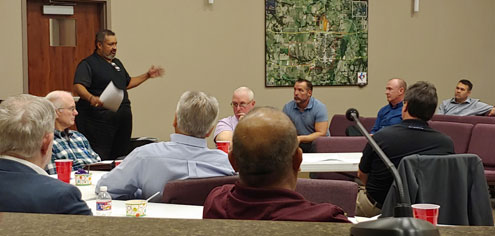 Martin Sanchez 'doing what he does best' sharing instruction on the critical factors impact community development! City Manager - Sean Pate looks on enraptured by Sanchez's depth of knowledge on the topic as do Mayor Floyd together with members of the Bonham City Council and BEDCo Board of Directors
The completed Visioning Bonham 2017 - 2025 Plan remains available to all on the front page of the city's webpage: http://www.cityofbonham.org/