McKinney, Texas - On Gold Star Mothers Day, Sunday, September 29, 2019, at 2:00 p.m., in a special ceremony to be held at the Lt. Russell A. Steindam Park, 4501 Quincy Lane, Plano, Texas, a historical marker honoring the late Plano war hero will be dedicated. The popular neighborhood park, built in 1993, was named for an honor student of the Plano High School Class of 1964.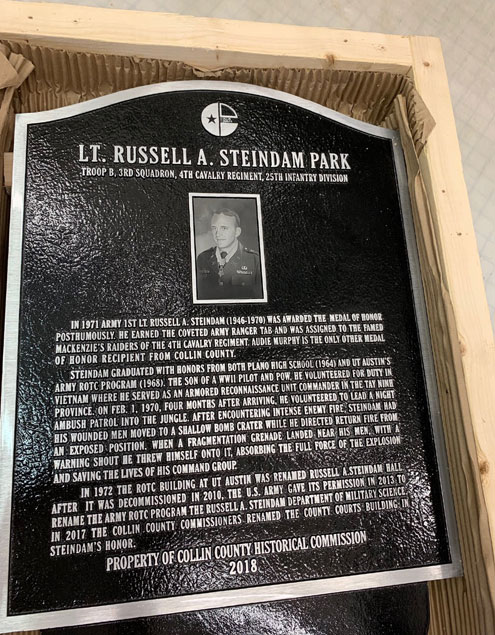 For 26 years the park has carried his name, but with no visible signage or explanation as to why it was named for Russell Steindam. Around the country there are numerous buildings on US Army bases named for him; the University of Texas honored him many years ago by naming their ROTC building, "Steindam Hall"; he is listed on the Vietnam Veterans Memorial in Washington DC; on the Wall of Honor at the Collin County Veterans Memorial in McKinney, and just a year ago, the Collin County Courthouse in McKinney, after carrying that title for over 170 years, was renamed the Russell A. Steindam Courts Building.
Now, after efforts by the Collin County Historical Commission, Collin County Freedom Fighters, VFW Post 2150 and American Legion Post 110 in McKinney, the folks of his hometown who walk and jog, play ball, swing or slide, will know what a great hero is being honored by this plot of ground.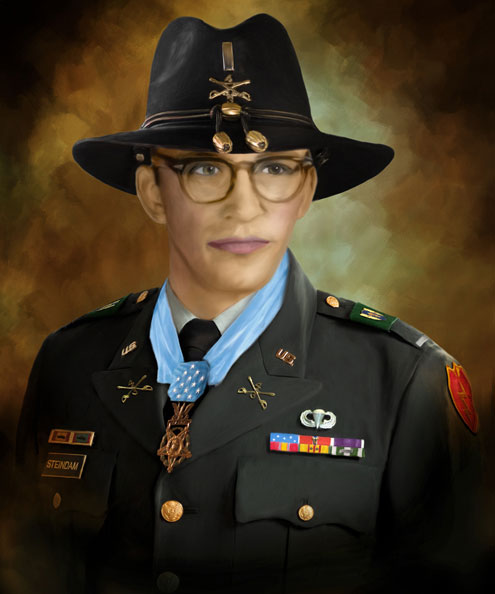 Lt. Russell A. Steindam
Russell's father, 2nd Lt. Albert Ludwig Steindam, as a young pilot in the US Army Air Corps in WWII, had spent 11 months in a German prisoner of war camp, after his heavily damaged B17 bomber crashed just short of the safety of Switzerland in 1944.
Russell was to follow in his dad's footsteps during the War in Vietnam, however he chose not to fly airplanes, but to jump out of them. In September of 1969 he left his young wife Mary Ann, expectant with their first child, and reported for combat duty in Vietnam.
Exactly four months later, the night of February 1, 1970 found Russell in charge of a 15-man squad with the mission of establishing a deep-jungle night ambush. It was a very dangerous mission, but he wore the prestigious wings of an Army Ranger and that Ranger training would be needed.
It was very dark when the patrol jumped off of a slow-moving convoy of tanks and armored carriers, and quickly assembled as quietly as possible. The "point man" moved out, with every man following in single file about three feet apart. The point's job is to watch the front. He has to be aware of such things as booby traps, trip wires and ambushes. The second man's job is to watch the front, as well as the point man's back. The rest of the men alternated down the line as to who watched the left and right flanks. The last man in any patrol, tail-end Charlie, watched the rear. Russell, positioned in the middle, had to watch everything, as well as take compass readings and keep count of his steps.
When it gets dark in the jungle, it gets really dark. In 1970 with no GPS guidance, the only way to navigate was to have the coordinates to the pre-planned ambush site in advance, plotted as to the directions and number of steps between check points, and then hope you didn't lose count. Slowly working its way to the ambush site, the patrol made frequent stops where they would stand still and listen for any unnatural sounds and make sure they weren't being tailed. However, they never reached the end of the trail. The Congressional Medal of Honor citation tells the story of 1st Lt. Russell Steindam's incredible feat of courage and unselfishness on that fateful night.
The President of the United States in the name of Congress takes pride in presenting the Medal of Honor posthumously to Russell Albert Steindam, 1st Lieutenant, United States Army, for service as set forth in the following citation: For conspicuous gallantry and intrepidity in action at the risk of his life above and beyond the call of duty, 1st Lt. Steindam, Troop B, 3rd Squadron, 4th Cavalry, while serving as a platoon leader, led members of his platoon on a night ambush operation. On the way to the ambush site, suspected enemy movement was detected on one flank and the platoon's temporary position was subjected to intense small arms and automatic weapons fire as well as a fusillade of hand and rocket-propelled grenades. After the initial barrage, 1st Lt. Steindam ordered fire placed on the enemy position and the wounded men to be moved to a shallow bomb crater. As he directed the return fire against the enemy from exposed position, a fragmentation grenade was thrown into the site occupied by his command group. Instantly realizing the extreme gravity of the situation, 1st Lt. Steindam shouted a warning to alert his fellow soldiers in the immediate vicinity. Then, unhesitatingly and with complete disregard for his safety, 1st Lt. Steindam deliberately threw himself on the grenade, absorbing the full and fatal force of the explosion as it detonated. By his gallant action and self-sacrifice, he was able to save the lives of the nearby members of his command group. The extraordinary courage and selflessness displayed by 1st Lt. Steindam was an inspiration to his comrades and are in the highest traditions of the U. S. Army.

Lt. Russell A. Steindam
Two Collin County men have been awarded the Medal of Honor; Audie Murphy, from Farmersville in WWII and Russell Steindam in Vietnam. For more information and to read about all of the 416 heroes listed on the "Wall of Honor" go to Collin County Freedom Fighters website here - www.ccfreedomfighters.com