Bonham, Texas -- Memorial services for Scotty Hazlewood, 62, of Bonham, Texas, will be held 11:00 a.m. Saturday, August 17, 2019 at First Presbyterian Church in Bonham, Texas under the direction of Wise Funeral Home. Rev. Lisa Reece will officiate.
Scotty left us to be with the Lord on Wednesday, August 14, 2019. He is whole and is renewed in heaven. He is filled with joy and laughter and is busy reconnecting with his loved ones. He was strong in his faith and loved the Lord.
Scotty was a believer in the power of prayer and could feel the prayers of those that loved him. He was baptized in his youth at Waddill Street Baptist Church in McKinney. Later in life he joined the First Presbyterian Church in Bonham with his family. He enjoyed an active church life and was heavily involved with youth programs. Scotty's God-given ability to connect with kids helped him grow the youth ministry program, which held a very special place in his heart. He took great joy from his church life, his church family, and all the work they accomplished together.
Scotty was also involved in the community. He enjoyed his time as Treasurer on the board of the Lake Fannin Volunteers, and the work done to convey that property back to Fannin County. He was proud to help build the trails, and design and construct some of the bridges in an effort to restore the property for future generations in the community to enjoy.
Scotty was an electrical engineer and "jack of all trades". He had a wealth of knowledge and was gifted with an analytical mind that was complimented with a loving heart. He began his career at Texas Instruments where he met his wife, Sharon. He continued his career at Southwest Pump in Bonham and then spent several more years in business with Bob Scott in Plano, Texas where he enjoyed flexing his creative mind on a multitude of engineering projects. He spent the last years working for Texas Parks & Wildlife at the Bonham State Park with Lee Ellis. He took enormous pride in his work at the park because it benefited his hometown and the community he loved.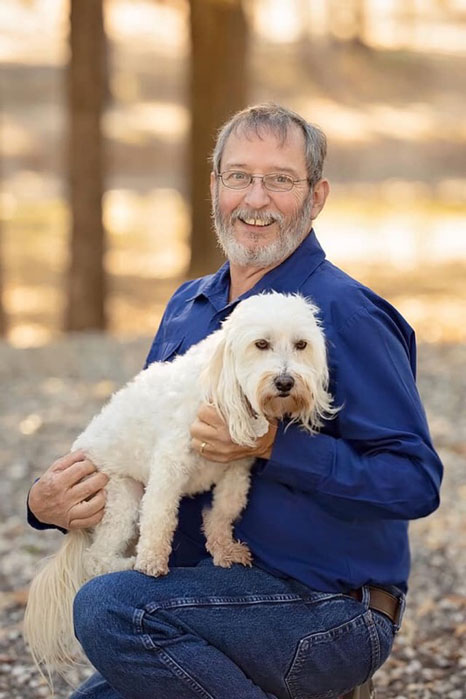 There are so many words to describe Scotty Hazlewood but love is who he was. He loved with all his heart and soul. He viewed those he met as an opportunity to learn and would give the shirt off his back to help anyone in need. He treated people as individuals and made you feel like you were important and loved. He loved his family and friends fiercely and in the end, he was the winner.
Scotty is preceded in death by his father, H. E. Hazlewood, sister, Sandy Kern, and nephew Cody Horton.
He is survived by his wife, Sharon Hazlewood of Bonham, Texas; son, Johnathan Hazlewood and wife Amy of Kingwood, Texas; daughter, Christina Richards and husband Joseph of Bonham, Texas; mother, Janie Hazlewood of Emory, Texas; brother, Randy Hazlewood of Emory, Texas; sisters, Cindy Howard and husband Marty of Bonham, Texas and Colleen Carson and husband E.J. of Omaha, Texas; grandchildren, Jackson and Christopher Kersey, Allison and Avery Hazlewood, and Kadrion, Jeremiah, Jaelynn, Tabatha, and Maggie Richards; great grandson Tylin Richards; and numerous nieces and nephews, extended family and friends.
In lieu of flowers, donations can be made in Scotty's memory to the First Presbyterian Church Bonham, Common Ground Prayer Garden or Youth Program at 818 N. Main Street, Bonham Texas 75418
You may sign the online guestbook at www.wisefuneralhome.com