Dallas, Texas -- This summer, a group of Dallas County Community College students will take part in the newly established "Exploring Apprenticeship" program. The initiative, funded by a grant from the Texas Workforce Commission, aims to provide workforce opportunities for students with disabilities.
"The grant is designed for a small cohort of seven to 10 students to ensure individual learning challenges can be addressed by instructors," said Karrie O'Neal, the program's lead instructor.
The students are vetted by local vocational rehabilitation counselors.
DCCCD Chancellor Dr. Joe May, along with Texas Workforce Commissioner of Labor Julian Alvarez III, were a part of the apprenticeship's recent unveiling during an open house at Richland College's Garland Campus.
"DCCCD is committed to economic stability. We are removing barriers and offering opportunities to better serve the needs of our students, parents and counselors," Dr. May said.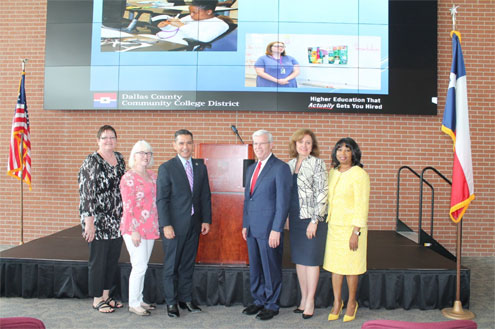 The primary focus is placed on exposure and awareness through interactivity and project-based learning coupled with interactive site visits over a two-week period. The culinary registered apprentice program at El Centro College and the CVS registered pharmacy technician program at Richland College are among anticipated site visit locations.
DCCCD is one of only two institutions in the state offering the pilot program this summer.
For more information, contact Joyce Williams, workforce and community initiatives office, at 214-378-1794 or by email at williamsjoyce@dcccd.edu.