Whether you're an Arkansas local or just passing through, you'll be pleased to hear that there are some excellent fly fishing locations around. From fast-flowing tailwaters to beautiful lakes, here are the top fishing spots as recommended to you by Fly Fisher Pro.
The White River
The White River offers anglers more than 100 miles of trout waters to fish. One of the largest rivers in the state, you won't struggle to find a good spot, with access points spread out all along the river.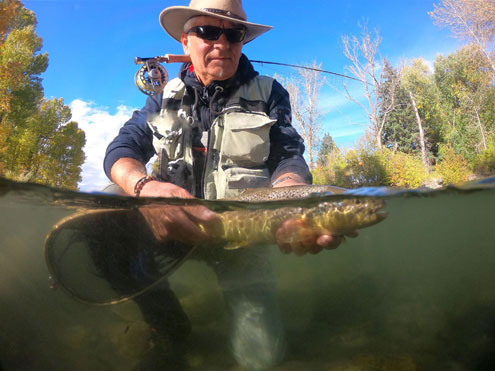 The water conditions and depth varies from day to day, due to 8 generators which release water into the river. This makes it the perfect habitat for trout (and provides great fly fishing opportunities for you!). You can wade at Roundhouse Shoal, Wildcat Shoal, and Rim Shoals.
Norfork River
The 5 miles of trout water on the Norfork River may not sound like much, but a 39-pound whopper broke the trout record right here in 1988. You'll still find trophy-sized trout here to this day, if you're lucky. All four trout species are native to this river, and although much of the river is Catch and Release only, you can harvest the fish in a few spots.
The Little Red River
Big ol' lunkers have been caught on the Little Red River too – in particular, a 40-pound monster which held the world record for seven years!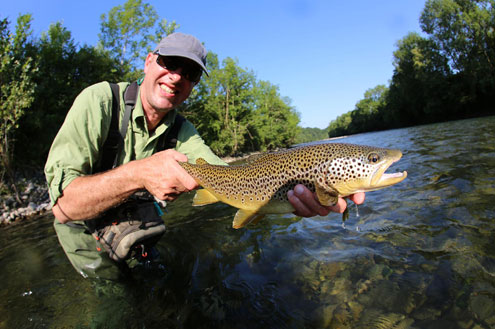 There are superb fly fishing conditions here, with over 35 miles of trout river to choose from. You can find cutthroat, brown, brook and rainbows in the Little Red River.
Dry Run Creek
If fishing is a family activity for you, taking your kids or teens to Dry Run Creek is a must! Specially designed only for children under 16 (accompanied by an adult) and fishers with mobility impairments, this creek is easy to access with teeming trout populations. Perfect for anglers who need wheelchair access or for kids who want to learn to fish in a safe location, Dry Run Creek offers an amazing experience. Do note that it's Catch and Release only here with artificial lures, but that shouldn't take anything away from this exceptional little creek.
Greers Ferry Lake
Located near the Ozark foothills just north of Little Rock, you'll find Greers Ferry Lake. The Little Red River feeds into this large, deep lake, and record trout are often caught here! The fishing is good, the views are spectacular, and it never gets too busy or bustling. Both rainbows and browns can be found here, and the sparklingly clear water makes for a great fly fishing experience.
Beaver Lake
If you're more into lake fishing, head to Beaver Lake, near Rogers, Arkansas. Fly anglers travel here from across the state to fish the healthy trout populations. The construction of Beaver Dam created 7.5 miles of cooler tailwater, which led the AGFC to introduce trout into the area. You've got this to thank for the great fly fishing on the lake now!
Although trout aren't native to Arkansas, you'll be in for some excellent fly fishing prospects here. Take your pick of these top trout rivers and lakes, where you'll spend a fine day fishing! If you want to find out more about fishing in Arkansas, head over to read the full article by Fly Fisher Pro!