Dallas, Texas -- Hundreds of Dallas' top real estate executives, homebuilders, local officials and others — including World Champion swimmer and Crystal Lagoons® Global Ambassador Michael Phelps — were on hand to celebrate the first man-made, tropical lagoon in North Texas during a special preview June 28 in Prosper's Windsong Ranch community, developed by the Tellus Group.
The five-acre body of water is only the second such amenity to open so far in Texas and is one of a growing portfolio of paradise-like lagoons nationwide, bringing the world's top amenity to the U.S.
(L-R) Lisa Moore (Crystal Lagoons), David Blom (Tellus Group), Craig Martin (Tellus Group), Michael Phelps
During the invitation-only grand opening festivities, Phelps made a special appearance and guests were entertained by a steel drum band, drumline, fire dancers and a water show with aquatic performers. Crystal Lagoons and Phelps are partnering to advance their shared vision of bringing swimming and water sports activities to communities around the world.
"We are very excited to bring this world-class amenity to the residents of Windsong Ranch," said Craig Martin, president and partner with the Tellus Group. "This has been a four-year project in the making and adding this feature to our already amenity-rich community will make Windsong Ranch even more sought-after by home buyers."
The state-of-the-art lagoon at Windsong Ranch is a signature feature of Tellus Group's 2,030-acre master-planned community and employs patented, eco-friendly technology by Crystal Lagoons, which uses only one percent of the chemicals and two percent of the energy required by traditional swimming pool filtration systems.
The private lagoon is nine feet deep and the size of almost four football fields, or 15 Olympic swimming pools, and is surrounded by white sandy beaches and hike-and-bike trails for residents' exclusive enjoyment. The dramatic, clean, clear body of fresh water is perfect for a wide variety of recreational activities, including swimming, snorkeling, kayaking and paddle boarding.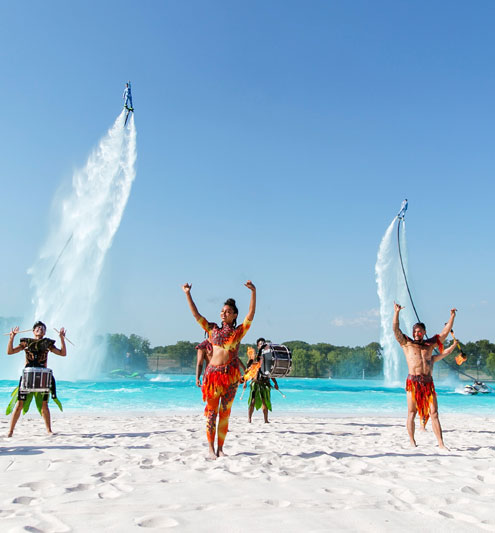 The lagoon at Windsong Ranch is a vital part of the community's purposeful program to bring people together through green spaces, trails, parks, dramatic architecture and exceptional, resort-style amenities.
The first Crystal Lagoons amenity in Texas opened last August at Balmoral in Humble, just outside of Houston. Another lagoon project will be breaking ground soon in the Lago Mar master-planned community in Texas City, Texas. Earlier this month, Crystal Lagoons and developers also celebrated the groundbreaking of a five-acre lagoon at Southshore Bay near Tampa, Florida. The company currently has about 110 projects in various stages of negotiation, planning or development across 22 states nationwide.
"The opening of our very first lagoon in North Texas marks a significant milestone for our company," said Lisa Moore, regional director of Crystal Lagoons. "Texas continues to be one of our most dynamic markets, and we are actively working on many more spectacular, tropical-style aquatic amenities to be developed across the state over the coming years. We salute Windsong Ranch's forward-thinking developers for eagerly embracing the future of outdoor lifestyle amenities and demonstrating how such beautiful bodies of water can add tremendous value and create community-transforming real estate projects."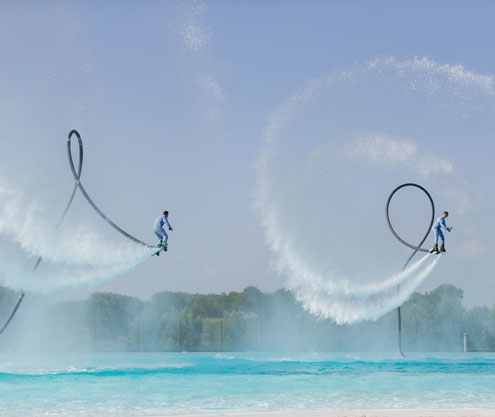 Beyond its significant project portfolio in Texas and Florida, Crystal Lagoons has also recently announced a bevy of lagoon amenities in new U.S. markets, including its coldest-climate lagoon to date as part of the Esplanade urban mixed-use project on the Ohio River in Pittsburgh, Pennsylvania. Esplanade will feature a Public Access Lagoon, creating a community gathering space surrounded by restaurants, shops, offices, residences, entertainment venues and more.
Crystal Lagoons has also recently announced or signed new deals in Alabama, California, North Carolina, Texas and Tennessee. Across the globe, over 600 man-made, crystalline lagoons have been completed, started or planned by Crystal Lagoons to date.
About Crystal Lagoons
Crystal Lagoons is a multi-national company with U.S. headquarters in Miami, Florida, and additional offices in Dallas and Los Angeles, that has developed an innovative concept and technology, patented in 190 countries, allowing for the construction and maintenance of unlimited size bodies of water in crystal-clear conditions at low cost. Crystal Lagoons impressive turquoise waters are revolutionizing not only the real estate world but also water and energy production. Applications range from bringing idyllic beach life to locations otherwise thought unimaginable, to providing industrial solutions for closed-circuit cooling systems for thermal power plants and data centers, among others. For more information, please visit www.crystal-lagoons.com or email infousa@crystal-lagoons.com and follow us on LinkedIn at https://www.linkedin.com/company/crystal-lagoons/.
About Windsong Ranch
Windsong Ranch is a 2,030-acre, award-winning, master-planned development located at 1001 Windsong Parkway South, just 2.5 miles west of the Dallas North Tollway on the north side of U.S. Highway 380 in Prosper, Texas. Approximately one-quarter of its planned homes are currently occupied or completed. Upon completion, Windsong Ranch will consist of 3,100 single-family homes and 150 acres of mixed-use development along U.S. Highway 380. Homes are from the upper $200,000s to over $1 million and range from villas to single-family homes on 61- to 86-foot lots. Builders include: American Legend Homes, Belclaire Homes, Britton Homes, Chesmar Homes, Darling Homes, Drees Custom Homes, Grenadier Homes, Highland Homes, Huntington Homes, and MainVue Homes. Models are open daily for tours. Windsong Ranch is 35 minutes from downtown Dallas, 30 minutes from DFW Airport and 40 minutes from Dallas Love Field. Major shopping conveniences are just outside the community's entrance. For more information on Windsong Ranch, please visit: http://www.windsongranchliving.com.
About Tellus Group
Tellus Group, LLC, is a real estate investment firm focused on opportunistic residential and mixed-use land development real estate assets. Its principals have decades of combined experience in investments and development in the real estate marketplace. Tellus Group seeks to deliver risk-adjusted rates of return that build and sustain investor trust throughout the investment cycle. Tellus creates value by engineering and executing smart, disciplined, proactive management and capital strategies, while adhering to the core values it shares with its partners.