I am continually amazed at what I don't know about the outdoors. Oh, I've spent a very active life I the woods and on the water, learning about the patterns of fish and wildlife. It's now been almost six decades since I was a 10 year old tromping the backwoods of East Texas. As a long time outdoors writer, I have had the privilege of being schooled by some expert biologists and guys that make their living in the outdoors. In my quest to learn more, I took the courses and became a Master Texas Naturalist several years ago.
But to be truthful, I still can't identify all the species of oak or, identify all the gull species on the Texas coast or, as I learned this past week, differentiate between an Alligator Snapping Turtle and Common Snapping Turtle! I'm not sure even the most astute wildlife biologist knows all the answers. Learning about our natural world is a lifelong endeavor that has brought me many hours of enjoyment.
A good friend of mine owns property situated at the upper end of a major reservoir. A creek that holds water year around is situated on one side of his property. This is one of the many feeder creeks that supply water to the reservoir and was surely a natural drainage for many hundreds of years before the dam was built and a reservoir birthed.
This past week, my buddy emailed me a picture (the one that accompanies this column) and informed me he had hooked and released a huge snapping turtle while catfishing. He only got the giant turtle's head and front part of his body out of the water and then took his photograph and released the ancient old reptile. He told me he was sure the critter weighed one hundred pounds or more, it was as big around as a bushel basket and had a head the size of a football.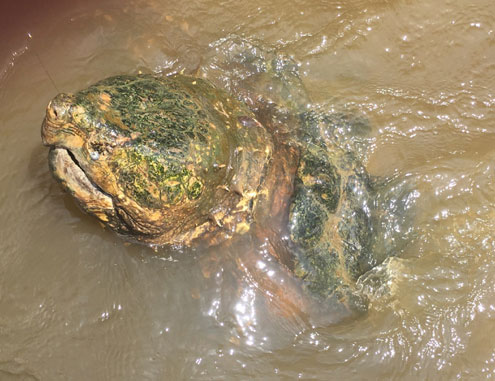 This old snapping turtle was more than likely around 80 to 100 years ago. These secretive creatures are seldom seen except in early spring when they bask in the sun. photo courtesy Jeff Rice
I decided to thumb through some of my books and discovered there are two species of snapping turtle; the Alligator Snapper and the Common Snapper. Thus began my TURTLE 101 crash course!
When I learned that Snapping Turtles regularly live 80 to 120 years, I began thinking about just how long this crusty old critter had been around! Assuming he is 100 years old which is entirely feasible, he was there in the creek a good 60 years before the lake was impounded. This old turtle would have been a hatchling around the period of the first World War! He was there in the creek when the first jet planes flew over and created the 'boom' that he probably felt through muddy bottom of the creek.
Heck, he was there when he heard the put-put noise of the first outboard motor that traversed the waters of his creek. And exactly WHERE was he hatched? Was it several miles up the creek from where he was recently hooked? Did flood waters during the past decade push him down the Red or Sulphur River into the creek where he spent the majority of his life?
From the best we can ascertain from the photograph, it appears our old turtle is of the Alligator Snapping Turtle variety. Of the two species, the Alligator snapper is the most docile; the common snapper, although smaller is much more aggressive. Mature Alligator snappers weigh an average of 70 pounds and older ones to to 120 pounds. Common snappers average about 30-50 pounds. The Alligator Snapper has a built in lure on the top of his tongue that resembles a small worm. He simply lies on the bottom and waits until his 'lure' entices a fish inside those powerful jaws and sharp beak and then he clamps down on his dinner!
I did a bit of checking with Texas Parks and Wildlife Department and learned that the Alligator Snapper is protected in Texas and if hooked, should be promptly released, the Common Snapper is not. It's really pretty easy to differentiate the two species. The Common Snapper's head is more rounded and its shell is smooth. The Alligator Snapper has a triangular shaped head and a very rough shell and, there is always that 'built in' lure in the Alligator Snapper's mouth (if you choose to get close enough to inspect its mouth)!
Yes, I have spent some very pleasant time imagining all this old turtle has experienced in its century-long life, but I guess the old gentleman's life will remain a mystery - he's not the talkative type!
CHANNEL CATFISH BITE RED HOT AT LAKE TAWAKONI- Blue catfish have been the targeted species throughout the winter, for trophy size fish and lots of eaters have been landed since about mid March but right now fishing for channel catfish could not be better. Guide Tony Pennebaker reports easy limits in a few hours fishing has been the norm. Most fish are holding tight to bottom in water 25 to 30 feet deep on punch bait over holes baited with range cubes. Pennebaker gave this report while fishing and added that the 'eater' size blue catfish bite was still strong, he had just boated a limit in water 4 foot deep, using cut shad for bait. For more information on catfishing at Tawakoni, contact Tony Pennebaker at 903-474-3078.
Contact Luke Clayton via his website www.catfishradio.org.