As I pulled up to the camp house at my buddy Jeff Rice's Buck and Bass Ranch, Jeff met me in the yard and commented on the gear I was hauling. My old truck looked a bit like a rolling vending machine for used outdoor gear. In the back were 5 freshly cut 'cane' poles, rigged and ready for some creek fishing. In one cooler, I had a gallon bag filled with thick cut pork chops from a wild hog I harvested a few weeks ago, fresh made sausage, eggs, tortillas. A large plastic container was filled with my 'skillet' beans that are cooked with garlic, Serrano pepper, onion and brown sugar. Cooking oil, corn meal, a fish fryer and big cast iron skillet were packed away, ready to do duty the next day.
Jeff opened the lid to my big Igloo cooler and noticed it contained only an unopened 20 pound bag ice.
"What's the big cooler for, Luke?" he inquired. "I don't think we will want to stop fishing long enough to clean fish this afternoon or tomorrow morning...let's just ice them and have one 'fish cleaning' before tomorrow's midday fish fry."
I was full of confidence that we would have plenty of fresh fish fillets for ourselves and the other three buddies that trickled in to partake of what we decided will be called our "Annual Buck and Bass Spring Fishing Extravaganza."
I love fishing from a boat as much as anyone but fishing along the bank of a creek in very early spring is something that everyone should try. Dogwood trees are in bloom and the sweet smell of early spring fills the air. As mentioned in previous columns, I was raised fishing in creeks with 'set hooks' or cane poles baited with cut bait for catfish.
When prepping the cane poles I cut a couple weeks ago, my mind backtracked to my youth and I calculated just how many years it had been since I did any creek fishing with cane poles. I was about 12 the last time I remember fishing Pecan Bayou in Red River County, that was a loooong time ago, a whopping 57 years to be exact! But I remembered exactly how we rigged the poles and the bends of the creek where we 'set' them.
The friends that joined Jeff and I were all veteran anglers. For fun, I calculated the 5 of us had a combined 250 years of fishing experience!
My nephew Billy Kilpatrick, now retired from guiding, plied the waters of Lake Lavon with clients for over two decades and grew up fishing with his dad on Red River, sometimes camping out for a week, pitching tents on sandbars and eating fish and pork and beans every day.
Seth Vanover currently guides on Lake Fork and Lake O the Pines and has fished the Sabine River during the spring sandbass 'run' for many years.
Our good friend Phil Zimmerman grew up fishing with his dad for just about anything that could ultimately be put in a skillet of hot cooking oil. Yes, we were a seasoned lot of anglers, gathered there on the banks of this backwoods creek!
Now is prime time for creek fishing. Mosquitoes have yet to crawl out of the tree bark where many have spent the winter, the weather can be pleasant if one watches the forecast and, even more importantly, the creeks are often chock full of spawning white bass, yellow bass and crappie.
Catfishing is usually good in the deeper holes of creeks throughout the summer months.
The first order of business was to get the set poles baited with cut bait and anchored in the mud along the bank. Our plan was to periodically check the poles while we used spinning gear and crappie jig poles to toss tiny soft plastics and spinners. The first couple hours fishing produced some magnum size white bass and big crappie as well as a few channel catfish on the set poles.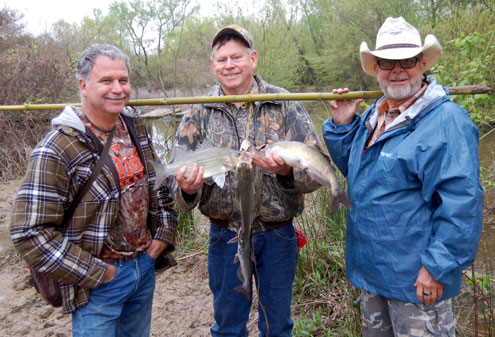 Luke Clayton (center), Billy Kilpatrick (right) and Jeff Rice with some of the fish landed on their creek fishing trip. photo by Luke Clayton
We had a couple of guest dignitaries join us at the campfire, my two older sisters. Both were treated to the harvest of some fresh wild pork while warming themselves by the fire. Jeff has a corn feeder in the woods about 80 yards from the fire pit and Jeff was telling the sisters all about his ranch when Opal spotted a big sounder of 25 or so hogs at the feeder.
Jeff promptly grabbed his 300 Blackout rifle and made a good shot on a fat sow, the harvest witnessed by the sisters, they were privy to their first 'hog hunt'! Fresh pork was soon on ice and fishing resumed until darkness set in and then, the poles were baited with fresh bait and we all retreated to the campfire and a meal of fresh pork chops and my skillet beans.
My midday the next day, we had that old Igloo cooler well stocked with a mixed variety of good eating fish. I often hear folks state that they prefer crappie or possibly catfish fillets over all others. Phil Zimmerman is a surgeon when it comes to removing the 'red meat' from white bass and stripers and when dusted with seasoned corn meal and exposed to the hot cooking oil until crispy, I don't think anyone even commented on the species of fish they were eating. They all tasted the same and they were all excellent!
Here's wishing you can find time to get out with family and friends and enjoy a simple, 'old school' fishing trip such as this. Female white bass are just about finished with the spawn but the creeks should be swarming with crappie, catfish and yellow bass throughout the spring and, beyond.
Listen to "Outdoors with Luke Clayton and Friends" weekends on radio stations from Nebraska to Texas or anytime online at www.catfishradio.org.