The yellow bass (Morone Mississippiensis), or barfish as some people call them, is an often misunderstood and sometimes distained little member of the bass family. Uninformed anglers refer to them as 'trash' fish, putting them in the same category as carp, but once understood and better yet, eaten, yellow bass usually rate pretty high on the angler's hit list.
My love for catching and eating yellow bass goes back a couple decades when my friend Billy Carter first introduced me to catching them from the Cypress Channel at Caddo Lake. Billy uses one-third sections of minnow on a small case hardened hook with a split shot above and an ultra light spinning rig for his yellow bass fishing but the little scrappers will readily go for small jigs fished close to bottom.
Fork has long been known for 'big' yellow bass. Big used in this context is a relative term. While a big white bass might measure 15 or 16 inches in length, a big yellow bass will go 11 inches or possibly a foot. A yellow over 12 inches long is in the same category as a white bass tipping the scales over 2 pounds. But when fished for with light tackle, these little fish are plenty scrappy and when filleted and fried to a golden crispy deliciousness, they are as good eating as any fish in fresh water and, yes, even though many crappie fans will consider this statement blasphemy.
This past weekend Jeff Rice and I joined forces with our friends Stubby Stubblefield and Shannon Wheeler for a few hours on 'yellow bass jerking'. Stubby is well known as the maker of Stubbys Cheesebait and this veteran of the lakes and rivers has a lifetime of fishing experience which makes him one of the most versatile guides I know.
A few weeks ago, Stubby and I were talking about fishing in general and yellow bass in particular. He told me we could rig up some of his custom made rods and fish tandem jigs near bottom and easily collect the makings of a mega fish fry. During the winter months, huge schools of yellows stack up, almost always holding very close to bottom and will readily nail a wide variety of downsized jigs or small pieces of minnow. Stubby has been catching lots of yellows on jigs while crappie fishing and his expectations were high when the four of left his dock, headed for the deeper water of the lower lake.
With the aid of Stubby's Lowrance Live Scope sonar, the fish could run but they couldn't hide. The crystal clear image of the hordes of yellow bass hugging bottom on the unit's screen gave us the distinct advantage of knowing precisely where the fish were. The Thermacline lures we used works equally well on crappie and yellow bass and the purple passion color proved more than the fish could resist. The technique was simple; allow the jigs to hit bottom and then occasionally twitch the rod tip, causing the baits to move just enough to trigger the strike. Yellow bass, even in cold water are very aggressive fish; they often nail the baits with authority and often hook themselves on a tight line, but a quick upward movement of the wrist insures a good hook-set.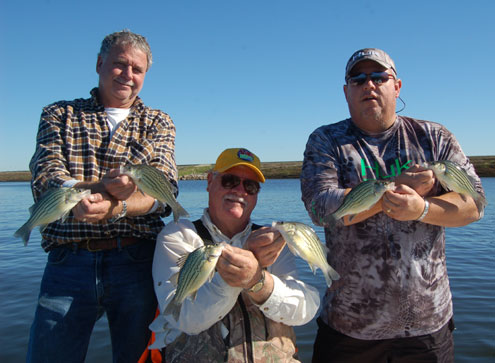 Stubby Stubblefield (center) and Jeff Rice (Left) and Shannon Wheeling (right) show off a few of the many yellow bass landed over the weekend at Lake Fork. photo by Luke Clayton
The majority of our fish came from water around 30-feet deep and few a bit deeper. Because of the baits we were using, we also landed several good size crappie and a few white bass. Of course, had we been targeting crappie, we would have concentrated on submerged brush piles or timber. Many of the yellow bass we landed were staged on the sides of submerged slopes or adjacent deep flats devoid of structure.
When fishing with Stubby, It would be a shame not to target some of the channel catfish that he and his bait has become famous for. On the way back to dock, we fished a couple of his favorite spots that he keeps baited with range cubes year-around. We quickly added a dozen or so chunky channel cats to the live well and headed to the dock and cleaning station.
My buddy Jeff Rice and his wife Demi own their Buck and Bass Ranch on the upper end of Fork and back at the ranch, we put my new propane fish cooker to good use. In the mix were fillets from white bass, crappie, yellow bass and channel catfish. It's pretty easy to distinguish catfish fillets from the others but not one of our veteran fish eaters could tell if they were eating crappie or yellow bass. Proof positive of the delicate flavor of yellow bass fillets!
After doing so much hunting for the past several months, it was good to get back on the water and enjoy a sunny day with light winds catching fish. And the fish fry was icing on the cake. It's hard to beat a good mid winter fish fry from fish out of cold clean waters. As Stubby stated during the boat ride back to his place, "I don't really enjoy fishing any more, but I do enjoy catching!" I agree wholeheartedly and catching is exactly what has taken place every time I've boarded this veteran guide's boat.
Listen to "Outdoors with Luke Clayton and Friends" weekends on radio stations from Nebraska to Texas or anytime online at www.catfishradio.org.