Weatherford -- Making their 10th consecutive appearance in the regional tournament, the Lindsay Lady Knights won it all with a four-set win over Crawford in the Region II-2A finals to qualify for the UIL State Volleyball Tournament next week.
It was Crawford that knocked off Lindsay in last year's regional finals in straight sets, but this year's contest was a different story.
Lindsay took the opener, 25-21, however Crawford evened up the match with a tough 26-24 victory in the second set. Lindsay responded with a dominant 25-12 win in the third set and the Lady Knights punched their ticket to the big dance with an exciting 25-23 victory in the fourth set.
Brianna Craigie knocked down 18 kills to pace the Lindsay attack, Ashley Fleitman and Makenzie Fleitman both finished with a dozen kills, Rachel Metzler slammed down seven kills, and Macey Ott put down a pair of kills.
Ashley Fleitman dished out 26 assists and Kaylee Colwell handed out 18 assists.
Olivia Hertel fueled the offense with a team-high 16 digs, Kylee Fleitman had a pair of blocks, Kloe Copeland contributed three aces and Kathryn Worth came up with six digs.
Lindsay (40-3) advances to the UIL State Volleyball Tournament semifinals on Wednesday, November 14. The game will be at either 5:00 p.m. or 7:00 p.m. The time and opponent are yet to be determined.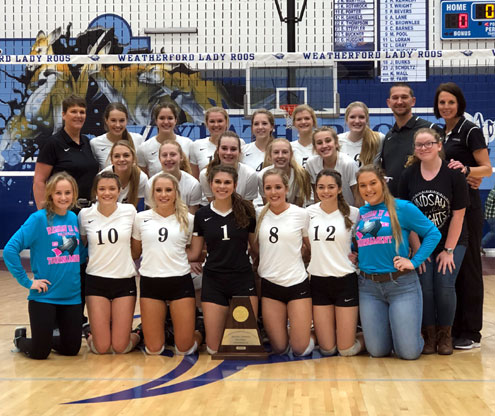 2018 Lindsay Lady Knights
Lindsay stats vs. Crawford were:
Ashley Fleitman 2 aces, 12 kills, 2 blocks, 8 digs, 26 assists
Makenzie Fleitman 3 aces, 12 kills, 15 digs
Kaylee Colwell 3 aces, 3 digs, 18 assists
Rachel Metzler 7 kills, 13 digs
Olivia Hertel 16 digs
Kylee Fleitman 2 blocks
Macey Ott 2 kills,3 digs
Kathryn Worth 6 digs
Brianna Craigie 18 kills, 3 assists
Kloe Copeland 3 aces