An old outdoors writer once wrote that his health was always better in the fall. I have thankfully been blessed with good health throughout my life but I must agree - I always do feel better with the onset of cooler weather. Maybe itís the fact that I have beat another sweltering Texas summer or possibly because fall heralds in all the hunting seasons that I so much enjoy.
Regardless, I like many of you, have thoroughly been enjoying the beginning of Ďourí favorite time of the year.
For the past seven years, I have spent about 3 weeks up in Coloradoís high country guiding for elk and bear, but this year I decided it was time to devote those weeks to spending more time hunting, fishing and enjoying spending more time with my family and friends. Although I was guiding only 3 weeks, a great deal of time was spent preparing for those high country archery hunts. Besides, two or three weeks of guiding does take its toll on a 68-year-old body.
This year, I have been staying busy closer to home, picking and choosing the outdoor activities that I enjoy most. Iíve even found time to be present at a couple of outdoor events, the Patriot Sporting Challenge at Lake Fork a few weeks ago and the Ben Wheeler Feral Hog Festival this past weekend.
For the past three years, I have enjoyed the Feral Hog Festival and do all I can to help get the word out on this worthwhile and very fun event. We always set up a booth where I sign copies of my book on hunting hogs and cooking wild pork. This year, my wife, daughter and granddaughter ran the booth while I ran back and forth from my duties as a member of "Team Boardacious."
Iíve served as a judge at the wild hog cooking contest in the past and when friends Jeff Rice and his wife Demi asked if I wished to join them in the competition, I was all in!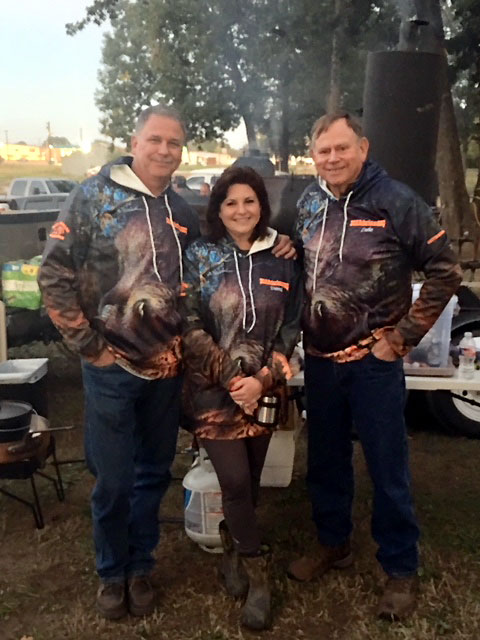 Luke (far right) is really enjoying the cooler fall weather. This past weekend, he and "Team Boardacious" - Jeff Rice and his wife Demi - competed in the feral hog cookoff at the Ben Wheeler Feral Hog Festival. photo courtesy of Jeff Rice
Demi has a bean recipe that is absolutely awesome and I have been known to make an acceptable pot of smoked wild pork chili. Jeff loaded their huge smoker on a trailer and we slow smoked pork hams and backstraps for the competition. We fired the big smoker up the afternoon before the event and slow cooked the pork overnight which did require some lost sleep but, that is a price that must be paid when tending a wood fire long enough to turn whole wild hog hams into tender table fare!
After the cooking contest was completed, the teams provide samples and the line was long at our smoker, every morsel of smoked pork, beans and chili was enjoyed by the crowd. We didnít walk away as first place winners but Iíd do it all over again.
As Iíve stated often, spending time in the outdoors, whether hunting fishing or camping, is special and this was a weekend to remember.
It seems one outing is no more than completed until itís time to make plans for another. The whitetail rut is in its early stages right now across much of the state and Iím making plans to take my bow and visit with Rice, his dad and brother in east Texas this week and attempt to arrow a fat doe for the freezer or possibly a big buck. Chances are very good that a wild hog will come within bow range and I think most readers of this column know what a weakness I have for fresh wild pork!
Actually, I am on a quest for another wild hog to take to New Mexico in a week or so on a mule deer hunt with my friends David and Regina Williams, owners of Hunters Supply Bullets on their ranch which which lies on either side of the Continental Divide. These folks love cooking and eating wild hogs and I already have a couple in the freezer but one more would be welcomed, I know. I think my friends enjoy the wild pork as much as I look forward to the meat from a fat mule deer or elk each year.
I wonít be spend the 3 weeks guiding up in the mountains this year but I will enjoy a few days of outdoor bliss hunting on my own for mule deer. I have found these annual treks up to the mountains to hunt satisfy my desire for the high country. At this stage, I thoroughly enjoy hunting on my one rather than being responsible for guiding others for their elk or bear! Iíve also noticed that I have developed a liking for pursuing mule deer rather than elk. Guess Iíve spend enough time trying to figure out the best way to get a one-thousand pound animal out of a dense spruce forest that always seems to do down in the toughest spot imaginable!
STAY SAFE OUT THERE With the cooler weather combined with heavy rainfall the past couple weeks, snakes have been on the move. Just last week, I hunted a ground blind that I havenít been in for several months. As I entered the blind, I looked all around for wasp. There were none. I also looked the floor over very well for snakes. None! I opened the windows, and set down on the two boat cushions on the seat of the metal chair. The second cushion put me up a bit high in elevation so I stood up and as I pulled the top cushion off, there was a 20 inch copperhead! I had been setting on the cushion right above it! With the heel of my boot, I made quick work of the snake but must admit I used the light from my cell phone the remainder of the evening hunt checking out the floor of the blind! Iím not sure just how Ďfocusedí I was in hunting the remainder of the hunt!
Lukeís book on hog hunting, Kill to Grill, the Ultimate guide hunting wild hogs and cooking wild pork is available via his radio web site www.catfishradio.org. While on the site, take a minute to listen to some of the outdoor talk.