Reports from Norfork Lake all the way across to Beaver Lake (in photo) are indicating that striper action is excellent.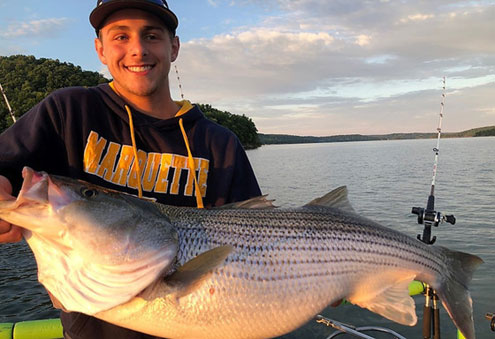 At Beaver Lake, Quinton Baumgartner of Missouri caught the pictured 33-pounder, and guide Mike Bailey says topwater action for stripers can't be beat now.
At Norfok Lake, guides Lou Gabric and Tom Reynolds say the fishing is outstanding right now. This is also the time to be keeping the legal stripers you catch on live bait, as trying to return the fish to the water in this heat can harm the fish.
Tom's summer slogan is, "Catch your limit and go home."
Lou says there's a limit to be had quickly right before sunrise and after sunset. Hybrids, whites, largemouth bass and smallmouth bass are coming up sporadically. Most species are located from about 18 feet of water out to 70 feet of water. The striped bass bite and hybrid bass bite are among the best he's seen in a while, Lou says.