Last week, Texas Parks and Wildlife Department gave the nod to allow the use of air rifles for big game hunting this coming fall/winter season. The passing of this new law was a long time coming. Many other states have learned that rifles developing 500 foot pounds of energy with bullets propelled by 3,000 psi of compressed air develop more than enough energy to cleanly harvest big game.
I believe one of the big reasons that game departments have been slow in allowing air rifles during the general hunting seasons is lack of knowledge. When air guns are mentioned, most folks think of the "pump up" pellet rifles of yesteryear. Today's PCP air rifles charge to 3,000 psi. air pressure via a pressurized scuba or lighter carbon fiber air tank. Most first time shooters are amazed at the power of these rifles.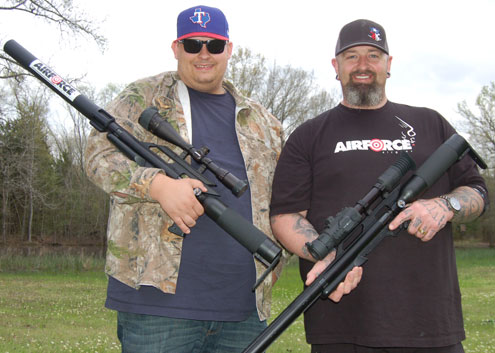 Ton Jones (right) and Cameron Brinkerhoff with Airforce Airguns joined Luke last week for an airgun hog hunt using their "Texan" big bore air rifles. photo by Luke Clayton
I first began shooting big bore air rifles about 7 years ago and thoroughly enjoyed learning all about these modern day hunting/shooting arms. I remember when I first became interested in using the big bore (.45 caliber) air rifles, several friends asked me why I wanted to use air powered rifles when a center fire rifle costs less?
My answer was simple. I love learning new things that has the potential to make my time spent shooting and hunting more interesting.
Years ago, I when through the muzzleloader learning curve and later spent a lot of time learning about the compound bow and crossbow. When I discovered the pellet guns of my youth had developed into big bore rifles that shoot lead bullets weighing 350 grain, I was all in!
Big bore PCP air guns that fill via pressurized tanks have been around for a number of years, most were custom jobs made by airgunsmiths in small shops in relatively small numbers. A few years, ago Airforce Airguns introduced their "Texan", the first production big bore airgun. I was honored to shoot and hunt with one of the first 10 prototypes and I quickly discovered this was not only a very accurate rifle but also a very effective "game getter". Loaded with a 350 grain soft lead bullet by Hunters Supply, I am convinced the Texan will cleanly harvest any animal in North America. I've personally used the rifle to harvest over 20 wild hogs and exotics such as Axis deer and Aoudad. The rifle has cleanly taken elk and wild bovines weighing in excess of 800 pounds.
I keep my shots inside 75 yards but the rifle shoots accurately at much longer ranges. The heavy bullets I prefer drop pretty quickly after 75 yards. I still enjoy hunting with a bow and getting really close to game, the extended range of the big bore is substantial but I still feel challenged. The rifle is a single shot and shot placement is paramount.
To celebrate the adoption of the new regulation allowing air rifles in Texas, I joined a few good friends this past week for an early spring hog hunt on Jeff Rice's Buck and Bass Ranch, situated on the upper end of Lake Fork. Ton Jones and Cameron Brinkerhoff from Airforce Airguns came down with their "Texans." We had our rifles topped with Sightmark's new Photon RT digital scopes that can be used both in daylight and pitch dark. Ton Jones, who many will remember in the TV reality show Auction Hunters, has an extensive background in filming and hosting, is currently putting together a video detailing our hunt which will be highlighted on AIrforce Airguns web site. Ton was hunting with Jeff Rice who is also very experienced with a video camera and a monster boar was captured on film during their hunt. The big hog was not harvested but I'm anxious to get a look at him when the video is complete. I did see his tracks the morning after the hunt and I had to look hard to discover I was indeed looking at a hog tack, not that of a half grown cow!
Rice, who has taken many big hogs on his ranch says this might have been a solid 400 pound hog. Cameron and I were hunting alone and Cameron was "self filming" his hunt. Thanks to the ability to shoot in the day or night provided by the Photon RT we took 3 good eater hogs during the hunt. Jeff and Ton were also using a Pulsar thermal monocular that had a built in video which captured some great images of the giant boar. The hog has showed up on trail cameras for the past few years and we followed its trail into an impenetrable swamp.
The hogs we did harvest were perfect "eaters" weighing between 100 and 140 pounds. It's exciting knowing the monster boar still roams the swamps and hopefully will venture out of its sanctuary the next time we visit Jeff's ranch. I have absolutely no doubt that a good hit from a 45 caliber Texan loaded with the big 350 grain bullet will cleanly dispatch the big hog. I know one thing for sure: when walking the edge of the swamp coming back from a future night hunt, I will keep an eye pealed for that big hog. He isn't anything to "fool with!"
Listen to "Outdoors with Luke Clayton and Friends" on radio stations from Nebraska to Texas on weekends or anytime online at www.catfishradio.org.