Sherman, Texas -- Austin College will celebrate the inauguration of its 16
th
president, Steven P. O'Day, with an investiture and installation ceremony Friday, March 23, at 5:00 p.m. in Wynne Chapel. Members of the campus and surrounding communities are welcome to attend the ceremony and several accompanying events occurring throughout the week at no charge. Attendees are asked to register in advance on the Austin College website at
www.AustinCollege.edu/inauguration
, where a full listing of activities may be found.
The inauguration ceremony will include the color and tradition of the academic procession as bagpipers play the processional, and College Marshal Dr. David Baker of the physics faculty leads the procession into Wynne Chapel bearing the College mace. He will be followed by one representative of each of the current Austin College classes; delegates representing several colleges and academic associations from around the country; the Austin College faculty; officers of the College; senior trustees; the Board of Trustees; past presidents of the College; the platform party; and finally, the president.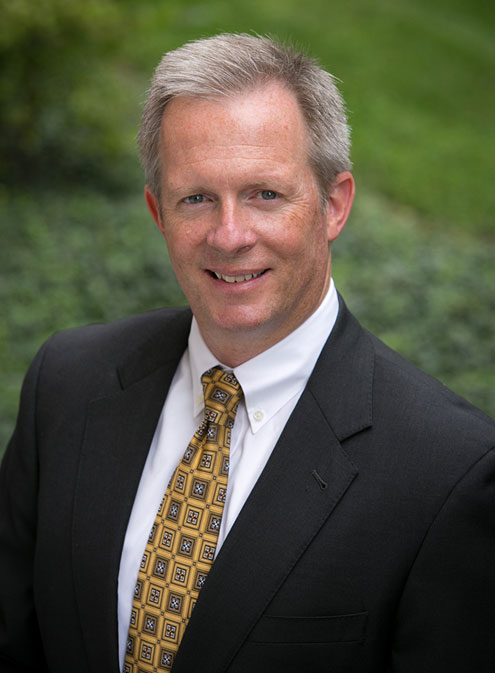 Steven P. O'Day
Austin College Board of Trustees Chair David Corrigan of Dallas, a 1981 graduate of the College and president of Corrigan Investments, will officiate. During the installation, he will be assisted by Michelle Filander, women's basketball coach and senior women's athletics administrator at Austin College, who served on the Presidential Search Committee that brought O'Day to campus, and by Dr. Marjorie Hass, 15th president of Austin College, who left in June 2017 to become president of Rhodes College in Tennessee.
Dr. Kent Trachte, president of Lycoming College in Pennsylvania, will introduce the newly installed President O'Day to present his Inaugural Address, which will continue his inaugural theme, "What's Next: Looking to the Future with Confidence."
Following that address, Dr. Carmen Tafolla, a 1973 graduate of Austin College and the 2015 Poet Laureate of Texas, will offer a poem written especially for the inauguration; several individuals will present greetings and congratulations to President O'Day on behalf of larger groups; and the event will end with the traditional benediction response by the A Cappella Choir "The Lord Bless You and Keep You" before the recessional. Then the entire group exits Wynne Chapel for a reception in Wright Campus Center to celebrate the officially installed leader. The Greater Texoma Jazz Ensemble will perform.
Music will be provided during the ceremony by the Austin College A Cappella Choir, directed by Dr. Wayne Crannell. Megan Chiu '18 and Jacob Martin '20, students of Dr. Ricky Duhaime, will perform Vivaldi's "Concerto in G Minor for Two Cellos, RV 531." One anthem performed by the choir has been arranged by musician and former first lady of Austin College Anna Laura Page especially for the inauguration. Lisa Thomas will serve as college organist, presenting the prelude and recessional.
Wednesday | March 21
Regional Leadership Breakfast, Wright Campus Center, Mabee Hall, 7:30 a.m.
"Partners in Education: Meeting the Workforce Needs of Texoma"
Panelists: Steven P. O'Day, J.D., President, Austin College
Dr. Jeremy P. McMillen, President, Grayson College
Mark Anderson, Plant Manager, Emerson
Janie Bates, CEO, Workforce Solutions Texoma
Jeff Brown, Ph.D., Vice President & General Manager, Finisar - Sherman
Terrence Steele, Director of Administration, City of Sherman
Thursday | March 22
Dessert Reception featuring music by The Grand Avenue Trio, Wright Campus Center Living Room, 6:30 p.m.
Student Elevator Speech Competition, Wright Campus Center Living Room, 7:15 p.m.
This competition is part of the Austin College Student Scholarship Conference, held this year in conjunction with Inauguration events.
Friday | March 23
Inauguration Ceremony | Wynne Chapel, 5:00 p.m.
Celebratory Reception follows in Wright Campus Center, Mabee Hall and hallways, featuring music by the Greater Texoma Jazz Ensemble
9:00 p.m. Adams Observatory Star Party in the IDEA Center
Members of the local community are welcome to attend any inauguration events, but are asked to register in advance at www.austincollege.edu/inauguration.
About President O'Day
Steven P. O'Day became the 16th president of Austin College on October 30, 2017. He came to Austin College from Lebanon Valley College in Annville, Pennsylvania, where he was serving as vice president of strategic initiatives and secretary of the college. During his four years at the college, President O'Day also served as interim vice president of advancement and special assistant to the president. In addition, he held leadership roles there in institutional strategic planning and campus master planning. He managed major capital improvement projects for the college, including the construction of a $20.8 million facility that will house several of the college's health professions academic programs. President O'Day also was instrumental in record-setting fundraising efforts, oversaw government and community relations, and served as a member of the college's senior leadership team.
Prior to his work at Lebanon Valley College, President O'Day spent 15 years at Franklin & Marshall College in Lancaster, Pennsylvania, holding multiple senior leadership roles. He began his career in higher education as the head coach of the college's women's soccer team from 1997 to 2007. He was appointed associate dean for advisement at F&M in 1998, a position he held until 2001 when he became associate dean for student academic affairs. He remained in that role until receiving appointment as senior associate dean of the college in 2007, a position he held throughout the remainder of his tenure at F&M.
President O'Day describes his career in higher education as "being driven by a deeply held belief that we are called upon to personally educate and support the whole student—mind, body, and spirit—in the classroom and lab, on the athletic field, on the stage, in the studio, in the workplace, in the residence hall, throughout the global community, and in every facet of the student experience. This belief is grounded in a blending of the liberal arts and specialized training necessary for lives of significance, leadership, service, and integrity."
Having earned his bachelor's degree in political science from Millersville University in Pennsylvania, President O'Day received a juris doctor (J.D.) degree from Temple University School of Law in Philadelphia. He also completed the Management Development Program at the Harvard Graduate School of Education. Prior to beginning his career in higher education, President O'Day was a practicing attorney in Lancaster and Philadelphia, Pennsylvania.
His wife, Cece, has been a high school English teacher and swimming coach for more than 25 years. Their son, Ryan, lives and works in the greater Boston area.
Austin College, a private national liberal arts college located north of Dallas in Sherman, Texas, has earned a reputation for excellence in academic preparation, international study, pre-professional foundations, leadership development, committed faculty, and hands-on, adventurous learning opportunities. One of 40 schools profiled in Loren Pope's influential book Colleges That Change Lives, Austin College boasts a welcoming community that embraces diversity and individuality, with more than 40 percent of students representing ethnic minorities. A residential student body of approximately 1,275 students and a faculty of more than 100 allow a 13:1 student-faculty ratio and personalized attention. The College is related by covenant to the Presbyterian Church (USA) and cultivates an inclusive atmosphere that supports students' faith journeys regardless of religious tradition. Founded in 1849, the College is the oldest institution of higher education in Texas operating under original name and charter.