This is a time of the year when many outdoor types have abandoned the woods and water and are eagerly awaiting the spring warm up. Granted, there might not be as many outdoor opportunities now as back a couple months ago but in this week's column, I will tell you about three hunting and fishing opportunities that are unique to the "dead of winter". I am now making plans to break my severe case of cabin fever and partake in each of them!
JAVELINA HUNTING -- In many parts of Texas, javelin, the toothy little "brush hogs" can be hunted year around with a limit of two animals. But many folks in north Texas are reluctant to drive 8 hours to south Texas to hunt them. There is a thriving population of Javelina up in Knox County; I've been hunting them for years in this area at Ranger Creek Ranch www.rangercreekranch.com.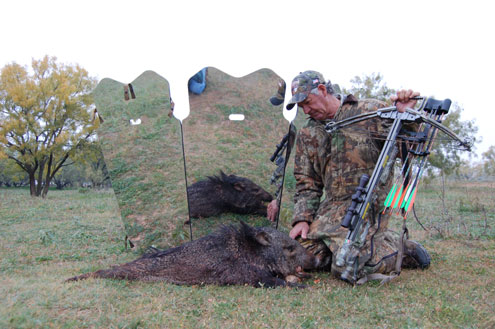 The late Bob Hood, with a javelina taken a few years ago on Ranger Creek Ranch in Knox County, Texas. photo by Luke Clayton
Many years ago, the javelina's range went well up into Oklahoma, but Knox County is currently about as far north as the "collared peccary" has ventured. A few years ago, I did a magazine article about javelina and learned that they were stocked on the huge Waggoner Ranch in Knox County.
Concrete culvert pipes were buried to give the little "pigs" protection from freezing weather and their numbers quickly increased. They quickly spilled over into the "cedar break" country on adjacent ranches and today, a couple hours drive west of Ft. Worth puts you right in the middle of some excellent javelina hunting.
The little "musk pigs" have a stinky musk glad on the top of their back but if care is taken during the skinning process, I've found the meat to be excellent eating, a cross between feral hog and venison, very light colored meat with almost no fat. I've slow smoked them for BBQ and also made javelin fajitas, both recipes were very tasty.
The Javelina is a very "stalkable" animal for the bow hunter and this is my favorite method of hunting them. The season in North Texas runs through February 25 so there's plenty of time to plan your hunt. For more information, contact Ranell Scott at the ranch.
WHITE BASS RUN -- Each year I eagerly await the white bass run in the Sabine River above Toledo Bend, downstream from Longview. My friend Seth Vanover runs river trips each year for spawning whites and the word is that the run is on! There is something special about boating down the river during the winter in the remote bottomland of the Sabine River.
Seth knows a spot where the bottom contour of the river drops vertically a few feet, creating a dam or sorts. When the water level is at a certain level the whites moving upstream can go no farther. It's a "fish on every cast" type of fishing trip.
The fish will hit just about anything thrown at them, but Roadrunner jigs are the lures of choice. This spawning run began a few weeks ago when the smaller male white bass moved upstream but now the egg laden females, many weighing 2.5 pounds and more are there in numbers.
On my upcoming trip with Seth and his son Evan, I'm packing a portable propane burner, a cast iron skillet, some cooking oil, meal, Pork N Beans and a loaf of light bread. More on our river bank fish fry next week! To learn more about these fishing trips, contact Seth at 903-736-4557.
MONSTER BLUE CATFISH -- By now, I'm sure the fact that lots and lots of jumbo size blue catfish are being landed at Lake Tawakoni, situated about an hour east of Dallas, is not "breaking news." But, the fact remains that right now is what guide David Hanson and many other trophy catfish anglers consider the peak of this year's big fish action.
Hanson and his clients are consistently boating trophy class blues as well as plenty of those 2 to 19 pounders that make for excellent eating. Live shad is the guides bait of choice.
"We're catching fish at varying depths; the bite is just very solid right now. We're catching fish from water as shallow as 10 feet and also drifting fishing over deeper submerged humps. It's just a great time to catch not only a fish of a lifetime to also catch stock up for that next fish fry." says Hanson. For more information on catfishing at Tawakoni, contact Hanson at 903-286-7391.
BOOK IN THE WORKS -- In my spare time the past couple weeks, I've finally began work on a project that I've been mulling over for a long time. I began work on my third book and my first time to write fiction. The book is about the life of a wild boar named "Tusker" and in a sense; it's not totally a fictional book.
I've learned a lot about wild hogs during the 45 or so years I've been hunting them and in this new book, I am attempting to put the reader right there in the woods and tell the tale from a wild hog's perspective. When asked what I'm working on, I jokingly tell folks that it's an easy reading "kid's" book for old hunters. My latest published book, Kill To Grill, the Ultimate Guide to hunting and eating wild hogs is available through the publisher or signed copies from me. Just drop me and email if you're interested in reading one, I'll get it right in the mail. Lukeclayton1950@gmail.com