What makes for a "perfect" outdoor outing? I'm talking about quality time spent outdoors with family or good friends. Does the time spent outdoors always have to result in a limit of ducks, monster buck or limit of fish? The best advice I could give anyone with this mindset is find another sport!
Spending time in the outdoors is like every other endeavor; the more you put into it, the more you get out of the experience.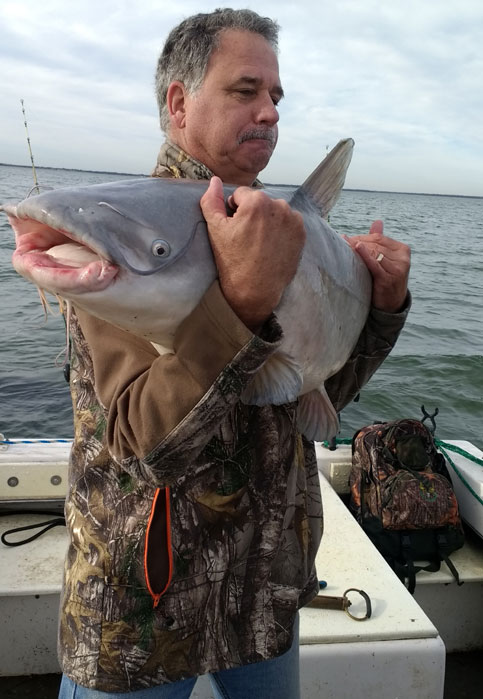 Luke's friend Jeff Rice with a trophy blue catfish he landed with Tawakoni guide David Hanson. Jeff is a rabid hog hunter and he and Luke have enjoyed some great times hunting on his ranch situated on the upper end of Lake Fork. photo by Luke Clayton
A positive mindset is also important. In my well over 50 years kicking around in the outdoors, I've learned to make the most of every outing. This might entail planning tasty meals to prepare while on the adventure. I've been known to pack the items necessary to enjoy a shoreline fish fry while floating down a river in quest of white bass or grill fresh wild pork backstrap after a successful wild hog hunt. A little planning is all it takes to turn any outdoor outing into a memorable event.
Just this past week, I enjoyed a short overnight hog hunt with my good friend Jeff Rice on his ranch situated on the upper end of Lake Fork. Jeff and I met at the wild hog Festival in Been Wheeler a couple years ago and became fast friends. We both have a passion for the outdoors and especially hunting wild hogs. In the span of less than two years, we've enjoyed a lot of what the outdoors has to offer.
Our recent outing serves as a good example of how to get the most of a short but fun outing. Jeff stays busy with his job in the insurance business but his schedule is flexible enough to break free occasionally for a short mid week outing. Give me a little "heads up" and I am usually ready to go, especially during the middle of the week.
Jeff's Buck and Bass Ranch is situated on a ridge adjacent a big drainage on the upper end of the lake. This higher elevation covered with hardwoods and pine is a natural funnel for all kinds of wildlife looking for higher ground and abundant food. With about 12 feeders throwing corn year around, it's a no brainer that the area is wild hog heaven.
We decided to meet early in the afternoon last week and check some trail cameras and feeders to determine the best places for our afternoon/evening hunt.
Jeff was bow hunting and I was on a "meat quest" with my little .223 topped with a Photon XT digital night scope that can be used day or night. When hunting with a bow, I usually prefer a tree stand but with the rifle on this hunt, I decided on an enclosed blind situated near the back of the property overlooking hundreds of acres of remote bottomland.
Jeff told me this spot had not been hunted or even visited since the holidays. One look around the feeder was all it took for me to decide this would be the place. The shot from the blind was about 45 yards and with the light caliber, I always wait for a standing, slam dunk shot that drops the hog in its tracks and destroys little meat.
Before heading out on our hunt, Jeff fueled the wood-fired cooker with hickory wood and got the baking potatoes ready. We had a couple of thick cut pork chops stuffed with boudin sausage that he had picked up from his favorite meat market in Yantis. Jeff was thinking ahead on this outing. We might return to camp with plenty of wild pork, but again we might not.
Regardless, preparing a quality dinner after our hunt would be a simple thing. It's always important to think ahead and have a plan for dinner when spending time in the outdoors and a little early preparation will save a lot of time and effort.
The feeders go off at 4:00 in the afternoon on the ranch and Jeff said not to be surprised if I get a shot well before dark. The majority of my hog hunting takes place at night and I welcomed the opportunity to harvest a porker while there was enough light to do the field dressing and get the hog out of the woods. The afternoon was still as a graveyard and chilly, perfect conditions for hog hunting.
About 30 minutes before dark, I caught movement off to my right. A big boar that I estimated to weigh around 200 pounds came out of the brush, accompanied by a 110 pound "meat hog," just the size I was hoping for! A mature hog is a cautious critter, one of the smartest in the woods. The big hog took a good 5 minutes to close the 75 yards to the feeder and the smaller boar stayed right behind him. With the light caliber I was using, I waited for the perfect broadside shot and when the little boar was in perfect position, a well-placed shot put him on the ground.
With pork on the ground, Jeff and I could be eating fresh backstrap this evening but the stuffed pork chops back at camp were all seasoned and ready to go! Good planning on Jeff's part!
As soon as we got my hog back to camp and hanging on the meat pole, Jeff touched off the wood he had placed in his smoker earlier that day and in a matter of minutes, the potatoes and stuffed chops were cooking.
Jeff has a tradition at his ranch... when a hunter is successful, he or she enjoys a drink from a silver goblet made in the form of a boar's head. If unsuccessful after the hunt, he drinks from a goblet made in the form of a goat's head. Jeff enjoyed his drink from the goat-head goblet that evening and I from the boar's head.
This outing was my idea of what spending quality time in the outdoors is all about. We left the camp making plans for out next trip; who knows, the lake's plentiful white bass might just be running up the creek!
Note: Jeff Rice is an excellent videographer and his website www.buckandbassranch.com hosts many exciting hunts. Check them out.
Listen to "Outdoors with Luke Clayton and Friends" on radio stations from Nebraska to Texas. Visit Luke's website www.catfishradio.com to learn when the various air times.