McKinney, Texas -- In celebration of President's Day, please join us for Brian J. Magnuson's newest exhibition of exquisite large graphite portraits of the 8 Presidents who died in office. This series focuses on eight of the forty-four of the presidents.
Many of us can recognize a few of our past presidents, such as Lincoln, Kennedy, and Washington, but how many can recognize Garfield, Taylor, or McKinley?
Come face to face with William Harrison, Zachary Taylor, Abraham Lincoln, James Garfield, Franklin D. Roosevelt, Warren Harding, and John F. Kennedy. These men offered our country great hope only to be taken at the pinnacle of their time, bringing upon our nation eight dark days.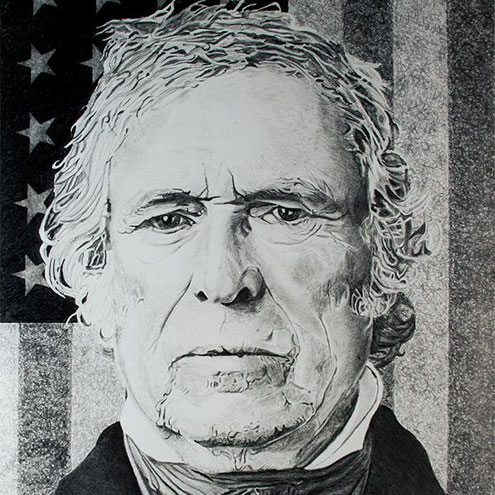 sketch of Zachary Taylor by Brian J. Magnuson
The Artist Reception is slated for 6:00 p.m. - 9:00 p.m. February 3, 2018 at The Martin Place, located at 1799 North Graves Street in McKinney, TX 75069. The artist talk is at 8:00 p.m.
The WRR 101.1 station van with Amy Bishop will be at the gallery to promote the show. The exhibition will be on view from Saturday, February 3, 2018 through Thursday, February 28, 2018.