DALLAS (SMU) ó A business leader, noted attorney and an educator will receive SMUís Distinguished Alumni Award, the highest honor the University bestows upon its graduates, during a campus ceremony in November.
The 2017 Distinguished Alumni are high school football coach Randy L. Allen í73, businessman/entrepreneur Richard H. Collins í69, and attorney Albon O. Head, Jr. í68, í71. Lacey A. Horn í04, í05, treasurer of the Cherokee Nation, will receive the Universityís Emerging Leader Award, which recognizes the outstanding achievements of an alumnus or alumna who has graduated in the last 15 years.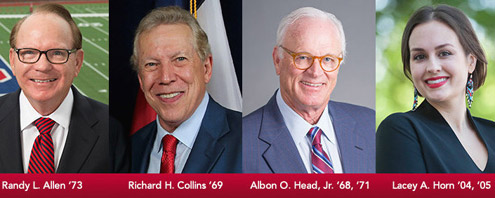 The Distinguished Alumni Award presentation and dinner will be at 7 p.m. Thursday, Nov. 2, on the SMU Main Quad. To purchase tickets visit: https://www.smu.edu/Alumni/Homecoming/Events/DAA or call 214-768-4575.
2017 Distinguished Alumni Award Recipients
Randy L. Allen, a 1973 graduate with a bachelor of arts in social studies, has been the head football coach at Highland Park High School since 1999, leading the Scots to state championships in 2005 and 2016. Prior to Highland Park, he served as head football coach at Ballinger High School, Brownwood High School and Abilene Cooper High School. Allen is the fourth most winning high school football coach in Texas history, and is the author of two books: Coaching by the Book and Coaching Character. Allen was named 2006 National High School Coaches Association Football Coach of the Year. He is the 2014 recipient of the Grant Teaff Lifetime Achievement Award from the Fellowship of Christian Athletes, and the 2015 recipient of the AFCA Power of Influence Award. In 2017 he received the NFL Don Shula National High School Coach of the Year Award. Allen attended SMU on a football scholarship and lettered in football and baseball.
Richard H. Collins, a businessman and entrepreneur, is committed to making quality education available to all children. Collins graduated from SMU in 1969 with a bachelorís degree in business administration. He is the chairman of two commercial banks, a real estate developer, wildcatter and media investor. In 1998 Collins co-founded Istation, a global leader in education technology, and has served as its chairman and CEO since 2007. In 1992 he founded the Childrenís Education Fund, which provides funds for Dallas children to attend the school of their parentsí choice. Collins is founder of the Today Foundation, which includes such initiatives as the Texas Leadership Forum to teach Dallas-area high school students about government, civic engagement and the free-market economy, and the Collins Academy, which teaches science, technology and history to students in Texas, Arkansas and Louisiana. From 1981-1989 Collins served on the Texas Historical Commission, working toward the preservation of Jefferson, Texas, and the building of an ecological park for teaching students about the environment. He serves on the Simmons School of Education and Human Development executive board and the Tower Center board.
Albon Head, a partner at Jackson Walker LLP in Fort Worth, earned a bachelorís degree in history in 1968 and a juris doctor in 1971. Head is a four-year Mustang football letter winner. As a cornerback he helped the Mustangs to the 1966 Southwest Conference Championship, and was team co-captain at the 1968 Bluebonnet Bowl win over the University of Oklahoma. Head began his studies at the Dedman School of Law while serving as a graduate assistant coach in 1969 and 1970. He is a fellow in the American College of Trial Lawyers, was principal draftsman in the purchase of the Texas Rangers Baseball Club in 1974, and was named 2017 Railroad Lawyer of the Year by Best Lawyers in America. He was lead litigator and represented the Receiver in the recent sale of the iconic W.T. Waggoner Ranch, the largest ranch in the United States under one fence. Texas Lawyer touted one of Headís 2011 verdicts in its Texas Verdicts Hall of Fame. In 2003 Head was named a Dedman School of Law Distinguished Alum. He serves on the School of Law executive board, and on the SMU Athletic Forum and SMU-in-Taos boards. He is past chair of the SMU Alumni Board.
Emerging Leader Award winner Lacey A. Horn has been the treasurer of the Cherokee Nation since 2011. She is noted for her ability to find optimal solutions for ideal outcomes and making a difference in the governance of organizations and lives of people. Horn earned a bachelorís degree in business administration in 2004 and masterís degree in accounting in 2005. Horn began her career with Hunt Oil and KPMG Chicago as an auditor. As Cherokee Nation treasurer, she oversees all financial functions of the tribal government, including the tribal administrationís $1 billion annual budget as well as the Cherokee Nationís tribal health care system, which is the largest of its kind. In 2015 Horn was appointed to the U.S. Department of Treasuryís Tribal Advisory Committee. In 2014 she was selected as Executive of the Year by the Native American Finance Officers Association, and she appeared in Oklahoma Magazineís 40 Under 40 list in 2012.