Fannin County, Texas – Prompted by overwhelming interest in its upscale and unprecedented secure community, Trident Lakes today unveiled its re-engineered Master Plan. The new blueprint (image attached) doubles in size and scope from the original, adding 450 Earth-sheltered condominiums to the 700-acre development.
When completed, Trident Lakes will now accommodate more than 3,000 residents.
"We were pleasantly surprised by the demand, which motivated us to increase our supply," says Trident Lakes spokesman Richie Whitt.
"When we went public with our initial plans, we offered 400 condominiums. Within a month we had 500 names on our waiting list at TridentLakes.com. That number has since climbed well over 1,000. So we went back to the drawing board, to create more density and sync it all up."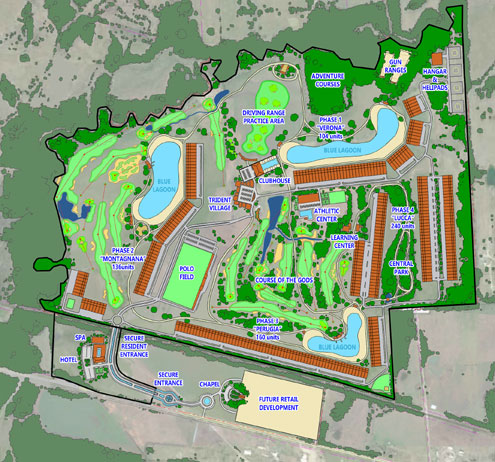 Trident Lakes' new Master Plan retains all the original amenities including three blue lagoons, 5-star spa, gun ranges, golf course, equestrian center, helipads, learning campus and 15-foot security wall.
"We haven't sacrificed quality," Whitt said. "We're merely adding quantity."
Based on detailed feedback from potential residents, Trident Lakes reimagined its community to include more units at manageable pricing. The redesign calls for a total of 850 condominiums spread over four phases, with three unique floor plans now ranging in size from 1,080-7,200-square feet, and in price from $300,000-$2+ million.
Total cost for the venture has increased, from $300 to $400 million.
"Whether it's as far away as North Korea or Spain, or close to home in Charlottesville or Houston, people are keenly aware of the numerous and real dangers and are committed to having a plan to protect their families," Whitt said. "With these changes and additions, we're pleased that we can accommodate even more residents who want Trident Lakes to be their plan."
Trident Lakes' first condominium model is expected to be complete in November, with the first residents moving onto the property in the first quarter of 2018.
About Trident Lakes
Trident Lakes will be one of the most secure and lavish master-planned resort communities in the world.
The project's four construction phases will total approximately $400 million and will feature 850-plus Earth-sheltered, luxury residences highlighted by open views and access to the property's white sand beaches and massive crystal-clear lagoons. The community will sit on 700 lush acres one-hour northeast of Dallas-Fort Worth on Highway 56 between the towns of Savoy and Ector.
The development's main entrance will feature – with 55,000-square feet of moving water – one of the largest fountains in the world.
Trident Lakes will also boast state-of-the-art security, safety and sustainability. Its upscale amenities will include a golf course, resort spa, 100-stall equestrian center, four miles of jogging/biking trails, five gun ranges, polo fields, indoor gym and world-class restaurants.