Canton, Texas (August 5, 2017) -- "They said there are lots of snakes around the stock tanks, so Iím helping clear the fence lines," commented 19-year-old Samantha Peck from Bells as she pulled a tangled mass of barbed wire from the tall grass along a rural county road just south of Canton. She is one of 49 members of Texoma area congregations of the Church of Jesus Christ of Latter-day Saints who have donated their time and energies to tornado cleanup on this hot and sunny Saturday morning. Ever since April 29 of this year, when a series of devastating tornadoes ripped through several East Texas counties, leaving damage, death and homeless families in its wake, members of various congregations have sent weekend work crews to the area to assist local property owners in their clean up efforts.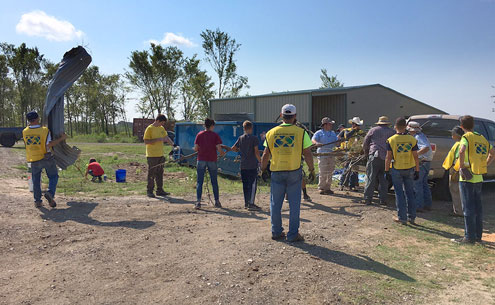 Todayís crew is busily engaged in helping a family who lost their home finish cleaning up their ranch-like property of remaining debris scattered throughout their acreage and clearing out twisted stretches of barbed wire - all thats left of the various fence lines that defined the property boundaries. Upon arriving at the property, your first impression might be that they must not have incurred too much damage. Thatís just because there is no damaged house left to see. The home was a total loss and the site has been scraped clean of the remains. All thatís left is a short landscaped retaining wall and an apparently unaffected in-ground pool which is still strangely crystal clear and inviting on this steamy day. Looking closer, you also see the many large tree stumps indicating that what was once a shady, heavily treed area has been irreversibly altered in one fateful day.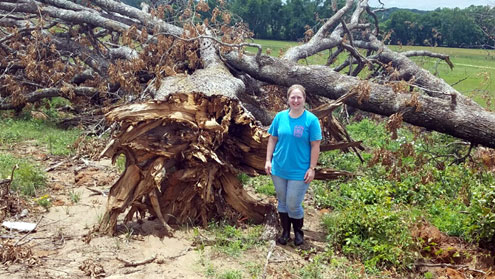 The large fallen trees have been cut up and cleared, but the on-going clean up at this property, like countless others, has gone on for months. The full recovery will take even longer as homes slowly begin to be rebuilt and lives adjust to their new normal.
This is the fourth such crew to come from the Sherman Texas Stake of the Church of Jesus Christ of Latter-day Saints. Stakes are geographic areas that encompass a number of individual congregations. The Sherman Texas Stake includes eight different congregations from Sherman, Melissa, Celina, Bonham and Durant, OK.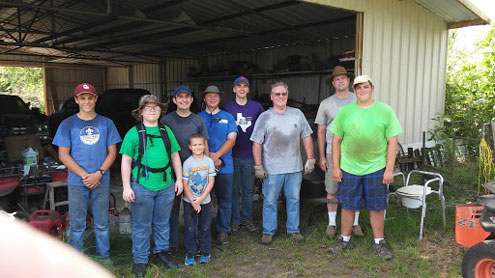 The crews range from small teams of 8-10 individuals and go up to large groups of 40-50 or more as needed for the project, and include men, woman and children 12 and older. Several other stakes, encompassing the entire North East Texas region, have also participated by sending crews from their local congregations providing thousands of man hours of help. Future clean-up trips are planned and will continue to assist in the area until the requests for service stop coming in.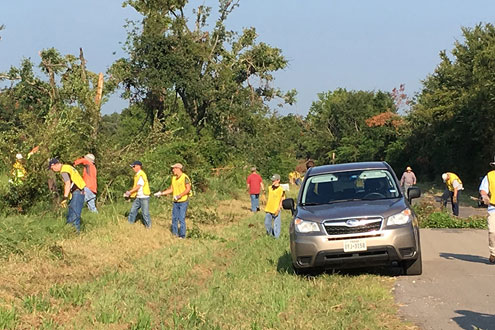 Similar efforts were made for disaster recovery during the aftermath of tornadoes in Oklahoma City, hurricane damage and flooding in the New Orleans area, flooding in Baton Rouge and numerous smaller emergency events. Latter-day Saints believe in following Christís example of serving and comforting their fellow man, and in His biblical statement that ďas ye have done it unto one of the least of these my brethren, ye have done it unto me.Ē