From the Governor's Office:
PRESS RELEASE:
Gov. Perry Announces State Homeland Security – Citizen Corps Funding
$1.4 Million Awarded to Assist in the Mobilization of Volunteers
AUSTIN - Gov. Rick Perry today announced that 57 local governments and regional organizations will receive approximately $1.4 million in federal 2004 Citizen Corps funds to prepare Texans for homeland security duties.
"Homeland security is not a priority only for law enforcement and government agencies," Perry said. "Homeland security efforts must include input and direction from local communities and the residents who best know how to prepare and respond in their area. Our goal is to increase awareness so that all Texans play a part in making our state safer and more secure."
President George W. Bush created the Citizen Corps program to engage Americans in volunteer activities that will make our communities safer, stronger, and better prepared to respond to emergencies while providing opportunities to serve in every day healthcare and citizen preparedness activities.
The 2004 Citizen Corps grants in Texas will be used to provide the resources necessary for local communities to bring together citizen leaders to form and sustain a citizen corps council; engage citizens in homeland security awareness, community preparedness and family safety; and implement Citizen Corps programs such as Community Emergency Response Teams (CERT), Medical Reserve Corps, Volunteers in Police Service, and Neighborhood Watch.
Funds are distributed to eligible jurisdictions through a regional prioritization process administered by Texas' 24 regional councils of governments (COGs). The Texas Engineering Extension Service, based in College Station at Texas A&M University, will send notices to funding recipients.
A full list of grant recipients is available on the governor's website at: The Citizen Corps link through the Governor's Office
Author's Note: Fannin County was number 21 of 22 counties receiving funds ($12,752), and Jefferson County was last at just over $7,000.
TCOG (Texoma Council of Governments) received no funding for Grayson County, and Cooke County received no funds from this distribution.
Additional information on the Texas Citizen Corps program is located at:
Texas Citizen Corps organization on the Net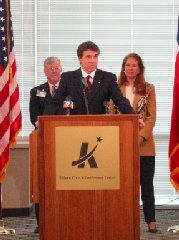 Gov. Perry discusses military bases in January.

Fort Bliss Infrastructure Funding Announcement
Excerpt:
Aug. 09, 2004 - EL PASO – Gov. Rick Perry today announced a $16.2 million commitment by the State of Texas to improve infrastructure, mobility and traffic flow on and around Fort Bliss.


From the Lt. Governor's Office:
LIEUTENANT GOVERNOR DEWHURST ANNOUNCES ADDITIONAL INTERIM CHARGE ON WORKERS' COMPENSATION
AUSTIN---On the heels of new numbers from the Texas Department of Insurance showing that workers' compensation insurance carriers are charging higher premiums even though claim costs are decreasing, Lieutenant Governor David Dewhurst announced today an additional interim charge to study the pricing of workers' compensation premiums in Texas.


From Texas Workforce Commission:
WorkInTexas.com will be unavailable from 8:00 a.m. until 10:00 p.m. CDT on Saturday, August 14, 2004.


From Department of Health:
Rabies – Sheep at Children's Animal Center near Glen Rose – August 6, 2004
Texas Department of Health (TDH) officials have determined that people who visited the Children's Animal Center at the Fossil Rim Wildlife Center near Glen Rose between July 10 and July 29 may have been exposed to a Barbado sheep that later tested positive for rabies. The sheep was not in a public area on July 30 as originally believed.


From Texas Parks and Wildlife:
Texas Parks & Wildlife Department does not provide stocking or on-site consulting services for private lakes and ponds. However, many resources are available to landowners who want to manage ponds for fishing.


From Department of Agriculture:

Texas Superstar Plants – learn about the individual plants and planting them, USDA hardness zone information, and much more!


From Texas Department of Transportation:
Signs of the Times
As elections approach, the Texas landscape blossoms with campaign signs — many placed illegally. Before placing signs, know the laws. TxDOT will gladly help with information about where you can and cannot place signs.


From Texas Department of Public Safety:
DPS Releases Revised Top 10 Most Wanted List
August 5 - The Texas Department of Public Safety has released a revised Top 10 Most Wanted list, including fugitives from Dallas and Austin


From Texas Department of Homeland Security:
Current Status: ELEVATED
Read more about the Homeland Security Advisory System


From the Senate Press Office:
Senate Education Committee Reviews Learning Supplements
AUSTIN - The Senate Committee on Education met today, August 9, 2004 to explore possibilities for the future of learning materials such as textbooks and technology in Texas school systems. After a few procedural issues, the committee began invited testimony.
Author's Note: The link to the 'What's New' page of the Senate offers the article denoted by this column on the day the research is completed for publication. If the 'What's New' headline has change, you can read the above referenced article in the Senate News Archives.


From the House Press Office:
---
© 2004 by DS Gands – ALL RIGHTS RESERVED
DS Gands is a journalist living in North Texas and has been published in various magazines and newspapers since 1977.
Contact: austin_impacts@columnist.com
Links provided in this column are current at the time of publication. Austin Impacts is not responsible for link validation, broken links, or damage incurred from data viewed/received from any links provided.
---