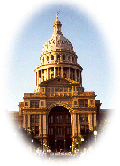 From the Governor's Office:
Gov. Rick Perry: Texas and Mexico Must Plan For Future Prosperity
June 24 - Texas Companies Stand Ready to Help Mexico's People Meet Raising Energy Needs
MEXICO CITY, MEXICO –Gov. Rick Perry told the American Chamber of Commerce and the Mexican Foreign Trade Council that Texas companies are ready to help Mexico meet its rising energy needs. Perry also met with business leaders attending the 5th Annual Texas Energy Trade Mission on how Texas can assist Mexico's energy industry.
Gov. Perry, President Fox Discuss Free Trade, Energy Cooperation
June 23 - Praises Fox on Willingness to Resolve Livestock and Water Issues
Among the issues discussed at a private meeting at Los Pinos were trade, energy, water debt, livestock trade, and criminal justices matters.
Gov. Rick Perry Signs 'Regional Partnership for Progress' To Enhance Trade Relations With Mexico
June 22 – Governor Meets with CEOs of Border Region and Mexico's Major Corporations
MONTERREY, NUEVO LEÓN, MEXICO – Gov. Rick Perry today signed a memorandum of understanding (MOU) with the border governors of Coahuila, Nuevo Leon and Tamaulipas that calls for a joint effort between Texas and border states in Mexico to create new jobs and expand economic opportunities along the border.


From the Senate Press and Committee Schedule:
Senate Subcommittee Examines "Top Ten Percent" Rule
June 24 - In 1997, the state passed SB 588, which ordered state universities to automatically admit high school students who are academically in the top ten percent of their graduating class. The hope of legislators supporting the measure was that this would help to promote racial diversity on Texas college campuses. The effects of that 1997 legislation is being studied by the Senate Subcommittee on Higher Education.
Senate Committee Hearings in the coming week:
Date

Time

Committee

Location

Live
BROADCAST

Notes

Tuesday, June 29, 2004

10:00 AM

Capitol Ext. E1.012

YES

Wednesday, June 30, 2004

9:00 AM

Capitol Ext. E1.012

YES
From the Texas House of Representatives – Committee Meetings Schedules for nest week:
06/28/2004 10:00 am Appropriations-S/C on Health & Human Services Room: E1.030
06/29/2004 08:30 am Appropriations-S/C on Health & Human Services Room: E1.030
06/29/2004 10:00 am Nutrition & Health in Public Schools Room: Capitol Extension E1.012


From the Department of Health & Human Services:
The El Paso Times reported that a letter had been received by some El Paso residents who have children enrolled on CHIPs. The program went from a $14-$25 premium per year to a monthly premium effective in May of this year, per legislation passed this session. The article indicated that the letter was to inform CHIPs enrollees that their coverage could stay in effect if they paid the June premium. A diligent search turned up no press information, and an inquiry to DHHS was replied to by Russell Smith, Assistant Press Officer, referred the query to an Arlington staff contact. If you are a CHIPs enrollee - Contact your local or regional CHIPs office for more information before June 30.


From the Texas Department of Agriculture:
Statewide Workshop Series to Focus on Kicking Up Tourism in Rural Texas
June 23 AUSTIN – Tourism is big business in Texas, especially for small towns. To help rural Texas communities tap into their tourism potential with new approaches and innovative ideas, the Texas Department of Agriculture will conduct a special workshop series across the state this summer in cooperation with the Office of the Governor, Economic Development and Tourism.
"Bootstrap Marketing: Kicking Up Tourism in Rural Texas" will offer rural communities hands-on training for stepping up their tourism efforts, attracting new dollars and boosting economic growth.
Combs Urges Mexican Government To Repeal Order That Hinders Livestock Trade
June 22 AUSTIN – Agriculture Commissioner Susan Combs yesterday contacted U.S. and Mexican officials urging them to delay the order immediately requiring that all livestock entering Mexico must be inspected on the Mexican side of the border.
"Because there are inadequate inspection facilities in Mexico, the Mexican government has essentially closed the border to the movement of all livestock," Combs said. "This is a deliberate affront to free and fair trade."


Texas Historic Collections:
Perry-Castañeda Library Map Collection
A collection of historic city maps, this site offers a rare opportunity to venture back in time with some cities in Texas. The site also offers a wealth of other information, all from the University of Texas Library Online and shared with the State of Texas website. See Honey Grove in 1886!


The Texas Department of Agriculture showcases and promotes interest in Texas products and businesses. The following is a family business success story and the search page for Texas products and business.
June 18 - Necessity is the mother of invention, and nowhere does that apply more than to the experience of Terri Johnson, stay-at-home mom and inventor of Tack Wipes. Trying to find an easier, faster way to clean her horse's leather saddle after a long day, Johnson and her family came up with Tack Wipes — strong, heavy-duty wipes infused with an olive oil blend. Today, less than a year after developing Tack Wipes for commercial sales and launching her company, Johnson has seen sales of Tack Wipes take off at a full gallop across the country, and with no end in sight.
GO TEXAN Member Search is designed to facilitate domestic and international sales of Texas agricultural products. It allows the Texas Department of Agriculture to link our GO TEXAN program product members--growers, processors, farmers and ranchers--with industry buyers and consumers. Associate Members include retailers, commodity boards, trade associations and other entities that are engaged in promoting Texas agricultural products.
Several counties are listed at this site for locations to purchase and even pick your own produce! Visit this wonderful website which offers sidebar information about Texas fruits and vegetables for sale by simply clicking on the type you want! An informative and easy to use tool for the traveler or anyone looking for cobbler makings!
A sampling of some:
Grayson County:
Bailey's Berry Patch (PYO)

Website:

Location:

905 Crawford Road, North of Sadler off FM 901 (Memorial Day weekend until late July).

Telephone:

(903) 564-6228

Produce:

Blackberries, Blueberries, Muscadine Grapes
Fannin County:
Jenkins Farm (PYO, FP)

Location:

10 miles North of Bonham on Hwy 78, turn West on FM 274, then go about 1-1/4 miles.

Telephone:

(903) 583-2220

Produce:

Peaches, Plums, Apricots, Blackberries
See listings for other counties and many more before you plan your next Sunday drive. Click here for certified Texas Farmer's Markets by city.


From Economic Development and Tourism:
Now even the savings are bigger in Texas. To help make your Texas vacation even more affordable, take advantage of the Trip Savers coupons available here. Simply click on the cities of your choice to view all available coupons for that city, then print the coupons you would like to use and redeem them at the place of business listed on the coupon.
This site offers a link for trip planning, driving tours, activities and events around the state, lodging and more!
Click here for Southwest Airlines discount airfares to Texas.
Click here to take advantage of special Texas discounts, available to American Express Cardmembers
There's even a wonderful selection of screensavers available!
---
Austin Impacts is a weekly column in syndication originating from the North Texas e-News website, offering readers across Texas the opportunity to read and learn about what is available for state agencies, news of the events, and activities of the government in Austin that often goes unnoticed in the headlines. If you have a particular agency or division of government or government services that interests you, let us know!
Contact us at austin_impacts@columnists.com or editor@ntxe-news.com if you would like to see Austin Impacts in your local paper.
---