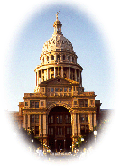 'Austin Impacts' is a new column for syndication set to be offered for Monday editions of on-line Texas publications in the near future. This premiere edition is exclusively appearing in the North Texas e-News Columnists catagory.

This effort will focus on exploring the agencies and offices of Austin for weekly press releases and announcements that sometimes go unnoticed in the news and special sites from the state agencies to be showcased each Monday for readers across Texas.

If you have a special request, or there is some topic or agency information that interests you, please e-mail us at austin_impacts@columnist.com . Welcome and we hope you enjoy this feature column.


From the Governor's Office:

Gov. Rick Perry to Visit Mexico June 22 – June 25

June 21 - Governor Perry will travel to Mexico next week for his first trade mission to that country since becoming governor, and the trip coincides with the 5th Annual Energy Trade Mission to Mexico. Texas exports to all countries totaled more than $98.8 billion, and $41.5 billion of that total was exports to Mexico, in 2003. The press release includes details about Texas trade and the Governor's schedule for the trip.


From the Lt. Governor's Office:

June 15, 2004 (Click on date and listen)- Lieutenant Governor Dewhurst Holds a Press Conference on Senate Bill 14 (Homeowner's Insurance rate reductions) and House Bill 4 (Medical Malpractice rate reductions) and the implementation of these acts. Lt. Gov. Dewhurst stated that all insurance companies except State Farm and Farmer's Insurance have complied with the Homeowner Insurance reductions, and once the lawsuits are settled, an average reduction of 12% is expected industry-wide. One company, Medpro, representing doctors and surgeons regarding medical malpractice insurance, has delayed the reduction of rates and in some cases raised their rates on their clients by a reported 40%. Lt. Gov. Dewhurst has asked the Senate Business and Finance Committee to investigate the needs for implementing these requirements for the benefit of the citizens of Texas.


From the Texas Department of Transportation:

Rest area "hotspots" first in nation
June 18 - Last fall, TxDOT introduced a pilot program to provide free wireless Internet access at rest areas, at no cost to the state. The envisioned concept will allow wireless-equipped travelers free access to the Internet. Others will have access via fee-based kiosks. Four safety rest areas are currently equipped.
News release

While you are traveling around the State, stop in to the TxDOT rest areas and experience the new and updated programs available to all.


From the Texas Guaranteed Student Loan Corporation

TG announces student loan interest rates fall to new lows

Good news for college bound students and their families!

June 14 - Student loan interest rates will drop again on July 1 to a new record low, even as interest rates on consumer loans are on the rise. The new interest rates will drop another 5 basis points below the current rates, which are already at a 35-year historic low. In contrast, mortgage rates and other consumer loans have been on an upward trend


From the Texas Department of Health:

Tips for victims of electrical outages

June 3 - This press release has some general health-protection precautions for those experiencing storm-induced electrical outages and the resulting lack of refrigeration and air-conditioning in a widespread area of North Texas.


From the Commission on State Emergency Communications:

A meeting is scheduled for June 24th, to hear budgetary issues and requests from the April 8th meeting which are submitted for approval. The North Central Texas Council of Governments is requesting a $21,000 increase in the FY2004 budget for unanticipated wireless charges. The Commission will hear public testimony at the hearing on the items listed in the agenda.


From the Texas Parks and Wildlife:

June, 2004 - When you plan your summer activities, be sure to check out the great projects and events offered by this agency. View their calendar of events here. It offers everything from woodworking and spelunking, to summer bat tours at Devil's Sinkhole in the Hill Country, and many more exciting tours and events.


From the Commission on State Emergency Communications:

This is a great site for parents and teachers to utilize to teach children about 9-1-1 and how, when, and why to use the system. Great activities pages, too!

---
'Austin Impacts' is a weekly column compiled and written by DS Gands.
Copyright 2004 by DS Gands – All Rights Reserved
---