PLANO (June 6, 2017) – Flippin' Pizza NY Pies & Slices is opening several Texas locations, with the first opening in Plano on June 8 at 1855 Dallas Parkway and W. Park. Flippin' Pizza plans to open 25 locations across Texas bringing its Brooklyn-style pizza to the south. Flippin' Pizza will offer free slices of pizza and complimentary beverages June 8 from 4:00 – 8:00 pm in Plano.
Over the past decade, Flippin' Pizza has stayed true to its Brooklyn roots by serving up hand-tossed pies made with dough prepared fresh daily with only four ingredients, including filtered water just like it is in NY.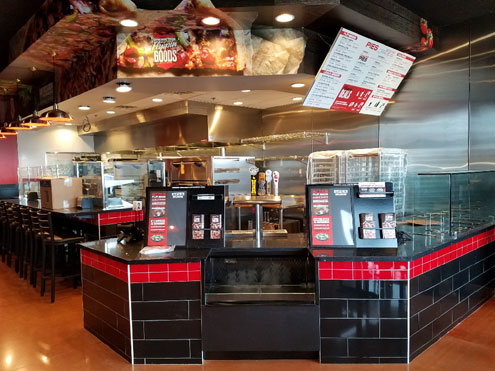 Though new to Texas, their authentic pies and slices have earned several "best pizza" awards from coast to coast. Flippin' Pizza has generated a cult following by serving authentic hand-tossed NY pizza since 2007, earning "best pizza" awards, as well as a place on Entrepreneur Magazine's Franchise 500® list in 2015 and 2017. Flippin' Pizza has commitments for 25 locations in Texas, 3 in Atlanta, 16 in Southern California, and 24 in the Middle East.
Grand opening festivities will begin at 4:00 p.m. and will feature live music, free slices of hand-tossed NY pies, plus complimentary beverages & Coca-Cola Freestyle® fountain drinks.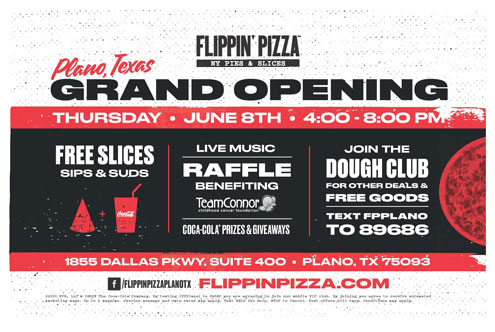 Flippin' Pizza is helping raise funds for TeamConnor Childhood Cancer Foundation, an organization located in Dallas and founded in 2007 by Joy and Tait Cruse after their son Connor passed away from neuroblastoma cancer. Guests will have the option to purchase raffle tickets where 100% of the proceeds will go to the foundation. Drawings will be announced throughout the evening for giveaways like cool memorabilia donated by Coca-Cola®, tickets and passes to local parks and events, free slice cards, free pie cards, and other prizes, as well as a chance to win free pies for a year.
"We pride ourselves in giving back to those we serve," said Kelly Schwab, Flippin' Pizza Community Marketing Manager. "Plano is our first Texas location and we are honored to be a part of this community. We are proud to help fundraise through our Raise Some Dough program where we partner with local schools and organizations to give up to 50% back."
TeamConnor Childhood Cancer Foundation is committed to funding critical research for many types of cancer and has donated more than $2 million to top research hospitals.
Flippin' Pizza Hours - Plano, TX restaurant hours are as follows:
Sunday–Thursday: 11:00 am - 10:00 pm/Friday – Saturday: 11:00 am – 11:00 pm