The green neon of the Bean Me Up sign seems oddly at home amongst the kitschy decor and checkered floor of Kelly Square. Nestled in historic downtown Sherman, Bean Me Up Coffeehouse and Bistro is located on the bottom floor of the historic shopping area immediately below Fulbelli's restaurant.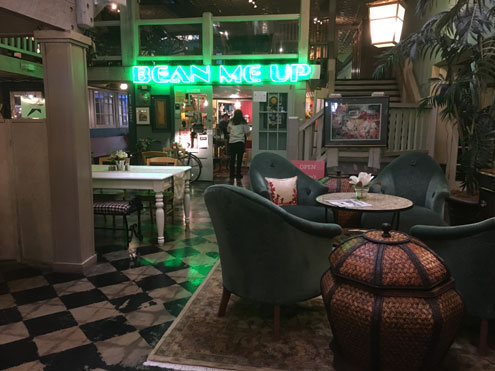 Owner Sheila Kluss and I settle into cozy high backed chairs as I sip my usual large coffee. The smell of freshly brewed Jamaican Me Crazy Coffee wafts through the lobby mingled with the faint aromas of breakfast cooking. Kelly square is largely asleep as the other businesses have yet to open and the only activity is the trickle of morning customers making their way to the bistro. Many of them, like me, are regulars.
I came to the husband/wife owner duo when I decided to create this blog (www.justbyouproductions.com/blog) for local flavors because I have been coming in several times a week for coffee, quiche, and pastries since they opened. I knew that their business had grown largely by word of mouth but I still met people regularly who didn't even know that the little bistro was there. Although I will admit, selfishly, I did hesitate in highlighting an establishment so dear to me for fear of waking up one morning to find a line out the door. This being said, it would be well worth it to see the business finally get its due.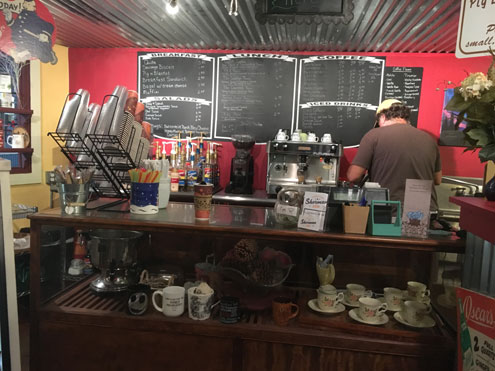 One thing that stands out to me as a regular customer is consistency. I have never had a bad cup of coffee or slice of quiche. Never. Not one single time in years of weekly visits. I can count on one hand the number of establishments, whether they be a chain or independently owned, that have been able to deliver that level of consistency. Beyond that, their food and drinks are not only consistent but an absolute delight for the taste buds.
Each day, there is a different rotation of specialty coffees including Mexican Chocolate, Macadamia Nut, Dark Roast, and beyond. What is really incredible about this is that they are simple coffees, no sugar or flavoring. But the craft beans are so high quality that their flavors come through with each sip so brilliantly that no whipped cream or other such masking agents are necessary. But for those who prefer it, they also offer a large list of frozen and flavored coffees as well.
The menu itself has plenty of staples that are offered every day but their specials are too divine to pass up. From slow roasted pork to street tacos there are so many tantalizing flavors to taste that one cannot simply limit themselves to sandwiches and soups (although those are fantastic as well). Owner Sheila Kluss is currently going back to school in order to expand their offerings even more.
The highlight for many is the extensive list of baked goods offered each day. My particular favorite is the Butter Rum muffin. The texture of the muffins, light and fluffy on the inside with caramelized sugar crusting on top, cannot be beat. Beyond that, there is a constant carousel of brownies, cakes, cookies, pound cakes, and cupcakes that make their way across the counters. Part of my weekly obsession with Bean Me Up is that there is always something new to try.
You know how you go to a restaurant and they make something so exquisitely perfect that if you ever dare to venture off and try a new item on the menu, you are instantly disappointed? This is not that place! Each time I try something new, I am equally impressed and just as tempted to try it again the next time.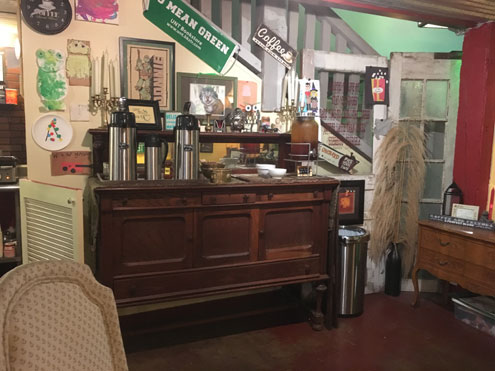 So, I already knew that I loved the Coffeehouse. But I wanted to know a little bit more about the people behind the counter.
"Next week is finals week," Kluss tells me, as she explains why she is slightly out of breath. "I'm currently taking pastry. I have final plating and a 20 recipe with pictures portfolio due. I was up until 11pm last night working on them. Even though I own my own restaurant, I still have to do these things. I am going to use some of the pictures from the catering I did on Saturday night. I am hoping to use these classes to help expand the catering business and I am having a blast!"
In addition to going to school, Kluss also runs two businesses. Bean Me Up and North Star Signs take up the majority of her and her husband's time, while they also run a successful catering company under the Bean Me Up banner. She went on to tell me how Bean Me Up got their start.
"20 years ago, I went into a little place in Denton," she says. "My daughter graduated from UNT so it has a special place in my heart. And I went into a little place called the Sleeping Lizard. Even though they don't serve food, when I went in and looked around, I knew that I loved it. I thought what they needed was to sell coffee. There were years of me thinking about it and trying to figure out what my passion was."
At this point, I am halfway done with my coffee and wishing I would have grabbed a muffin. They smell amazing…
"I have cooking and baking in my genes," she goes on to explain. "My mom and sister were both excellent bakers. My sister really should have been a pastry chef. But growing up, I was always more of a tomboy. I wanted to play with trucks and go with my dad not be in the kitchen. I truly believe that everyone should have 2-3 careers in their life. And the reason I believe that is because I don't care who you are, you eventually get burned out. When the passion and the love for what you are doing is gone, it's time to move on. There's always something else. And this is my something else. I have found my passion."
The conversation turns to the bistro and what it is like to open a new restaurant in a small town.
"We've been very blessed with word of mouth," Kluss says. "Consistency is key. I believe no matter what you do, but especially with the restaurant business, you have to stay consistent. So many restaurants start out really well but you go back a few months later and it's not quite as good. I am very very picky about what I put out, what my food tastes like, and what it looks like when it gets to the person. I also try to keep my lunches and my food reasonably priced for your average person. I try to keep it at a price point where people can come in and have lunch with me a few times a week if they want to."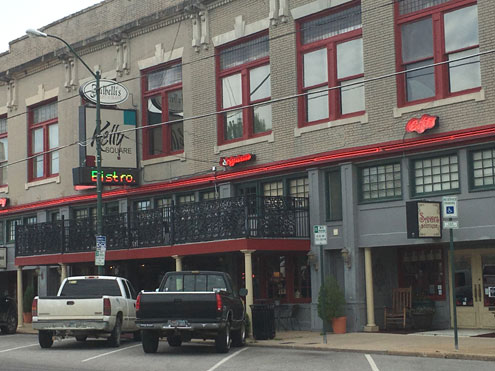 As charming as the current location is, they are rapidly outgrowing the tiny space. Without a full kitchen, they are unable to offer as wide a range of menu items as they would like and are currently doing a behind the counter dance to keep things moving with several people in the small area. It is likely that the future will see them expand and possibly move so for those of you who haven't been to see them in Kelly Square now is your time!