Front Page
Cash prizes awarded at 'Unique By Nature' Juried Art Competition
By Allen Rich
Apr 3, 2017


McKinney -- Henry David Thoreau once noted, "The world is but a canvas to our imagination," and McKinney Performing Arts Center (MPAC) was one giant collage of imaginative canvasses Saturday evening for the 'Unique By Nature' Juried Art Competition in historic downtown McKinney. Artists from across the state vied for $11,000 in cash prizes, with one large-scale canvas being awarded $8,000 as the Purchase Prize and earning a coveted spot in the permanent public art collection at McKinney Performing Arts Center.
"This is our artists favorite time of the year," remarked Amy Rosenthal, MPAC / Main Street Program Director, adding that the hard-working volunteers from McKinney Art & Music Guild play a prominent role in making this show a regional success.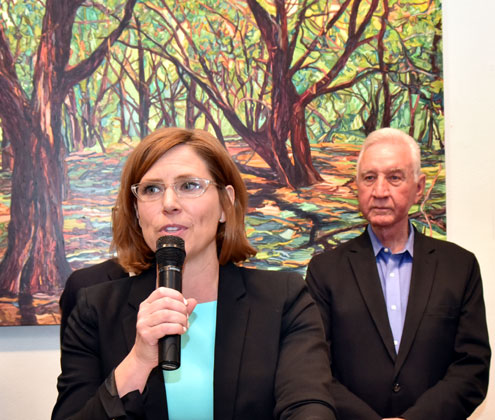 Amy Rosenthal addresses the audience as Don Day looks on.
Rosenthal was also quick to recognize Don Day as one of the city's premier art patrons.
"Don is passionate about art and we couldn't have our permanent art collection in MPAC without Don Day," Rosenthal told the audience.
In turn, Day recognized Jon Flaming for donating a series of 16 iconic images of the nearby community, valued at over $100,000, to the permanent collection at MPAC. Day also presented Flaming with the inaugural Jon Flaming Award.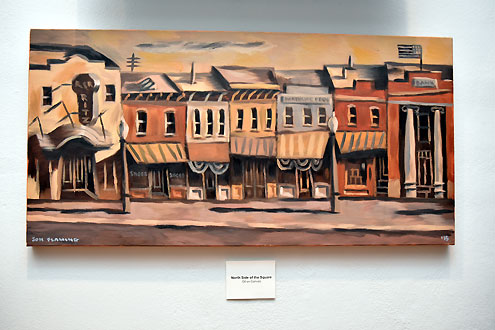 North Side of the Square by Jon Flaming
Robert Jessup, Chair of the Department of Studio Art at UNT, College of Visual Arts & Design was the judge for this year's 'Unique by Nature' Juried Competition.
The judge had a bit of sage advice for artists in the crowd.
"The most important judge of your work is yourself," said Jessup.
In all, 70 artists from 34 cities across the state entered submissions for the $8000 purchase prize, which went to Andrew Stalder for Untitled 77.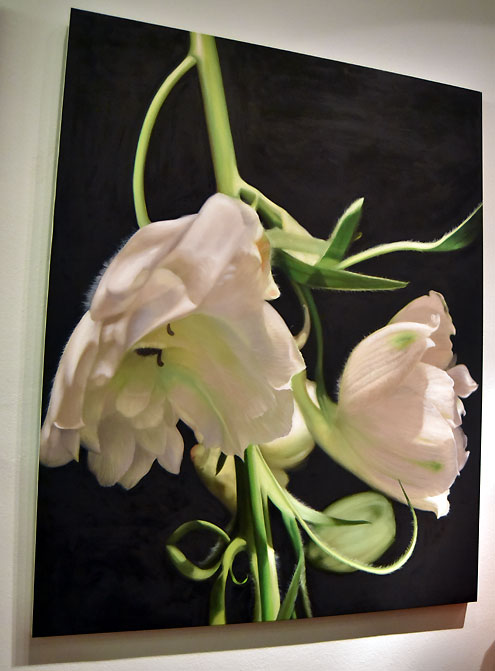 Untitled 77 by Andrew Stalder
A contemporary realist oil painter, Stalder finds boundless inspiration in the richly diverse subject matter of flowers – both cultivated and wild. His art is characterized by vibrant colors and dramatic, photorealistic compositions. He currently lives and works in Bedford, Texas and is an Associate Professor of Art at Tarrant College.
Anne Royer of McKinney Art & Music Guild came forward to announce the winners of an additional $3,000 in prize money that was divided among six works of art juried into the exhibit (non-purchase prize) and chosen by the judge.
"Here in McKinney, we value the artist," Royer told the crowd. "We have seen that when we prioritize and nurture the artist, the work he or she produces over time develops as it should. This show nurtures artists with critique, with community, and with cash. The message to all of us, my deeply connected family of artists, is that we are valuable to this community and that the work we produce is significant."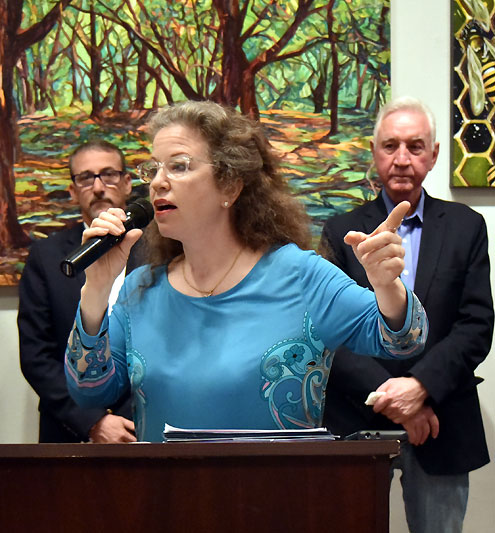 Anne Royer
Out of 134 submissions from 25 cities, the winners were: Rebecca Zook for Late Lunch; Sam Rogers for Lattice; Noriko DeWitt for Mountain Stream Near Guanella Pass; Irma Murray for Morning Flight; Stuart Hausmann for Radius; and Udani Satarasinghe for Still Life with Wooden Train.
The artwork will be on exhibit at MPAC for public viewing April 1-22. The Juried Art Show is funded in part by the McKinney Community Development Corporation and Emerson Process Management Regulator Technologies Inc. with support from the McKinney Arts Commission, the McKinney Arts & Music Guild and Don Day.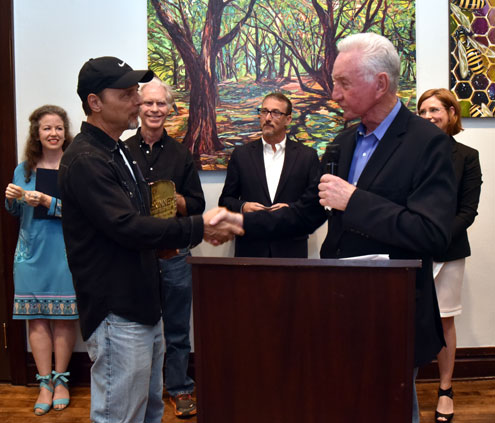 Don Day (right) presents Jon Flaming with an inaugural award named in honor of Flaming.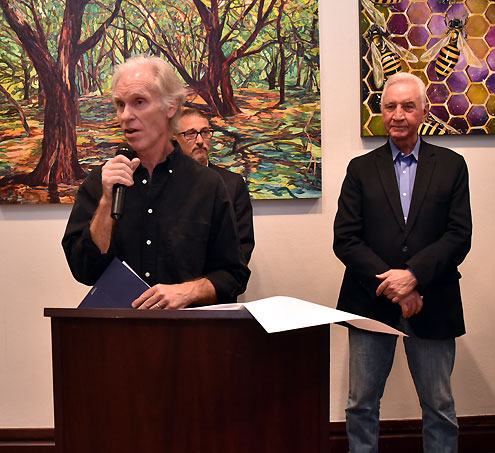 Robert Jessup, Judge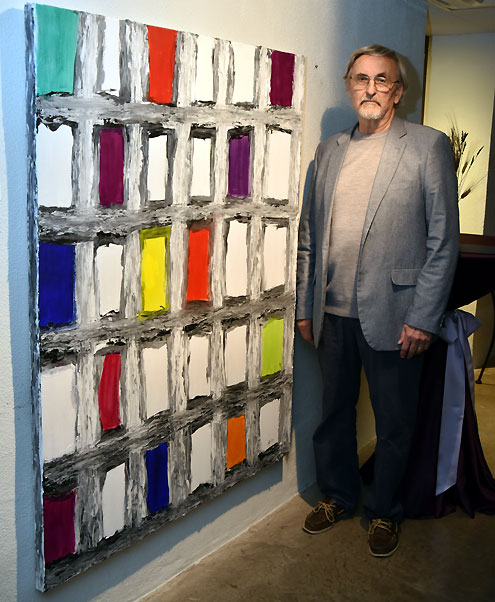 Lattice by Sam Rogers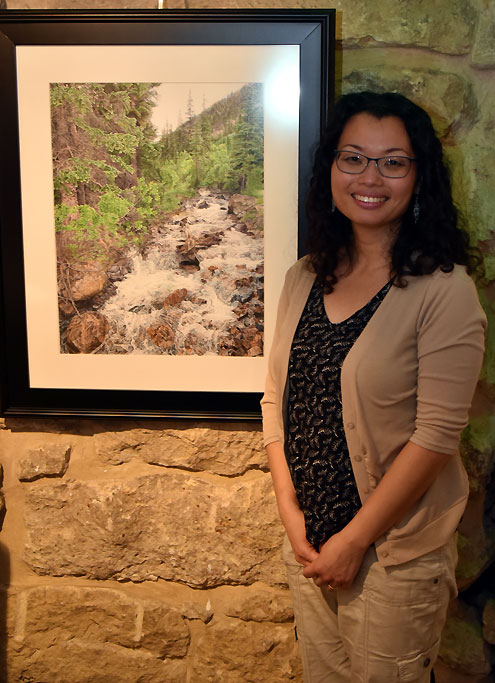 Mountain Stream by Guanella Pass by Noriko DeWitt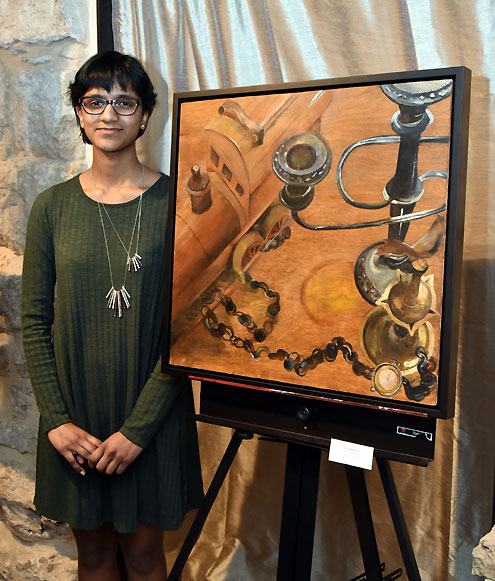 Still Life with WoodenTrain by Udani Satarasinghe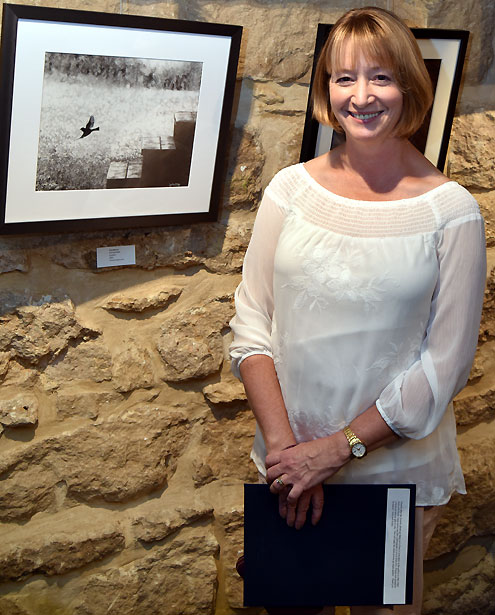 Morning Flight by Irma Murray
photos by Allen Rich