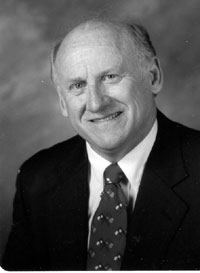 This is not your typical "first day of school" story. My oldest granddaughter entered college last month, and that led me to reminisce about the grandfather who was part of my extended family household. In the early 1890s my grandfather was living in his home state of Tennessee. His older brother Robert had already made the journey to Texas and was practicing medicine in the small community of Oletha in Limestone County.

Uncle Robbie overheard some members of the local school board say that they were in desperate straits for a teacher. He said, "Gentlemen, I have a brother back in Tennessee who is qualified to teach."

Their reply was, "Send for him and he has a job here."

Thus it was that Granddaddy migrated, celebrating his twenty-first birthday on the train to Texas.

As I look at a photograph of Granddaddy Jones, taken on his eightieth birthday, I see him seated beside my mother with his three sons standing behind them. What comes to mind is the role of schoolteachers in rural Texas, for he sent all four of his children to college, and three of them became teachers and advanced themselves to become able to send all of their children to college.

Another old photo shows me surrounded by my parents and siblings on the day I graduated from Texas A&M with a degree in English. I was twenty-one years old then, and four years later I completed a Ph.D. in English and reported to Austin College to begin my teaching career as an assistant professor. In a way I felt that I was just living up to the standard set by Granddaddy Jones. You see, by the time I was born, he was an ex-teacher who raised cattle. But to his neighbors he was always "Professor" Jones or "Mr. Prof," and that impressed me strongly. As a rural schoolteacher, he had earned more respect than I received as a green young college prof. He inspired me to do more than simply teach school; I worked hard to contribute to and become a respected member of the broader community.

In turn I raised a daughter who earned a bachelorís degree from Austin College and a masterís from Texas Womanís University. Her daughter Hannah is my oldest grandchild and the one who just became a freshman in college. As I think about my first week in college in 1960 compared to Hannahís in 2016, the contrasts are overwhelming. For one thing, I had no idea what I wanted to major in or do after college, whereas Hannah has very definite goals and expectations. The total cost of my three years at TAMU (including room and board) was probably less than $5,000, while Hannahís first year (at a private college) will cost around $50,000.

I think Granddaddy Jones would be very proud of Hannah since she graduated high school as a class valedictorian. But he would also say that she has a family tradition to carry on and a story to write a new chapter for.

Jerry Lincecum is a retired Austin College professor who now teaches older adults to write their autobiographies and family histories. Email him at jlincecum@me.com.