Two life-long friends ensure their organizations' legacies carry on allowing their communities to flourish.
SHERMAN, TX—June 21, 2016— Two ­exceptional local businessmen, Lacy Harber and John Massey, have decided to merge their organizations to preserve and continue the legacies and commitments of their community banks.
American Bank of Texas is merging with First United in late 2016. The decision to merge with another local community bank organization ensures short and long-term success for their employees, customers, and communities.
During and after the transition, customers from both banks should not see any changes to their pending loans or the level of service they receive. Many of the organizations' technological platforms and service partners are the same which will allow for a smooth transition for everyone.
Upon completion of the merger, customers will benefit from additional retail, lending, insurance, and mortgage products and services as well as the latest technological solutions and additional locations throughout North Texas and Southern Oklahoma.
"This was a big decision but we know it is the right thing to do for our employees and customers" said Dorothy and Lacy Harber, owners, American Bank of Texas. "First United is a culture-driven organization whose strategy focuses on ­serving their employees, customers, and communities. This choice will allow our employees to continue to be successful in their current roles and keep decisions fast and local for our customers."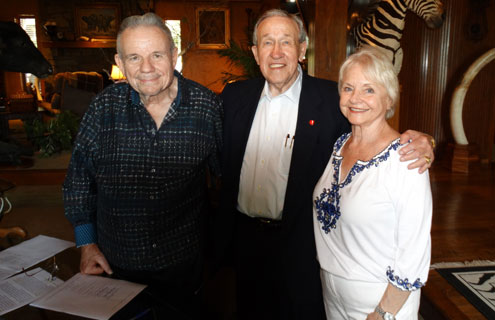 First United Bank Chairman John Massey (center), surrounded by Lacy (left) and Dorothy Harber (right), owners, American Bank of Texas at document signing.
Greg Massey, CEO of First United said, "American Bank of Texas is a strong, successful bank and has been a treasured partner in the communities it has served. We are committed to continuing this legacy and will remain a pillar in the communities we serve through reinvestment, civic leadership, and doing what's right for our stakeholders."
Joe Rushing, Senior Chairman of the Board, and Wes Shelton, CEO, American Bank of Texas added, "First United's community lending philosophies align very well with our approach at American Bank of Texas. We know our shared desire to help others spend life wisely will make this a meaningful new chapter for our two, strong organizations."
With this merger, First United will be one of the largest community banking organizations in the Southwest with more than 85 locations and $5.5 billion in assets in Texas and Oklahoma. To learn more about the merger, visit FirstUnitedBank.com/AmericanBank.
ABOUT AMERICAN BANK OF TEXAS:
American Bank of Texas was originally chartered in 1971, and has thrived under the care of the Harber family. From the Red River to the River Walk, American Bank of Texas has 32 branches throughout Texas with over $2.3 billion in assets. Locations across Texas can be found in Austin, Bonham, Bulverde, Dallas, Denison, Fredericksburg, Frisco, Gainesville, Garden Ridge, Horseshoe Bay, Kingsland, Lakeway, Leonard, Marble Falls, McKinney, Pottsboro, Prosper, Schertz, Seguin, Sherman, Temple, and Whitesboro.
ABOUT FIRST UNITED:
Established in 1900, First United has more than 50 locations throughout North Texas and Oklahoma. It is one of the largest, well-capitalized banking organizations in the Southwest with assets of more than $3 billion, and it is among the largest privately held community banking organizations in the U.S. First United provides a full range of financial services including banking, mortgage, insurance, and investment products and services, and is dedicated to inspiring and empowering others to Spend Life Wisely®. Learn more at firstunitedbank.com.
Legal and financial services were provided to First United by McAfee & Taft and D. A. Davidson.