Arlington & Venus Snowball Express families honored
FORT WORTH, TEXAS – Epic Helicopters honored the families of two fallen service members tonight at Meacham Airport in Fort Worth with a one-of-a-kind aerial Holiday Lights tour. Katy Thom and son Elijah along with friend and fellow Gold Star wife Lara Smith toured the best lights of Tarrant County.
"We wanted to do something special this year for a military service family," said Brian Dunaway, President of Epic Helicopters. "We reached out to the Snowball Express and they helped us make the connection to these deserving folks."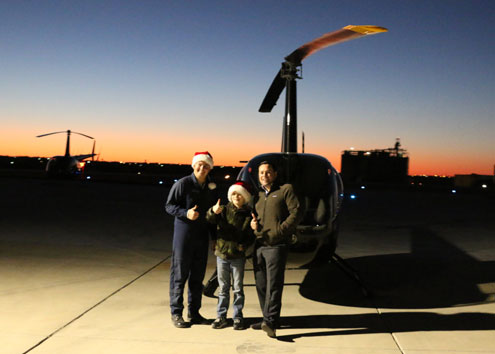 Epic pilot Steven Aceves with Epic President Brian Dunaway and Elijah Thom before boarding for a holiday light tour.
Before heading out on the tour, the boys and moms checked out a Robinson 44 helicopter asking lots of questions and just taking in the experience. Elijah asked what each red light and nob was for, with his Santa cap on his face showed the excitement. He sat in the pilot seat while in the hanger where he was given some piloting instructions by Dunaway. During the flight we are told that he knew what everything was for!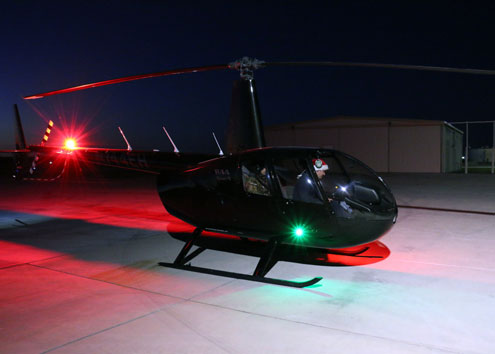 Epic's Robinson 44 prepares to take off on a holiday lights tour with Katy and Elijah Thom and Lara Smith.
Departing Meacham Airport they flew east to some of the most brightly lit communities in North Texas, Colleyville and Bedford, then continued down to Arlington's Interlochen community where the neighbors have been one-upping their neighbors for years – in good holiday fun of course. The crew then flew back toward Fort Worth where they looked down on some of the cities best mansions and the cultural district before heading back toward downtown and the Sundance Square Christmas tree. They then ventured north across the Stockyards and back to Meacham where they sat down for more hot cocoa, coloring and play.
This was Katy's first year to participate in the Snowball Express with her two children, Elijah, 8 and Logan, 3. Lara Smith and her children have participated for the past three years.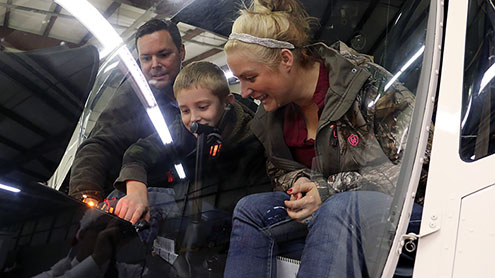 Brian Dunaway showing Elijah and Katy Thom the controls of a Robinson 44 helicopter before they took a holiday lights tour over Fort Worth (Tarrant County), Texas.
Snowball Express remembers those fallen heroes who will never return, and honors the supreme sacrifice their families have made. Snowball Express serves the children who will never be reunited with their mom or dad. www.snowballexpress.org