Author's Note: April 18th-24th is National Crime Victims' Rights Week. To all law enforcement, government agencies, healthcare facilities, private organizations, officials, teachers, citizens, families and friends that are faced with the awesome task of battling this crisis everyday – Thank you for all you do.
---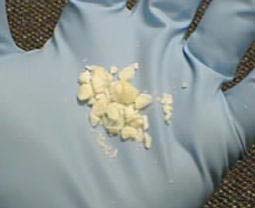 (Source: City of Aurora, Nebraska, website)

Some that know of him have said that they feel he had a difficult childhood, emerged as an angry young man and had a long history of strange and violent behavior.
Some believed that he had tried to seek help on several occasions in recent weeks, that he had realized the severe mental health problems, but that he was turned away, allegedly, for a lack of funds. Now, according to all reports, he sits in a glass jail cell, restrained, with self-inflicted stab wounds, loss of an eye, and awaits the conclusion of a court ordered psychological evaluation. This story was so tragic, so shocking, it made CNN.
But, somewhere along the way, someone loved him. Someone saw enough goodness in him to want to have his child. At some point, they separated, and after what has been said was a long series of issues, her voice is now silenced, forever.
Some have whispered that there were rumors of using 'Ice' and pills. With recent saturation of emotions from movies, some fearfully whisper about the scripture incident. So the story goes and rumors grow. While the saga leaves a small community shocked and wondering with many questions, it must be left to the justice system to determine.
Shortly after that tragedy, an article swept through newswires like wildfire, regarding a severely disabled teen who had been brought to an Illinois hospital, subsequently placed in protective custody, and airlifted to St. Louis Children's Hospital. It is reported that this helpless youth, sixteen years of age, weighed only 40 pounds when admitted, and had been under the care and supervision of his homeless mother. The reports stated that they had recently been in Texas. The disturbing part of the story, in addition to the condition of the child, the starvation, and the tragedy associated with poverty and homelessness, was that medical testing showed the boy had methamphetamine in his system. Something that he could not acquire or imbibe without assistance from another.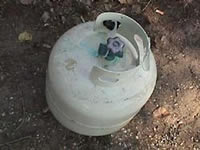 Small propane bottle example used for anhydrous ammonia (Source: Kansas Bureau of Investigation Drug Enforcement website)

Another recent story brought the issue of meth closer to home with reported arrests and seizure of a meth lab in Collin County. There have been 'meth busts' reported on the local news quite frequently in recent years, and stories of the anhydrous ammonia thefts and warnings of small propane bottles being discarded or abandoned that have been used to steal and store the ammonia.
No matter the facts or fiction of any case or the prevalence of news stories, the very mention of 'ice' has even the people on the street saying that it is the 'baddest' of all drugs and readily available just about anywhere in this small corner of the world. A review of more stories and informational sites continually returned the name 'Ice', which is an unfamiliar term to many who are not savvy about illicit drugs. Someone mentions 'ice' to most people and they think of the Ice Age when mastodons were frozen in their tracks, ICE Magazine about old rock 'n roller music and musicians, the Institute of Civil Engineers in England – tea, perhaps? Methamphetamine, to most, does not immediately come to mind.
ICE (Source: National Families in Action website, used by permission of Paula Kemp, Executive Vice-President)

'Ice', it seems, is the purest form of methamphetamine. At 80-90% pure, it is the most expensive and sought after version of the drug, yielding the most effect and profit in the trade. It is referred to as a 'power drug', and studies show that it has become the drug of choice, replacing crack cocaine.
By a simple process, meth is reduced to powder form and soaked in a solution mostly comprised of isopropyl alcohol, which is allowed to evaporate to distill the impurities from the substance, yielding a crystal like form with the appearance of chipped ice, shards of broken glass, or rock candy. It is re-crystalized methamphetamine hydrochloride, a potent stimulant. It dissolves in water, allowing it to be broken down into smaller particles. It induces a profound sense of euphoria followed by prolonged depression and fatigue. Smoking 'Ice' will extend its effects for up to 24 hours, per ingestion. It causes brain and lung damage, even in small doses or through secondary inhalation by virtue of being in the same area as someone smoking it. More profound damage is caused to those exposed during meth manufacturing, called 'cooking'.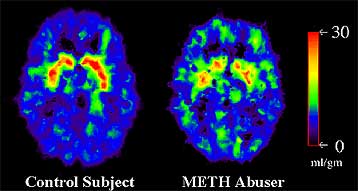 Meth Abuser - Brain images for (11C)d threo-methylphenidate,
which show the concentration of dopamine transporters in a control and
in a methamphetamine abuser tested 80 days after detoxification.
The abuser shows a much lower concentration than the control. Scale is at right. (Graphic source: US Department of Energy Brookhaven National Laboratory)
"These changes are much greater than what we have seen with heroin, alcohol, or cocaine." – Nora Volkow, Lead Investigator, Brookhaven National Laboratory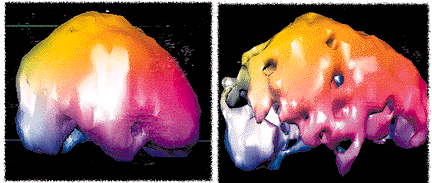 The Brain on ICE (street name "Meth rot") - At left is a scan of a healthy brain, smooth exterior. At right is a scan of a brain after chronic use of "ice". Where the tissue is 'eaten' away, the brain does not function.
(Graphic credit: Queen's Medical Center, Honolulu, Hawai'i;
Source: State of Hawai'i website)
Brain damage is immediate. Continued use continually damages, and the brain is eaten away. From the time a user lights 'Ice', they have some form of brain damage. According to federal statistics, 4.3% of America has tried meth at least once - that's roughly 13 million people.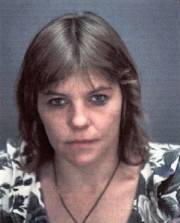 Before meth use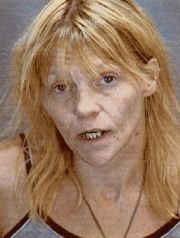 After four years of meth use
(Source: Tazewell County State's Attorney website, Illinois)
Research of this subject has revealed many government, law enforcement, organization and independent citings dedicated to the history, statistics, and awareness regarding methamphetamine, with 'Ice' being recognized as particularly prevalent in North Texas. Questions began to arise. The first being, what actions are being taken to stop this?
Oklahoma is taking decisive action to combat the meth problem in that state. A law was passed to restrict the sale of items such as over-the-counter cold medications that contain pseudoephedrine, because it is a main ingredient in production of methamphetamine, by making the products available upon request, limiting the amount to be purchased, and requiring a form of photo identification for purchase approval. This control activity will limit the small labs production that have become a severe drain on law enforcement and government agency resources, not to mention the impacts on the educational and healthcare systems.
The Oklahoma premiere Regional Methamphetamine Conference is scheduled to be held on April 28th & 29th, 2004. Information available in the brochure states that in an effort to address this concern, the Cherokee Nation along with the Oklahoma Bureau of Narcotics is sponsoring this first regional conference. Experts from law enforcement, social services, local and state government agencies, along with environmental professionals will share the latest information. Registration is required for the two-day conference, which is being held at the Tulsa Marriott Southern Hills, 1902 E. 71st Street, Tulsa, Ok. Obtain registration information by contacting (918) 453-2900. Registration is free.
According to reports from Hawaii last fall, meth, ice, 'batu' has become an epidemic that the Governor of that state is addressing. A survey showed that the number one problem from use of this drug is family breakdown and domestic violence. Ice spread to the U.S. mainland by 1990, although distribution had remained limited to retail amounts in only a few regions of the country. In the early 1990s, Korea served as the principal supply source for ice that was smuggled from Asia directly to Hawaii and the mainland. Intelligence reports indicates that traffickers from Mexico were supplying Asian organizations and gangs on the West Coast and in Hawaii with methamphetamine for conversion to ice, and since the onset of NAFTA, the distribution and influx of methamphetamine has increased dramatically in the Southwest.

Arresting Officer Carlisle and K-9 partner, Baron, Sherwood PD, Arkansas, 2003 Arkansas Region National Narcotics Detector Dog Association (NNDDA) Competition Champions, and competing at Nationals April, 2004 (Photo used by permission of Miriam Carlisle)

The NAFTA Corridor is the CanaMex Corridor of I-35 through Gainesville, I-45 through Sherman, and the Interstates east-west through the DFW area converging in this area. In addition, I-69 runs along the Louisiana border and south along the Texas Coast, intersecting I-10, a southern east-west trans-American route, and continuing south to Mexico. With the completion of US 82 from the east into Sherman, the east-west convergence will funnel through counties along the Red River from the Arkansas and Oklahoma borders and points east.

It used to be the dreaded 'motorcycle gangs' of the 50's and 60's that were associated with drugs. Then, according to federal reports, the Mexicans, then the Asians, then the Caucasians, then the Mexicans again, had control of these underground markets. Their tactics changed, the pressures of law enforcement changed direction and sources. More scrutiny and a public that was becoming more informed pressured, pushed, and reshaped tactics. The meth cartels were starting to feel like bugs under glass. Then, the arsenals began to take on a whole new look.

Methamphetamine with a potential street value of over $1.36 million, manufacturing equipment, chemicals (including 40 pounds of pseudoephedrine) were seized by members of the California Department of Justice Bureau of Narcotics Enforcement, a Los Angeles metropolitan police task force and the Allied Laboratory Enforcement Response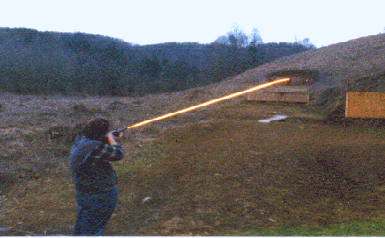 Tracer ammunition is used for target spotting and marksmanship

Team-North on April 3, 2004. In addition, the officers discovered bomb materials and military tracer ammunition (see photo left). This lab was functioning and had been operational, from the appearance of the equipment. Five people were arrested at the scene. One year ago, a California/Mexico collaborative operation netted a 60-pound-per- month operation that had a potential monthly income of $180,000-$1,020,000 per month in wholesale distribution, alone. Early April 2004, they arrested 834 more.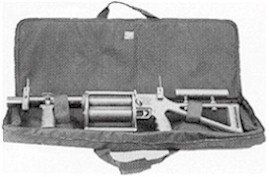 37mm Grenade Launcher

DEA has a site for narco-terrorism, however, drug traffickers also use weapons on each other, but the weapons that are seized during these raids are becoming more military than street gang weapons. For example, in January of 2004, a 37mm grenade launcher and three grenades were found in a trash receptacle outside an elementary school in Chicago during a routine drug investigation.
Another article reported that 959 grams of Ice was seized in Shanghai, China, last November, with an estimated street value of over $200,000. These are just a few examples of seizures and arrests. Meth is a global problem with a global history.
On January 18, 1887, the German Chemist, L. Edeleano, first synthesized methamphetamine and originally named the substance phenylisopropylamine. In 1919, a more potent version that was easier to make was discovered in Japan. Amphetamines were first marketed as 'Benzedrine' in an over-the-counter inhaler to treat congestion in the 1930's.
1937 saw a dramatic increase and powerful applications for the drug, Amphetamine, which was first available in tablet form by prescription for use in the treatment of narcolepsy and ADHD (attention deficit hyperactivity disorder). It was prescribed for depression, Parkinson's disease, epilepsy, travel-sickness, night-blindness, hyperactive disorders of children, obesity, narcolepsy, impotence, and even apathy in old age.
Amphetamines in tablet form were widely distributed to soldiers in World War II to help them keep fighting, and the prolonged use often produced a psychotic aggression. Beginning in 1942, Hitler was given daily injections of amphetamine by Dr. Morell. The drug undoubtedly corrupted his judgment, damaged his health, and is said to be a factor in the course of the War. Amphetamine became illegal in the United States in 1970, with the passage of the 'U.S. Drug Abuse Regulation and Control Act of 1970'.
In the late 1980's and early 1990's, meth hit Hawaii and the US western coast, supplied from Asia and Korea, and subsequently linked to Mexican distribution organizations. The distribution network grew and spread. In the 90's, the NAFTA Corridor opened up, multiplying the traffic, both foot and vehicular, across the border to and from Mexico, which has increased the success rate of smuggling meth to the United States. Banks began to spring up like weeds in the Southwest, one notable area being Las Cruces, New Mexico, which has been cited by the DEA for some 200 banks, most of which are not insured or are running out of private residences and suspected of money laundering. ICE, Immigration and Customs Enforcement, also works with the Department of Homeland Security regarding money laundering and financial institution vulnerabilities, and has seized 770,515 pounds of drugs and $75 million dollars.
In Texas, the law enforcement statistics speak for themselves. Per the DPS 2003 Annual Report:
"DNA and drug cases completed—The number of drug cases completed by the 13 DPS laboratories increased 4.6 percent in 2003 to 45,142 total cases, compared to 43,132 cases completed in 2002. Drug cases account for approximately 80 percent of all cases submitted to the DPS labs.
"…in 2003, the Narcotics Service arrested 2,858 criminals and seized 116,640 pounds of controlled substances.

Multi-Award winning Sherman K-9 Unit Team, Officer Jeremy Jones and Harro, March 1-5, 2004, 1st Place – Article Searches, 2nd Place – Patrol Team, 3rd Place in Narcotics Building Searches, US Police K-9 Association Competition (Source: Used by permission of City of Sherman Police Department – Texas, Sgt. Todd Smithers, Public Relations)

"…Drug Detector Canine Program : During 2003, these teams conducted 2,880 searches that resulted in the seizure of 13,823 pounds of marijuana, 729 pounds of cocaine, 47 pounds of methamphetamine and 8 pounds of heroin. DPS canine teams also were involved in the seizure of $6,621,030 in illegal currency.
"…THP troopers continue to lead the nation in the seizure of several types of controlled substances. Through December 2003, they made 1,242 drug interdiction cases in which 72,308 pounds of marijuana, 2,299 pounds of cocaine, 146 pounds of methamphetamine and smaller amounts of other narcotics were seized. In addition, troopers seized more than $11.3 million in drug-related currency."
In the DEA Texas Factsheet, several references and resources are used to compile the information. It states that methamphetamine is considered to be very available in northern parts of Texas. Use indicators have been increasing and are shown in emergency room methamphetamine mentions and/or high percentages of methamphetamine treatment admissions in several areas, including cities in Texas.
Per testimony of Rogelio E. Guevara, Chief of Operations, Drug Enforcement Administration, before the House Committee on Government Reform and Subcommittee on Criminal Justice, Drug Policy and Human Resources on July 18, 2003, 18 individuals were arrested in New Mexico and California, in connection with a Mexican methamphetamine and crack cocaine distribution organization. In June, as a part of this continuing investigation, the DEA Albuquerque District Office and state and local agencies arrested 12 additional individuals on federal charges and 38 on State of New Mexico charges. This particular organization was responsible for the distribution of 60 pounds of methamphetamine on a monthly basis. Over $291,000 in assets were seized in addition to 12 vehicles, 24 firearms (including 4 assault-type weapons), and 21 pounds of methamphetamine. The title of this report was "Facing the Methamphetamine Problem in America".
In his testimony, Chief Guevara reveals the statistics from several agencies that have tracked the effects of methamphetamine in the areas of health, safety, costs, law enforcement burdens, and environmental hazards, just to mention a few. From his report, the following statistics were presented to Congress:
1. 2001 National Household Survey on Drug Abuse, over nine million Americans or 4.3 percent of the United States population reported having tried methamphetamine on at least one occasion during their lifetimes
2. Drug Abuse Warning Network (DAWN) estimated that the number of emergency department episodes concerning methamphetamine increased from 10,447 in 1999 to 14,923 in 2001.
3. 2002, the El Paso Intelligence Center (EPIC) reported the seizure of over 9,000 clandestine methamphetamine laboratories.
4. In the "Associated Children Report" for 2002, EPIC reported over 2,000 children were present during the seizure of those 9,000 laboratories, and of these children, 1,382 were reported as having been exposed to toxic chemicals. (Per the White House Fact Sheet on Texas, 35 of those children were Texas residents found at the scene.)
Per DEA research, methamphetamine prices vary throughout the United States. At the wholesale level, prices range from $3,000 to $17,000 per pound in the West, and from $5,000 to $23,000 per pound in the Midwest, Southeast, and Northeast areas of the country. Prices for ounce quantities range from $300 to $2,200 and gram prices range from $20 to $200. The cost-to-profit for small manufacturers is ten fold. A $100 investment in materials yields about $1000 of meth. Users can keep themselves and a small regional group of users supplied without a great deal of effort. Of 21 field offices, 19 reported no decrease in activity last year.

Portable Meth Lab (Source: Washington State Lieutenant Governor's Office and NW HIDTA website)

Meth labs are easily made portable, very dangerous, and can operate just about anywhere. Possibilities include: the next-door rental house or apartment, an unoccupied home, the garage next door to your house, the rental storage locker next to yours, in the trunks of cars, or on the rural land where you hoped to build your retirement home. Meth cookers have also been known to set up highly toxic labs in secluded forests.
A clandestine lab operator can use common items such as mason jars, coffee filters, hot plates, pressure cookers, pillowcases, plastic tubing, gas cans, small propane tanks, etc., to substitute for sophisticated laboratory equipment. Anhydrous ammonia, used agricultural production, is readily available to independent manufacturing entities in rural areas, and the vandalism of equipment and theft of this product has become a costly burden in North Texas and Southern Oklahoma. Simple recipes to manufacture meth are available to anyone with an Internet connection, and most of the materials are easy to obtain or substitute, such as, rock salt, battery acid, red phosphorous road flares, pool acid, and iodine crystals can be used. Deadly poisonous, common drain cleaner is often a part of the recipe, and is just one of the reasons that synthetic meth eats the human body from the inside out.

(Source: Michigan Department of Natural Resource website)

Environmental hazards and the expensive task of cleanup strain local governmental budgets, due to the proliferation of these small labs. Portable, in many cases, residue and dangerous by-products of manufacturing can be discovered almost anywhere. As evidenced by a recent report regarding makeshift anhydrous tanks, they are even thrown out along the roadside, making exposure to the dangers a public health threat of inestimable proportions.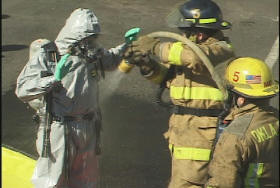 Officers undergoing decontamination (Source: Oklahoma City law enforcement website)

The Drug Enforcement Administration calls the independent operators STLs, which is an acronym for small toxic labs. Per their reports, these small, independent labs account for approximately 95 percent of the operations seized in the United States, and per their statistics, are generally operated by Caucasian meth users. STLs produce ounce quantities of methamphetamine for local use and distribution and generate staggering amounts of hazardous waste during each production. Rural communities are now realizing the fiscal, environmental, health, and safety issues that are associated with the operation of these independent laboratories.
These operations have become extremely popular because of the simplicity of the Birch method (commonly known as the "Nazi" method because of the original founder) and pseudoephedrine/iodine/red phosphorus methods of manufacturing methamphetamine. The ease of manufacturing and availability of chemicals, including the massive influx of pseudoephedrine from Canada and massive shipments from Asia to Mexico, contributed greatly to the dramatic growth and spread of these labs throughout the United States. Anhydrous ammonia, while not readily available through retail markets, is extensively used in rural areas. Anhydrous ammonia is often stolen from nurse tanks stored on farms or at farming cooperatives, train tanker cars that transport the chemical, or from one of the anhydrous pipelines.

Meth lab

In addition, the size of a lab does not reduce the danger of handling such chemicals, and small labs are considered to be more of a threat because the operators are generally inexperienced and ignore the dangers. An EPIC report in 2002, noted that there were 126 explosions and 208 fires as the result of these small, clandestine laboratories costing lives, communities, companies, individuals, and property owners, be they commercial or residential. Property used in the commission of a felony can be seized.
At the time this article was written, a search on Google for the words "methamphetamine murder", entered without quotation marks, yielded 35,700 hits. A brief review of the articles indicated murder-for-hire, domestic violence escalations, overdoses, and drug trafficking killings. The number one individual and community impact, excluding health issues, according to the information researched for this particular article, is domestic violence, which includes child abuse. The government is burdened with 46% of the overall costs of substance abuse. Users pay less, at 44%, per the National Institute on Drug Abuse. Costs were determined to be $97.8 billion dollars in 1995, and rising.
In stark contrast to the massive cost burdens of methamphetamine impacts on families and children, the Washington State Institute for Public Policy finds that effective after-school programs can yield a benefit-to-cost ratio to taxpayers and crime victims of $1.87 to $5.29 for every dollar spent. The Rose Institute finds that quality after-school programs can reduce costs related to welfare, crime, and education (remediation services and grade repetition) for an average net benefit of between $79,484 and $119,427 per participant. These are very effective tools in the battle against substance abuse, but they are just one of the tools.
Meth - It's lucrative, dangerous, elusive, costly to enforce and cleanup, pure poison, and it is everywhere. On any given night, you could walk outside, smell an acrid scent in the air, your eyes and nose begin to tear and burn, leaving you no alternative but to escape the attack by retreating into the safety of your own home. It is entirely possible that you may have been exposed to a meth cook and not even known it. If you are in a motel or a complex with shared air conditioning systems, you may have been exposed to fumes from neighboring rooms. Makes one think twice about vacation choices.
The odds are that meth users will have permanently damaging health concerns, most likely will be dependent on government services, and the collateral damage of the labs could injure many innocent people who come in contact with them through exposure to fumes, residual waste, toxic contaminants, and violent crimes. The costs for enforcement, health issues, burdens on educational systems, businesses, government funds and services are escalating as this epidemic spreads.
The initial euphoria of a meth ingestion is almost immediately replaced with addiction, brain damage, and internal organ injury. The effects include extreme incidences of anorexia, paranoia, and aggression, which have resulted in a serious increase in additional criminal activity, domestic violence, child neglect and abuse, and fatalities.
We hear so much about how our agencies are not communicating, sharing information, and cooperating to prevent crimes these days. In the war on drugs, federal, state, and local law enforcement, administrative agencies, and service organizations are working together to eliminate methamphetamine production and distribution in America. North Texas is no exception. We have an exemplary team in our area focusing on this concern, working tirelessly to end the meth threat that has given us the infamous designation of being an 'ice' mecca. You can help in these 'Ice Wars' by educating yourself and your family about methamphetamine, taking action to protect your property, reporting suspicious activities, and supporting local agency efforts in their quest for victory.
If you have ever stood on top of the open floodgates at Lake Texoma, you know the overwhelming awe of such a forceful power. The river of illegal drugs that runs through North Texas is much like that. Forceful, powerful, overwhelming, and deadly.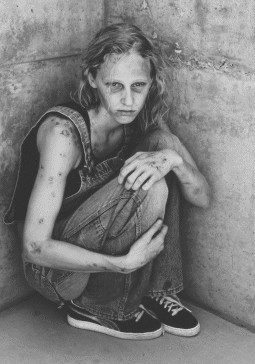 See "Children in Meth Lab Environments", mirrored with permission from Minnesota Department, Division of Environmental Health Meth Lab Program, Deborah Durkin, MPH ( Graphic Source: Public domain)

Meth kills.

Without conscience or care, passion or prejudice.

It isn't a distant fear.

It isn't coming soon.

It's here.
---
References:
National Trends – National Institute on Drug Abuse
Teacher's Guide – a study about the brain
NIDA - Teacher's Guide - resources
Texas Crime Report for 2002 – DPS
"Children in Meth Lab Environments", Minnesota Department, Division of Environmental Health Meth Lab
Kansas Bureau of Investigation Drug Enforcement website
National Families in Action website
City of Aurora, Nebraska website
Office of National Drug Control Policy
State of Texas – Profile of Drug Indicators – February 2004
Drug testing kits for home use
This site linked by the Jefferson County Sheriff's Department, Hillsboro, Missouri, from their meth page.
For Treatment Referrals, please call
1-800-662-HELP
or visit
findtreatment.samhsa.gov
---