Bonham -- The Tony Johnson era will officially begin Monday for Bonham High School athletics as Coach Johnson takes the helm as athletic director and head football coach of the Bonham Warriors.
Johnson, who will turn 42 in May, comes to Bonham with an extensive coaching resume that includes stints as head coach at high school and collegiate levels.
Johnson fondly recalls working for Dennis Franchione during glory years at TCU, as well as serving as offensive line coach and special teams coordinator at Duncanville High School, and co-offensive coordinator and special teams coordinator for South Grand Prairie.
His most recent head coaching job was at Maypearl High School, but Johnson has also held the reins at Bethany College and Wichita South High School, a 6A program in Kansas, among other head coaching assignments.
"I've been blessed to be at a lot of good places," says Johnson. "The good Lord has placed a lot of good coaches in my path along the way."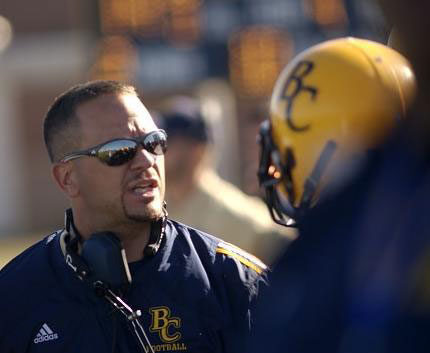 Tony Johnson, shown here during his job as head coach at Bethany College. courtesy photo
A graduate of Olathe North High School in Kansas, Johnson played offensive guard and center at MidAmerican Nazarene University in Olathe.
So, what will be the mark of a Tony Johnson-coached Bonham football team?
"I'm a passionate person," states Johnson, "and I hope we will play with tremendous passion and grit. "I'm very intense. They will be coached hard, but they will be coached well."
Johnson said he is looking forward to meeting Bonham athletes on Monday, February 9.