McKINNEY, Texas (Oct. 22, 2014) -- At approximately 1:20 a.m. on Wednesday, Oct. 22, McKinney Fire Department (MFD) personnel responded to reports of a structure fire at 1016 Scenic Hills Drive. Upon arrival, firefighters found the second floor of the two-story home fully involved in fire. In addition, fire had spread to an adjacent residence at 1020 Scenic Hills.
Fire Department crews immediately requested a second alarm. A total of 19 MFD units, and more than 40 personnel responded.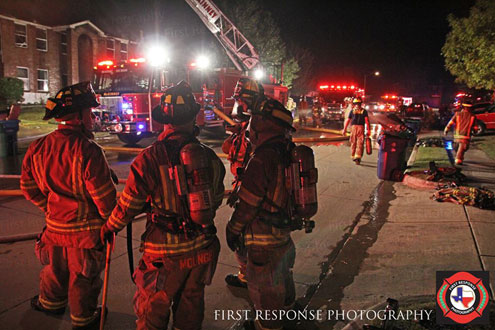 photo courtesy of First Response Photography
Fire Department spokesperson Stacie Durham confirmed one fatality in the structure of origin. The Collin County Medical Examiner has identified the victim as 44-year-old Michael Greer; and, ruled the cause of death as smoke inhalation.
Both structures have been declared a total loss; and, the scene remains under investigation by McKinney Fire and Police departments.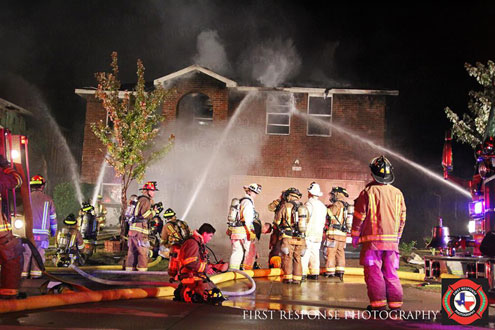 photo courtesy of First Response Photography
The McKinney Fire Department reminds all residents to maintain working smoke alarms in each bedroom, in hallways outside bedrooms, and in areas of the home where people are likely to fall asleep.
"This tragedy reinforces the importance of having working smoke alarms, as well as having and practicing an escape plan in case of fire," observed Durham. "Everyone should know two ways out of each room and have a designated meeting place to await arrival of help. Remember, if you are caught in smoke, Get Low and Go!"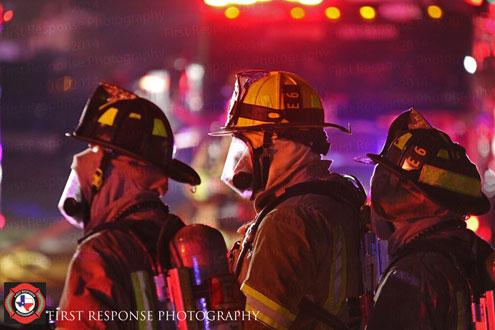 photo courtesy of First Response Photography
For additional information on home fire safety, visit www.McKinneyFire.org.