Finley-Oates Elementary school was the lucky recipient of the 1st annual Infidels Motorcycle Club school supply poker run. The event raised $629 in cash donations and another $600 in school supplies donated by Operation Homefront. Finley-Oates Elementary Principal, Mary Lou Fox, and Assistant Superintendent, Kelly Trompler, accepted the donations from the president, Mack, other members and ole ladies of the Chapter.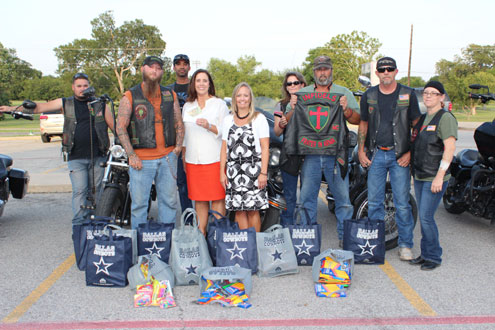 The Bonham Chapter participates in four events every year. This year, the club to held a school supply run in August, and chose to donate all of the proceeds to Finley-Oates Elementary. Finley-Oates consists of a high number of students who qualify for free or reduced lunch based on the federal child nutrition guidelines, and therefore would benefit greatly from the school supply donations. The Bonham Chapter will hold this school supply poker run every year, rotating the Fannin County school which will receive the donations.
Mary Lou Fox, Principal at Finley-Oates, was thrilled to receive this generous donation.
"At Finley-Oates Elementary, over 70% of our students come from economically disadvantaged families. School supplies are often a luxury that many students go without," Fox said. "Many times teachers spend their own money to purchase the much needed supplies because students deserve to have access to supplies they need to learn."
The students at Finley-Oates were blessed by the Infidel Club with a cash donation as well as many of the needed school supplies for students.
"This generous donation allows our students to have their own supplies instead of having to always borrow from the teacher or another student," Fox said. "We really appreciate the Infidels Motorcycle Club and Operation Homefront for adopting Finley-Oates Elementary and your generous donations!"
The Bonham chapter of the Infidels Motorcycle Club is one of many chapters in the international organization. The Infidels Motorcycle Club is a veteran-based group, though not restricted to only veteran members. In addition to the school supply poker run, the Bonham chapter also holds three other events throughout the year.
The haunted house, held in October, raises money through admission fees to help provide a free meal at a local restaurant to vets on Veteran's Day, the Polar Bear run which helps the club support a New Year's party for veterans at the Clyde Cosper State Veterans Home, and the 90-mile Motorcycle Awareness Ride in March escorted by the sheriff.