With duck populations the highest in recent history, we waterfowlers have a great deal to look forward to this fall/winter but, as we all know, ducks and geese like water and they will go where it's available. This may or may not be the area we traditionally hunt them!
For the past 12 years, I've hunted ducks on a series of old gravel pits I have leased. I've watched the water level drop more and more each year. With the abundant spring and early summer rains we received, I was hopeful that the pits would again begin to fill. I was wrong. As I learned while studying to become a Texas Master Naturalist, it's the long term weather and rainfall that dictates water levels.
Twelve years ago, I could take a 14-foot johnboat to the back of the farthest pond, using a trolling motor. Each year as the water table dropped, there was less water to attract ducks. Four years ago, I paddled back to some of the remote ponds in my kayak. Last year, I was able to walk to all the ponds. There were long stretches between them with dry land; the same areas I had floated over a decade ago.
In a scouting trip last week, I found that only one of the gravel pits was holding water, but it was only about a foot deep and receding quickly. IF we get abundant rainfall in September and October this duck season, my little hunting area could be very good but I've leaned that the only fix is several years of at or above normal rainfall. It has taken a decade for the water table to drop to its current extremely low level, it's a good bet it will take another ten years for the little ponds to fill back to normal.
On the bright side, duck numbers are high and the larger reservoirs still have water, at least in their lower, deeper ends. I like the season dates and bag limits from Texas Parks and Wildlife for the upcoming season.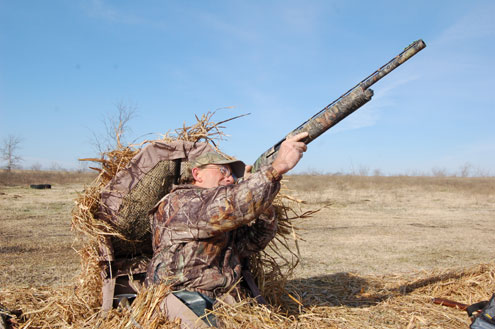 Guide Rick Hrncir with Family Affair Guide Service takes aim at an incoming goose on one of his leases in Central Texas. photo by Luke Clayton
Check out the dates and you might want to make a little 'cheat sheet' to carry with you when you hunt. I always do, at least until I have the limits for the different species memorized.
Duck populations are the highest since North American surveys began in 1955, and as a result Texas will enjoy for the 20th consecutive year the most liberal waterfowl hunting season framework allowable.
The Texas Parks and Wildlife Commission approved waterfowl seasons for Texas at its Thursday, Aug. 21 public hearing in Houston.
Good news of record-setting waterfowl populations, with nearly all species numbering above the long term goals identified in the North American Waterfowl Management Plan, sets the table for the 2014-15 hunting season in Texas.
"Waterfowl are doing well," Dave Morrison, Small Game Program Director for the Texas Parks and Wildlife Department told commissioners. "This is the 20th straight year we've been in a liberal framework for waterfowl seasons. That's unheard of."
The commission retained a staggered split between the North and South Zones to allow for the opportunity of an additional week for those duck hunters who travel between zones.
In the only change in bag limits this season Texas waterfowlers can take only one canvasback daily.
The possession limits for all migratory game birds is three times the daily limit. For ducks, including teal during the early Sept. 13-28 season, the possession limit is 18.
Following are the adopted season dates and limits for the 2014-15 migratory game bird seasons:
Ducks
• High Plains Mallard Management Unit: Youth: Oct. 18-19; Regular: Oct. 25-26 and Oct. 31 - Jan. 25; "Dusky" Duck: Nov. 3 — Jan. 25.
• South Zone: Youth: Oct. 25-26; Regular: Nov. 1-30 and Dec. 13 — Jan. 25;"Dusky" Duck: Nov. 6-30 and Dec. 13 — Jan. 25.
• North Zone: Youth: Oct. 25-26 ; Regular: Nov. 1 — Dec. 7 and Dec. 20 — Jan. 25;"Dusky" Duck: Nov. 6 — Dec. 7 and Dec. 20 — Jan. 25.
Bag Limit: 6/day in the aggregate to include no more than 3 wood ducks, 3 scaup, 5 mallards, of which only 2 may be hens, 2 redheads, 2 pintail , 1 canvasback, 1 "dusky duck" (mottled, black or Mexican-like) after the first 5 days. Mergansers: 5/day with no more than 2 hooded merganser. Coots: 15/day

Geese
• East Zone: Light Geese Nov. 1 — Jan. 25, Canada Geese Nov. 1 — Jan. 25; White-fronted Geese: Nov. 1 — Jan. 11; Light Geese Conservation Order Jan. 26 — Mar. 22.
Bag Limit: 3 Canada geese, 2 White-fronted geese, 20 light geese (no possession limit).
• West Zone: Light Geese Nov. 1 — Feb. 1; Dark Geese Nov. 1 — Feb. 1; Light Geese Conservation Order Feb. 2 — Mar. 22.
Bag Limit: 5 dark geese with no more than one white-fronted goose, 20 light geese (no possession limit)
Listen to Outdoors with Luke Clayton on radio stations across the state or online at www.catfishradio.com.